Students Share Projects on Smoking and Vaping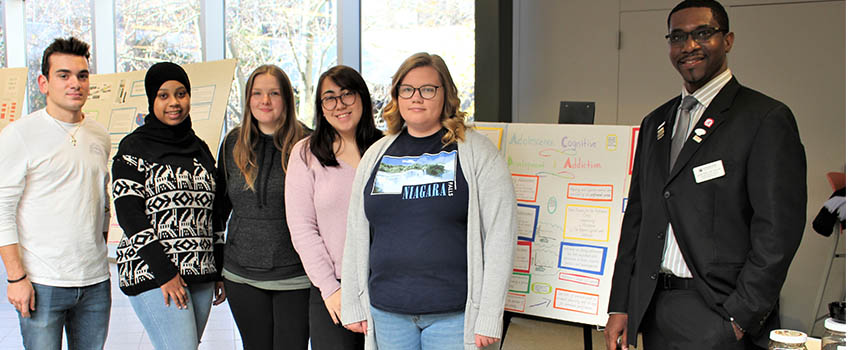 Galloway, N.J. - The health risks of smoking have been known for decades. The potential dangers of vaping are just starting to get public notice.
Students in Associate Professor of Nursing Larider Ruffin's Smoking & Vaping Class shared research they did on the topics as part of National Great Smokeout Day on Nov. 21.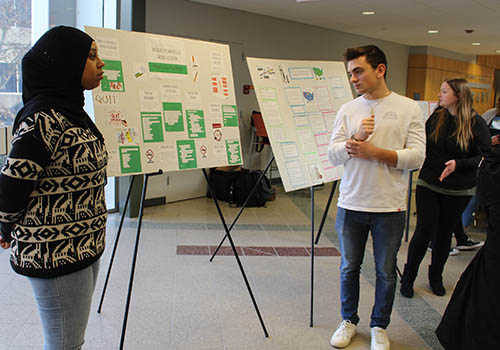 "Vaping is common, I see it everywhere," said student Katie Doxsey of Marlton, an education major. "It's much more popular than cigarettes."
Jamira Junne of Pleasantville, a health sciences major, said young people are becoming more aware of the potential dangers of vaping because of recent publicity.
"They are seeing the stories on the news and are starting to realize it may not be safe," she said.
Ruffin, who is a certified tobacco treatment specialist, said part of his goal is to raise awareness campus wide and in the community of the health impact of smoking and vaping. The class display in front of the library included a set of yellowed "teeth" and a jar showing how much tar and nicotine is inhaled by a smoker in a year.
Some students are taking the course because they have a family member who smokes, or quite smoking, and they want to learn more about nicotine addiction and how to treat it.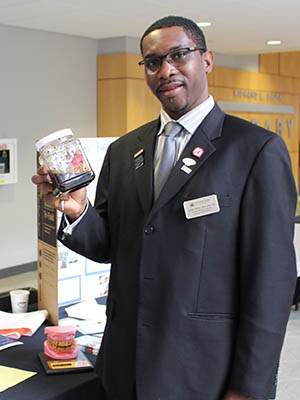 "I am interested in how smoking affects people, and the obstacles that make it difficult to stop," said Niko Stavrianidis of Woodcliff Lake, a psychology major. He worries that even middle school students are trying vaping.
"A lot of young kids think vaping is just water vapor," said Madison Van Buren of Toms River, a biology major. "They don't know what they are inhaling."
"They don't think it's dangerous," Junne added.
The students' exhibits include information on e-cigarettes, what is in them and information on states that are taking action to limit their use. Another has information on smoking for pregnant women. The display also included information on how to quit.
Ruffin said the rise of e-cigarette or vaping associated lung injuries (EVALI) makes it crucial that people get information. He said the Centers for Disease Control and Prevention has reported 42 deaths in 24 states and over 2,100 cases of EVALI from 49 states.
"We can all take steps to help prevent the next EVALI related death," he said.
# # #
Contact:
Diane D'Amico
Director of News and Media Relations
Stockton University
Galloway, N.J. 08205
Diane.DAmico@stockton.edu
609-652-4593
609-412-8069
stockton.edu/media