Students Shine at Senior Art Exhibition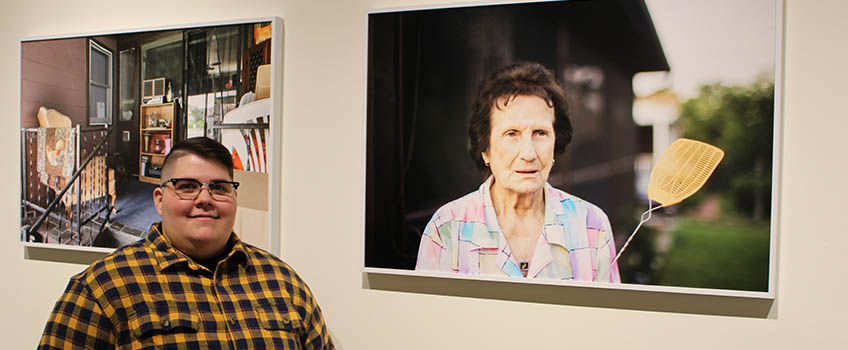 Galloway, N.J. _ Alana Reichfeld's grandmother, Louise Gardecki, has spent her entire 88 years in the small town of East Kingston in upstate New York with a population of just a few hundred people.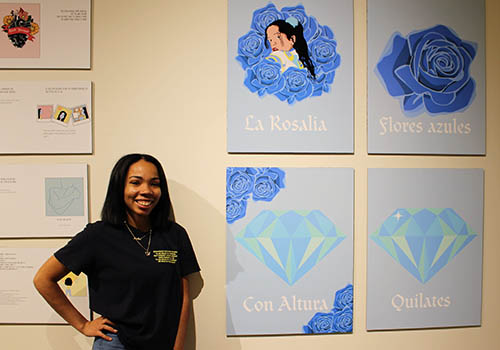 A photography major at Stockton, Reichfeld is sharing her grandmother's life through her senior art show in the Stockton Art Gallery through Dec. 10.
"Her home is a living history of her family," said Reichfeld , who is displaying a dozen of the more than 60 photos she took of her grandmother's life. "This is her world."
The five students in the fall BFA Senior Exhibition have different themes and different styles.
Kate Jeschon of Marlton, a visual communications major, used nature and plants as a theme for a series of mental health posters and "Happy Plants," described as a plant killer's guide to keeping houseplants alive. She's hoping to have a career in graphic design.
Mariluz Nunez of Puerto Rico, a visual communications major, features a series titled La Rosalita that focuses on finding and loving oneself. Her posters use the hashtag "Better Days" which grew out of a desire to inspire people recovering from disasters like the hurricanes that hit Puerto Rico.
"All of my designs have Puerto Rican themes," she said.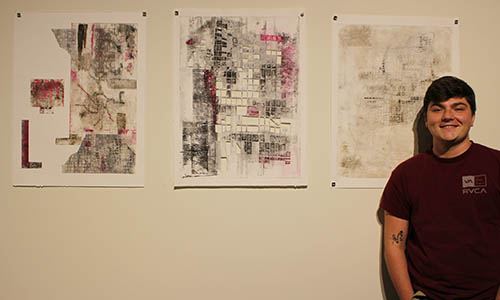 Kaden Huesken of Stratford, a printmaker, took urban spaces as his theme for a series of prints that are layered over each other to create shadows.
"I want to create hidden spaces that show the subcultures that live within urban spaces," he said.
He is building a portfolio and plans to apply to graduate school for fine arts.
Ashley Collins' bold paintings feature colors mixed with words. She says her intention is to reveal her psychic self through paint. Feelings show up as different intensities on the canvas.
The exhibit is free and open to the public during Art Gallery hours, Monday through Saturday 12-7:30 p.m. and Sunday 12-4 p.m. The gallery is closed Nov 27-Dec. 1.
A reception to meet the artists is scheduled for 1-3 p.m. Sunday, Dec. 8.
# # #
Contact:
Diane D'Amico
Director of News and Media Relations
Stockton University
Galloway, N.J. 08205
Diane.DAmico@stockton.edu
609-652-4593
609-412-8069
stockton.edu/media