Scholarship Recognition Dinner Honors Donors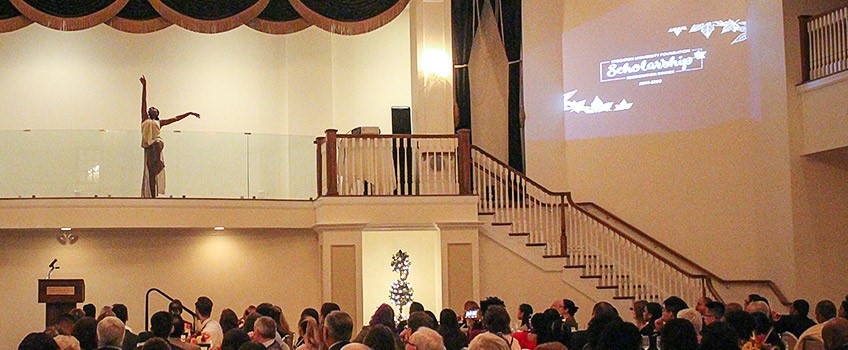 Galloway, N.J. – Gratitude was the theme of the evening at the 2019 Scholarship Recognition Dinner, held at the Carriage House in Galloway on Oct. 29.
The annual event recognizes those donors who have contributed to scholarships for Stockton students. This year, 569 students are receiving more than $890,000 in scholarship funds.
"My mom lost her job my sophomore year," said senior music major Bob Fell. "This scholarship money is a huge help with paying for my college; it's made things so much easier on us."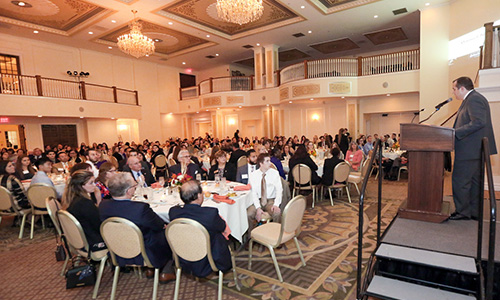 "Nights like this are possible because of the steadfast dedication and generosity of many people," said Stockton Chief Development Officer and University Foundation Executive Director Daniel Nugent. "Stockton is fortunate enough to be able to say we have supporters who have been with us from the school's beginning. We are also fortunate enough to continue to experience growth thanks to new partnerships and relationships."
Nugent highlighted Stockton's most recent gifts, including the Arnold and Gertrude Kramer Endowed Memorial Fund, which will benefit Atlantic City students, created by long-time Stockton supporters Charles and Lynn Kramer; the Jaybala Khatiwala Endowed Memorial Scholarship for students within the School of Natural Sciences and Mathematics (NAMS), created by businessman Pravin Khatiwala, in honor of his late wife; and the Engleberg Leadership Scholarship program, a comprehensive leadership development opportunity for students from Atlantic City that covers tuition, room and board, and fees while providing experiences aimed at preparing students to become the city's next leaders.
Stockton alumnus Roland Hagan spoke about the scholarship for marine science students he established in memory of his wife, who also graduated from Stockton and had a career in marine science.
"Her energy and passion for the environment is embodied in the Stacey Moore Hagan Memorial Endowed Scholarship," Hagan said.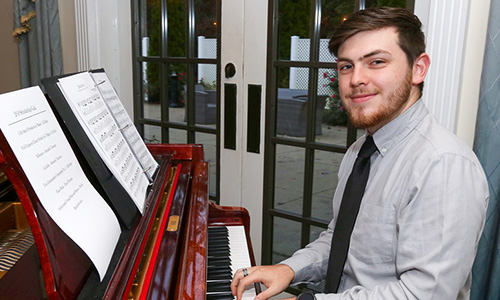 Stockton President Harvey Kesselman said Stockton's focus, as always, remains on serving and investing in students.
"Your partnership, your continual investment and your generosity are critical for student success," Kesselman said. "Working together, we will continue to ensure that the value of a Stockton degree soars like an Osprey in full flight!"
Kesselman also recognized attendee Jo Frances Stow – a former member of the Stockton Foundation Board of Directors and co-chair of the Stockton Scholarship Selection Committee – who established the Frances N. Christian Memorial Scholarship for Nursing students, a Col. Kenneth R. Stow U.S. Military Veterans Scholarship in honor of her husband and the Dr. Jo Frances Stow Scholarship for Public Health.
Sophomore Business Studies major Serene Quick, the event's student speaker said Stockton's mentors and resources have played a large role in her educational success thus far. She said receiving a Foundation scholarship was "one of the most important doors that opened to [her]."
"I appreciate every donor in this room, and those not able to be here tonight," she said. "You acknowledge our stellar academic success and make it possible for us to continue this journey. Every scholarship recipient and I would like to express our sincere gratitude for your selflessness and encouragement as we move closer and closer to graduation."
Stockton Foundation Chair Donna Buzby and Provost Lori Vermeulen also offered their thanks and appreciation to the donors.
Senior music major Joseph McLaughlin played the piano to entertain guests during the cocktail reception, and sophomore dance major Cecilia Mitchell performed during dinner.
Many donors were thrilled by the event. Judy and Gerry Spanier of Linwood, who are affiliated with the Jewish War Veterans group in Margate that donates yearly to Stockton, said they had a wonderful time and are pleased to support students.
"Stockton is such a great school, and so close to home for students in this area," said Gerry Spanier. "Our favorite part is most definitely the kids, and we are more than happy to support them."
Reported by Kat H. Wentzell
View a gallery of photos from the event.
# # #
Contact:
Diane D'Amico
Director of News and Media Relations
Stockton University
Galloway, N.J. 08205
Diane.DAmico@stockton.edu
609-652-4593
609-412-8069
stockton.edu/media