Atlantic City Council Recognizes Homework Program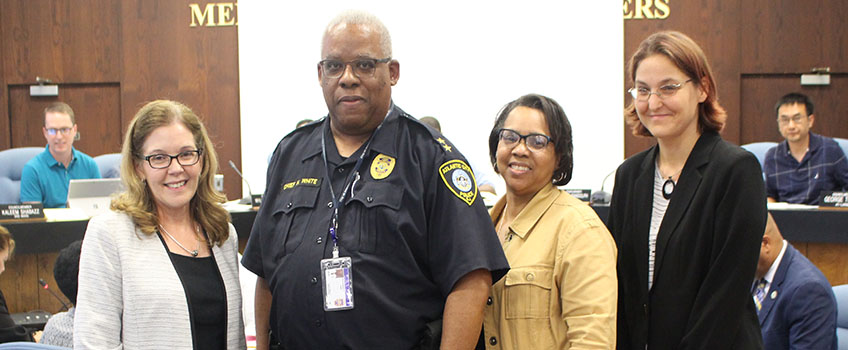 Atlantic City, N.J. – The City Council of Atlantic City unanimously approved a resolution on June 19 recognizing the Stockton Center for Community Engagement, the Atlantic City Police Department and the Atlantic City Housing Authority for their partnership in Homework Completion Project at two housing complexes in the city.
The resolution noted that academic growth and development is critical to success for the city's youth, and that students at both sites improved their grades. The resolution was proposed by Councilman Kaleem Shabazz.
Councilman Moises "Mo" Delgado thanked participants for their work.
"Students who had never thought about going to college now think about going to Stockton," Delgado said. "Programs like this help fill the gaps. I hope it can continue and grow."
SCCE Executive Director Merydawilda Colón, Community Engagement Liaison Patricia W. Collins and Community Projects Coordinator Heather Swenson Brilla accepted the resolution with Atlantic City Police Chief Henry White.
The Homework Completion Project just completed its fifth year at Stanley S. Holmes Village and fourth year at Buzby Homes Village. It offers children a period of quiet homework time between 3:00 pm and 5:00 pm, Monday through Thursday during the academic year.
According to the SCCE annual report, in 2017-18, 23 percent of the residents under 18 at Stanley Holmes and almost 49 percent of residents under 18 at Buzby Village participated, with 24 percent of the students attending at least twice a week. Most participants were in grades K-8.
That year 90 Stockton students participated at Stanley Holmes and 55 Stockton students participated at Buzby Homes, with both sites having an average of four tutors per day.
The SCCE also has other programs in Atlantic City, including naturalization classes at the Atlantic City campus, the Campus Kitchen, which prepares and delivers food to struggling families, and visits to housing complexes managed by the Atlantic City Housing Authority, and the Community Haven living center to play cards, dominoes, checkers, and chess with the residents.
# # #
Contact:
Diane D'Amico
Director of News and Media Relations
Stockton University
Galloway, N.J. 08205
Diane.DAmico@stockton.edu
609-652-4593
609-412-8069
stockton.edu/media