Meet Stockton's $8 Million Man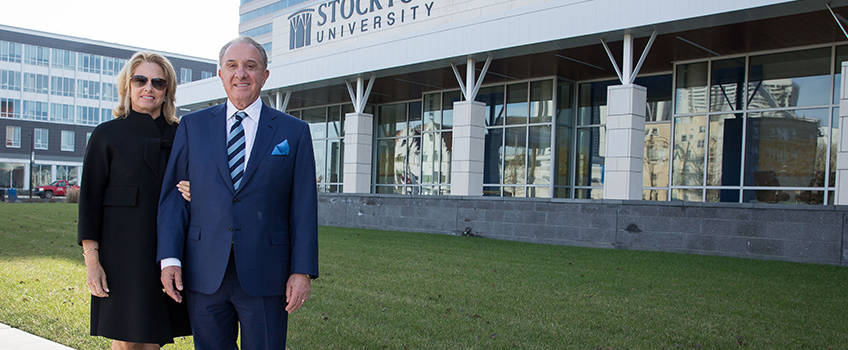 Galloway, N.J. – John Scarpa arrived at Stockton University on Monday, Dec. 23 wearing a striped Stockton tie.
It was a subtle, but meaningful gesture of support for the university to which he has pledged $8 million.
"I have always paid attention to Stockton and watched it grow," he said.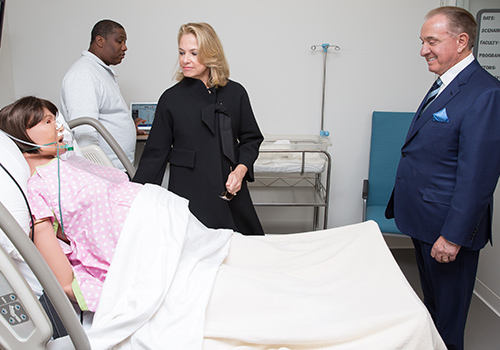 Scarpa and his wife, Jana, came to Stockton to make the first $1 million payment of the $8 million pledge to the Stockton Foundation from the John F. Scarpa Foundation and tour the two buildings that will be named in his honor - the John F. Scarpa Health Sciences Center in Galloway and the John F. Scarpa Academic Center in Atlantic City.
"This gift is transformative for us," Stockton President Harvey Kesselman said.
Scarpa said he has followed Stockton's progress since it opened.
"Right after it was built, I would drive by when I was traveling around New Jersey growing cable TV systems," he said. "I knew Magda Leuchter from Vineland, who was on the first Stockton Board of Trustees, and I'm friends with Michael Azeez."
In 2011 Azeez donated $5 million and the Sam Azeez Museum of Woodbine Heritage in Woodbine to Stockton.
"Over the years I learned more about Stockton's programs and how meaningful Stockton has become as a force for education in South Jersey," Scarpa said. "I want to see more young men and women grow up to attend Stockton."
Jana Scarpa noted that her niece is currently in the speech-language pathology program at Stockton.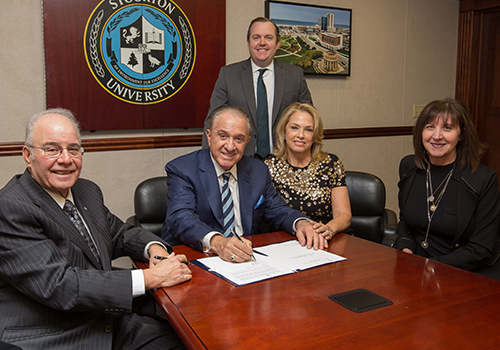 A native of Vineland, where his family had a farm, Scarpa was an entrepreneur and pioneer in the cable television and cellular communications field. He helped establish the New Jersey and Northeast Cable TV Associations and assisted in the launch of the internet service provider Earthlink. He was also co-founder and president and COO of American Cellular Network, Corp. co-founded Unitel Wireless Communication Systems and was one of the original members of the Cellular One Network.
Scarpa recalled the day his mother, Edith, asked him if he was a millionaire.
"She was about 90, and she summoned me and said her girlfriends had told her that I was a very wealthy man," Scarpa said during a visit to Stockton University. "I said, 'I do okay.' She said, 'Are you a millionaire?' and I said yes. She said 'You don't need it all. Take care of your family give the rest to help others.'"
Scarpa took her advice and formed the John F. Scarpa Foundation with a focus on healthcare and education. He is also a benefactor of the Frank and Edith Scarpa Regional Cancer Center at Inspira Medical Center in Vineland, the Edith Favretto Scarpa Arts and Sciences Building at St. Augustine Preparatory School in Richland, and the John F. Scarpa Technical Education Center of Cumberland County in Vineland.
Scarpa's gift will target two primary initiatives, Stockton's expansion of academic programs in Atlantic City and the Health Sciences Program on the main campus in Galloway, plus create an unrestricted fund for other university needs.
"I see great things happening with Stockton," he said.
Jana and John Scarpa live in Palm Beach, Fla and Avalon, N.J.
Contact:
Diane D'Amico
Director of News and Media Relations
Galloway, N.J. 08205
Diane.D'Amico@stockton.edu
609-652-4593
609-412-8069
stockton.edu/media