Sankofa Summit Addresses Issues Facing Men of Color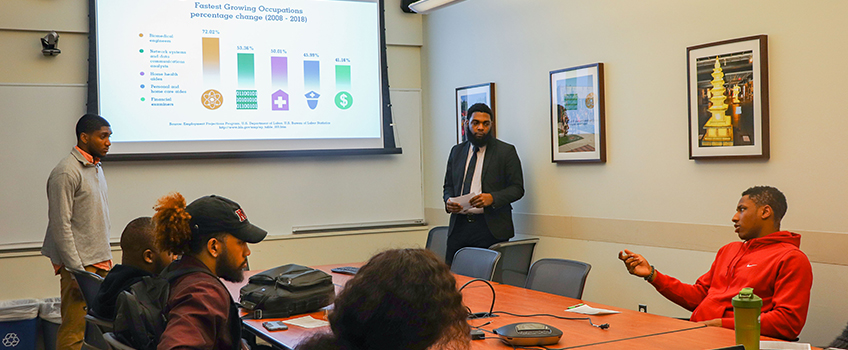 Galloway, N.J. – The third annual Sankofa Summit, an educational symposium about common issues affecting men of color, was held at the Stockton University Campus Center on March 19.
This event is coordinated by Stockton Director of Community Wellness and Health Education, Sankofa Founder, and Professor Jonathan Johnson. Johnson teaches the course "Black Men in America," and the Sankofa Summit serves as a showcase of the research his students collect.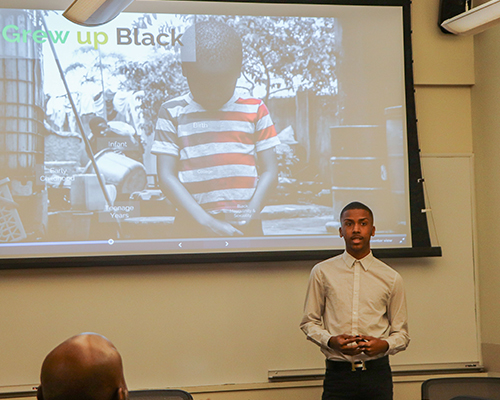 The theme of this year's program was "Advancing the Achievement of College Men of Color," and each presentation explored a critical problem that affects college-age men of color.
"The agenda to help men of color is there," said Stockton Assistant Vice President of Inclusion and Wellness and Sankofa advisory board member Stephen Davis during his opening remarks. "Let's look at issues today and figure out how we can change them, and how we can plant the seeds for success."
Michael Forest, a counselor and mentor at Atlantic Cape Community College, underlined the essentiality of young men of color having mentors, often referring to the "I Am MORE" movement, which he founded and serves as CEO. I Am MORE focuses on creating positive environments for younger generations of color by offering housing, music and mentorship.
Gender Roles of Black Men in Family and Relationships
"Gender roles are society based," said Camryn Weaver, who was one of four presenters who led discussions of gender roles in the family and in relationships.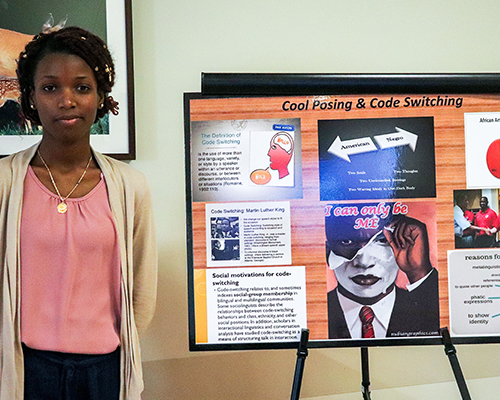 The importance of father role models was a frequent topic. Weaver, along with Kayla Miller, Kayla Rivera, and Ebony Fleming talked about how men are influential to their sons. Multiple people in the room also shared their experiences and opinions on gender roles for black men, discussing topics like paying for dates, making less money than their significant other, and how to be a father without having had a father figure growing up.
Shadirah McCrae-Drummond, a freshman student, hosted a presentation discussing early steps that can help establish success in an African-American man's future. She also stressed the importance of role models in a young boy's life.
"The people you surround yourself around have an effect and play a part in your success," said McCrae-Drummond.
Celebrities, such as Spike Lee, Samuel L. Jackson, and Sean Combs (P-Diddy), are all examples of black men who grew up in a struggling home but used their support systems to become successful.
London Shields, Marion Kitchens, and Crystal Black discussed the necessity of black men to care for their minds, bodies, and souls to ensure healthy relationships and a healthy lifestyle.
The Education Gap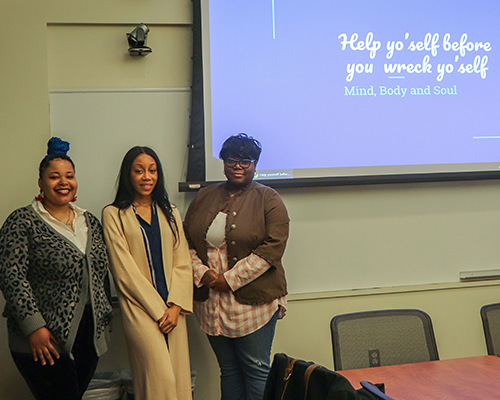 Wellington Torres said the education system for children in urban areas is very different than in suburban areas. He said children in cities face barriers like poverty, language, and less of a family structure in some cases, while suburban children have school-ready attitudes influenced by their role models.
The national average high school graduation rate is 83.2 percent, but Hispanic and African-American students graduating high school fall below the national average.
"In 2015, the Hispanic community graduated at a rate of 77.8% and the African-American community graduated at a rate of 74.6%, both below the national average," said Torres.
Families getting more involved is one of his solutions, as well as more celebrities of color involving themselves by giving back to urban communities. He also encouraged more schools like Stockton to allow students to apply without submitting SAT scores.
Ahmad Shepherd-Sloan and Quentin Jennings also examined black graduation rates in high school and college, and what those numbers mean. High school graduation rates have risen, but college graduation rates are still extremely low, and Shepherd-Sloan and Jennings discussed different racial and social challenges that influence these statistics.
Enrique Rodriguez presented on the lack of minority men in STEM (science, technology, engineering and math), presenting statistics and proposing efforts to help black men advance in collegiate STEM programs.
Adjustments for Criminal Justice Reform
Life after incarceration is challenging. Elaine Peterson led a presentation on the struggles people face after prison, including unemployment and homelessness. Finding a job can be especially challenging with a criminal record.
Peterson offered solutions, including assigning each person a social work type helper who can help them re-enter society.
"I think it's important to help them advance instead of leaving them in the dust," said Peterson.
Students Ryan Taylor, Tyler Groth, Paul Rosar, and Robert Murphy also discussed the school to prison pipeline, and how many young black males across the country find themselves in prison right after high school graduation. They examined different systemic practices and other factors that set men of color back in society.
Media and Racial Stereotypes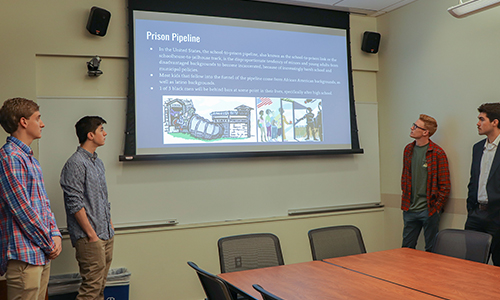 Anthony Davis explored the many negative ways the media portrays black men: as "thugs," violent criminals, animals, and everything in between. Davis also discussed the harsh consequences of such portrayals, such as the deterioration of self-esteem and difficulty acquiring jobs. Anaiah Lewis gave a presentation on the same topic later in the day, utilizing videos and other visual aids to exemplify the message.
Students Corinne Shustyk, Julia Garin, Kelsey Berlin, and Tiffany Reed reviewed the history behind racial stereotypes in the United States, and the effects these stereotypes have on black men. They also debunked common myths and stressed the importance of cracking down on prejudice perpetuation.
Jason Martin explored life through the eyes of a young black boy, covering everything from economic status to sexual orientation.
Kee Cooper presented on relationships men of color have with others within the household, and how they shape their relationships with the "outside" world. Cooper also highlighted positive roles men of color fill in the family and society.
Nisa Stockley, Khadijah Potts, Kayla Baylor, and Soraya Dezilme showcased their presentations in poster format, visually exploring ideas like "cool posing" and "the new evolution of black men" with photos and artwork.
Stockton Assistant Dean of Education John Gray was the day's featured speaker, and concluded the Summit with a candid presentation about his life as a black man, as well as his recently released memoir, Quitting Was Not An Option: A Journey of Perseverance and Resilience. There was a book signing following his lecture.
Johnson said that those who attended the program should realize they are contributing members in the movement to help men of color.
"When I first came to Stockton, I noticed a lack of [black] representation, and a lack of discussion as to how we can improve black lives," he said. "I wanted to create this event to not only bring awareness to black male issues, but to spark thought as to how we can fix them, and put those thoughts into action."
This event was sponsored by the Sankofa: Men of Color Initiative Advisory Board, students from the GAH 2350: "Black Men in America" course, the Office of the Dean of Students, the Wellness Center, and Africana Studies.
Reported by Kat H. Wentzell and Julia Sus
# # #
Contact:
Diane D'Amico
Director of News and Media Relations
Stockton University
Galloway, N.J. 08205
Diane.DAmico@stockton.edu
609-652-4593
609-412-8069
stockton.edu/media