Rotary Youth Leaders Celebrate 40 Years at Stockton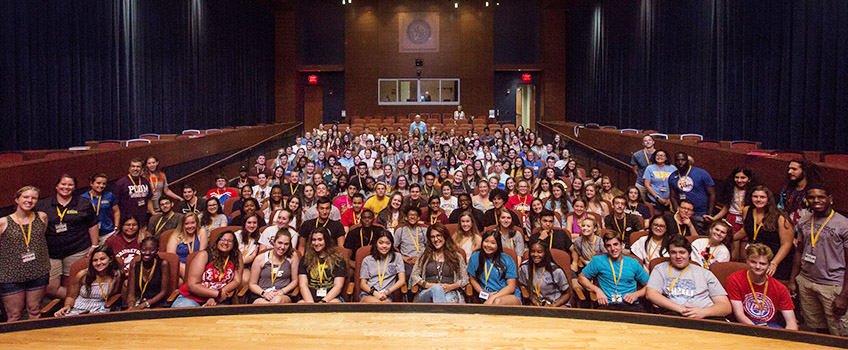 Galloway, N.J. _ They arrived at Stockton University on Sunday, June 23 as an excited, but also nervous group of rising high school seniors wondering what to expect from their five days at the Rotary Youth Leadership Awards conference.
By Wednesday they were still excited, but no longer nervous as they connected with new best friends, and bemoaned having to go home on Thursday night.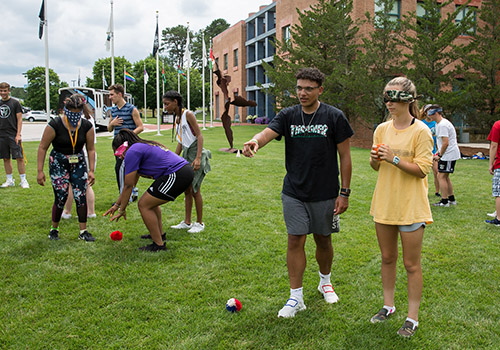 "I wish we could just all transfer and go to the same high school," said Justin Selkow of Logan Township, who attends Kingsway Regional High School.
"This is a family now," said Jasmin Vu, of Galloway Township, a senior at nearby Absegami High School. "I'm going to be so sad to leave. I'm going to think about it every time I go past Stockton."
This year is the 40th anniversary of the conference, known as RYLA. Sponsored by the Rotary District 7505 the local conference has been held at Stockton for its entire 40 years. Local Rotary Clubs choose students from their local high schools. This year more than 160 rising seniors from 41 high schools in Atlantic, Cape May, Cumberland, Gloucester, Salem and Camden counties participated.
James Puderbach has organized the RYLA at Stockton for 32 years. A retired Overbrook High School history teacher, he said it's the enthusiasm of the participants that keeps him motivated.
"I still have a great time," he said. "These are already great kids who have the ability to make a difference. That's what we preach, to be that difference maker because you have that ability."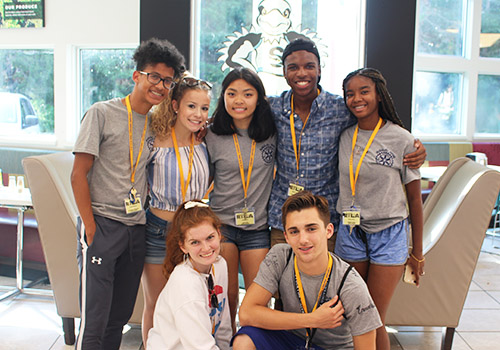 During the conference students hear from motivational speakers, have small group discussions, and participate in leadership and team-building activities.
"I really loved the lectures on how to put it all together to become a leader," said Obinna Okorie of Cherry Hill, a student at Cherry Hill East.
"I was nervous at first," said Emma O'Brien of Glassboro, who attends Glassboro High School. "But we really got tools for how we can better ourselves."
On Wednesday evening the students were making final preparations for a talent show, that some admitted would not be an area where they excelled.
"I'm singing, but I really can't sing," Okorie said.
"But it doesn't matter, because we are just all here to support each other," said Krista Cline of Hopewell Township, a student at Cumberland Regional High School.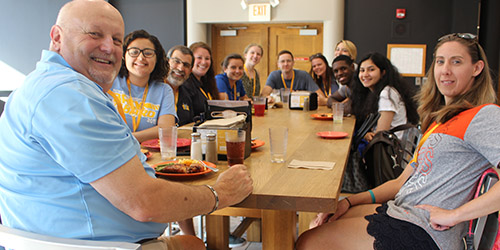 For the students who truly can't stand leaving, there are opportunities to return as a counselor, and many do.
Ron Dunn now teaches math in East Brunswick, but in 2020 he was a rising senior at Collingswood High School who attended the conference.
"This is my sixth year as a counselor, and it's been awesome every time," he said. "It was a really cool way to enter my senior year in high school and meet students from so many other towns."
He said the conference taught him a lot about leadership, and finding a balance that allows others to learn to lead as well.
"Being a leader is also about listening to other people," he said.
Junior counselor Maurice Wade of Pine Hill N.J. attended as a student at Overbrook High School and now attends Howard University. He said he learned that there are different types of leaders, and some can be quiet, while other are more take charge.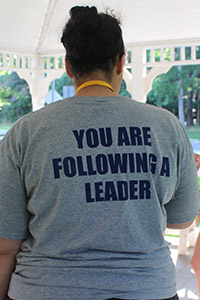 "You learn that it's okay to be yourself, but also to need guidance," said Allison Swack of Blackwood, who attended Highland Regional High School and now attends Camden County College. "A leader also knows when to let others speak and lead. I really found myself here last year."
Puderbach said the Stockton campus has grown and changed a lot since the conference started, but it is still an ideal location for the program. The students have both indoor and outdoor activities on the grounds, are in a safe and secure location, and are happy with the meals in N-wing cafeteria. The residential program also gives them a taste of college life in student housing.
"Some do decide to come to Stockton after they graduate," Puderbach said.
While they didn't want the program to end, students said they looked forward to applying what they learned to their senior year in high school.
"I was shy coming in," said Nyasia Hill of Gloucester Township who attends Timber Creek Regional High School. "I'm so much more confident now. I'm really going to try to help my peers when I get back."
# # #
Contact:
Diane D'Amico
Director of News and Media Relations
Stockton University
Galloway, N.J. 08205
Diane.DAmico@stockton.edu
609-652-4593
609-412-8069
stockton.edu/media