Rowing is Growing at Stockton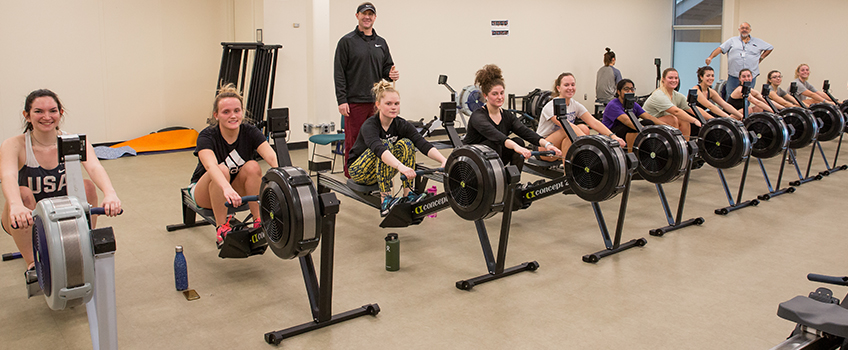 Galloway, NJ - Written above a poster for the 2019 Jefferson Dad Vail Regatta are the words "Our Terminal Goal."
The poster, taped to a whiteboard in room F103 at Stockton University is motivation for the women of Stockton's rowing team as they spend cold February mornings in sweaty 1.5 hour workouts on the "erg" rowing machines that line the room.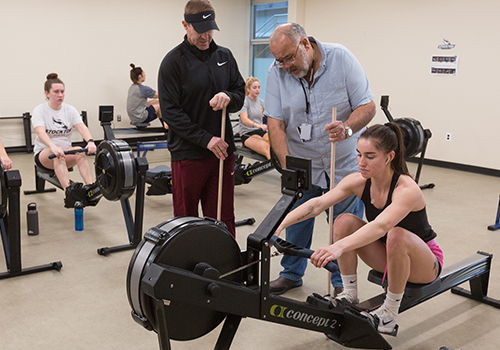 "My goal in high school was always to row in the Dad Vail" said freshman Michaela Pope of Collingswood as she cooled down, sitting on the floor so the nearby couch wouldn't get wet from her sweat. "But it wasn't talked about it much here. Now we are talking about it. It's more intense. The coach is a great motivator."
That coach is John Bancheri, Stockton's new and first full-time rowing coach, whose own history in Atlantic City has brought him home after a successful career coaching at Grand Valley State University in Michigan from 2005-2018.
Bancheri rowed the back bays of Atlantic City when he competed for the local high school under Coach Bob Garbutt in the late 1970s. Now he has come back to give back, bringing his experience and drive to a rowing program he believes can bring home a medal from the Dad Vail in Philadelphia, maybe not this year, but soon.
"Stockton is an Anchor Institution in Atlantic City and it should have a naval power," said Bancheri, who calls his team the Osprey Navy. "There is no reason we can't produce a national caliber program. It was done before, the early 1990s when the Women's 8 won a bronze. We can do it again."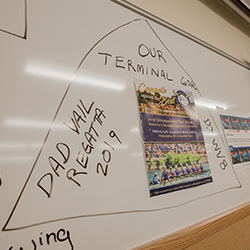 His enthusiasm is contagious. The number of women signing up for the intercollegiate rowing team this spring, 32, is double the number in the fall. The team wears t-shirts that say "The Shape of Things to Come," and members said there is already more recognition of rowing on campus. The men's club team has also increased its numbers and looks to grow and be more competitive as well.
"We are the foundation to build to the goal," said Chloe Schulze.
"And all the new people who come in have a common goal," said Claudia Bowman, who switched from track to rowing.
The program has found support in the community. An advisory committee has been formed to help support the teams and the fundraising required for a program where one boat costs $40,000.
The first Rowing and Growing fundraiser will be held at the new Stockton Atlantic City Academic Center at 7 p.m. March 8, with local rowing legend Stan Bergman as the guest honoree.
"It's just great what Stockton is doing," said Bergman, chief of the Ventnor Beach Patrol who had an illustrious coaching career of his own at Holy Spirit High School and the University of Pennsylvania. He started rowing as a lifeguard and under Dr. John Holland, a founder of the Viking Rowing Club in the 1950s.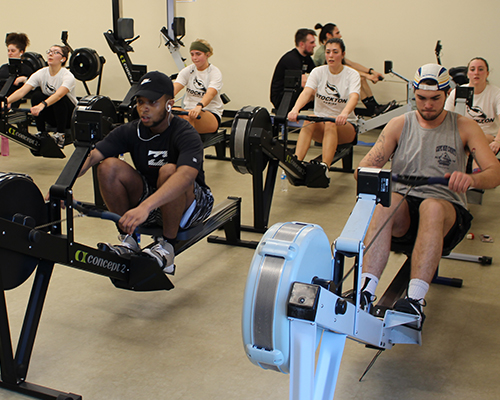 "Doc Holland had a vision for rowing in South Jersey," Bergman said. "What Stockton is doing now is great and fits with that vision. Rowing is a great sport to get national attention and Stockton is stepping it up big time."
Bergman said rowing develops teamwork, camaraderie, trust and a strong work ethic.
"It's a tough sport," he said. "But the more you put into it, the more you get out of it. People who row know how to work hard."
The teams row out of the Atlantic City School District's impressive boathouse, and Bancheri said he hopes to work with the district and other area high schools to promote the sport and recruit rowers.
"We have the most beautiful body of water that Mother Nature gave us, and the city as a backdrop" he said of the back bay. "The area has a great history of rowing and we have to tap into that history, that talent, to become one of the best collegiate rowing communities in the country."
Bancheri's two assistant coaches also have local connections and will help develop both the women's intercollegiate team and men's club team. Joe Welsh was a winning coach at Holy Spirit High School, where in 2003 he coached the girls' varsity 8 to the championship at the famed Henley Women's Regatta in England. BJ Fox has coached at both Atlantic City and Mainland Regional High Schools. Brad Cress, another veteran local coach who rowed for ACHS and coached at several area schools, continues as the men's club coach.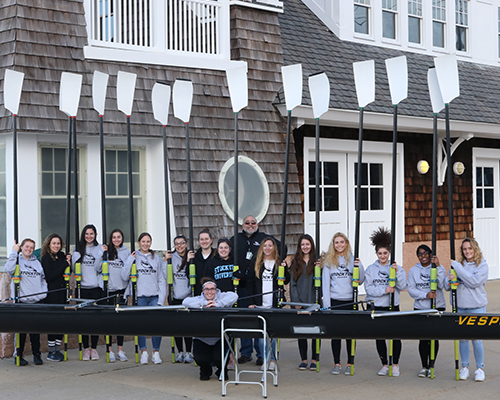 Bancheri said community support is crucial to a successful program and he is confident the rowing community in South Jersey will get behind Stockton.
"If we are going to build a national program, we need their help, their sponsorship" he said. "We need students who will come here to get a great, affordable education and have a great rowing experience. We are doing things we've never done before and we want them to help us build it."
Former N.J. Sen. Bill Gormley, a member of the advisory committee, has already donated $2,500 toward the purchase of a shell to be named for Stan Bergman.
In early March the team leaves for Florida where they will train and compete at Rollins College.
"I'm very excited and happy the sport is getting known," said Julia Iannelli of Ventnor, who rowed for Atlantic City High School and got her start with the Viking Rowing Club's "chicken dippers" program when she was eight years old.
A junior and team captain, she'd like to see the team make a championship showing at the Dad Vail before she graduates.
"I want to see this happen before I leave," she said. "This has always been my sport, but after high school I thought my time was up for crew. But I want to set a good example. We are at a new level now."
The Rowing and Growing with the Ospreys event honoring Stan Bergman will be held at 7 pm. March 8 at Stockton University Atlantic City, 3711 Atlantic Ave. Tickets are $100 and sponsorships are also available to support the teams.
Community members of the Stockton University Rowing Advisory Committee include: Stan Bergman, Joelle Bridgers, Rose Ann Cahill, Michael Chait, Ray D'Amico, Bill Gormley, Phil Guenther, Walter Johnson, John Kelley, George Miller, Maripat Perone, Sue Peterson, Jack Plackter, Rick Ricciardi, Alan Staller, John Strotbeck, Tom Sykes, and Holly Zachowski.
More information is at stockton.edu/events/rowing
Watch an interview with Coach John Bancheri at Comcast Newsmakers.
# # #
Contact:
Diane D'Amico
Director of News and Media Relations
Stockton University
Galloway, N.J. 08205
Diane.DAmico@stockton.edu
609-652-4593
609-412-8069
stockton.edu/media