Stockton Named Recovery Court Partner of the Year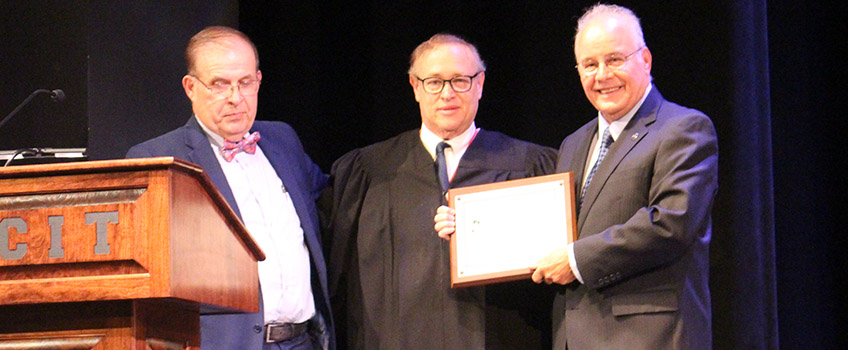 Mays Landing, N.J. – Stockton University's commitment to assisting those in recovery from addiction was recognized with the Partner of the Year award at the 18th Graduation and Commencement Ceremony of the Atlantic/Cape May Vicinage Recovery Court Program, held at the Atlantic County Institute of Technology on June 25.
"Stockton is committed to providing educational opportunities to program participants," Assignment Judge Julio Mendez said in making the presentation. "They even went the extra mile, establishing a scholarship. The university has also hired recovery court participants. They don't just talk the talk, they walk the walk."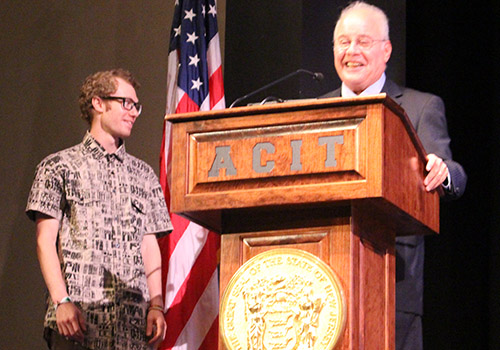 Recovery Court Judge Mark Sandson said Stockton is the first major educational institution to partner with the Recovery Court program.
Stockton president Harvey Kesselman said the program speaks to the heart of Stockton's values, mission and commitment to service. He called the program a testament to the power of hope and the will to find viable solutions to life's critical challenges and said Stockton is proud to help provide program participants with tools for change.
"At Stockton, we proudly stand firm in our partnership with the Recovery Court Program to provide access to a quality education and housing in a supportive environment to those in recovery who seek to further their education; to develop employment opportunities for program participants, and, most importantly, to give rise to those dreams once believed to be lost to addiction," Kesselman said.
Kesselman presented Stockton student and Recovery Court participant Trey Brasher, 25, with a scholarship to cover eight credits at Stockton.
A senior, Brasher is a liberal studies major who is interested in pharmacology or neuroscience research. He is on track to graduate with a 4.0 grade point average and hopes to attend graduate school. He hugged Kesselman after receiving the scholarship and later said he is grateful for the opportunity Stockton has given him.
"I absolutely love Stockton," he said. "It's a haven for me. I've been able to work with three different professors. It's just incredible."
In spring 2009 Brasher designed an independent study project on ego-dissolution and collected data he will use for a senior capstone project working with Professor of Psychology Marcello Spinella and Assistant Professor of Psychology David Rosen.
Recovery Court graduate Luana Cordeiro, who previously received a scholarship from Stockton, graduated from Stockton in May, is working at Enlightened Solutions and has plans to get a master's degree in social work.
There were 73 graduates in the program, who are also eligible to have their records expunged now that they have successfully graduated. Sandson said the average participant is in the program for just under three years, and they hope to reduce that to 2.5 years.
Mendez said the graduates now have jobs, places to live and support.
A job is the most effective social program," he said.
Keynote speaker N.J. Department of Labor Commissioner Robert Asaro Angelo said people are more likely to stay in recovery if they have stable employment.
A native of Atlantic City, he recalled the struggles when casinos closed and the work that is being done now to create new jobs and opportunities at two new casinos, the Stockton Atlantic City campus and the National Aviation Research and Technical Park that just opened by the Atlantic City airport.
Other speakers were Prosecutor Damon Tyner , Deputy Public Defender Scott Sherwood, and program graduates.
# # #
Contact:
Diane D'Amico
Director of News and Media Relations
Stockton University
Galloway, N.J. 08205
Diane.DAmico@stockton.edu
609-652-4593
609-412-8069
stockton.edu/media