High Schoolers Manipulate Photochemical Reactions, Hydrogels in Summer Apprenticeship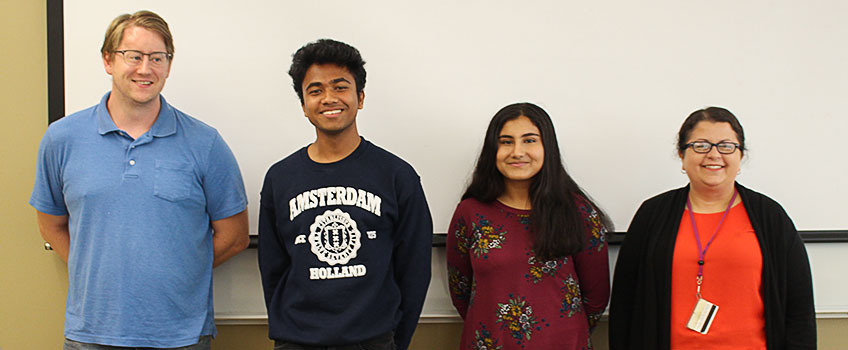 Galloway, N.J. – Two Atlantic County high school students became researchers this summer at the second annual Stockton University Research and Engineering Apprenticeship Program (REAP), sponsored by the U.S. Army.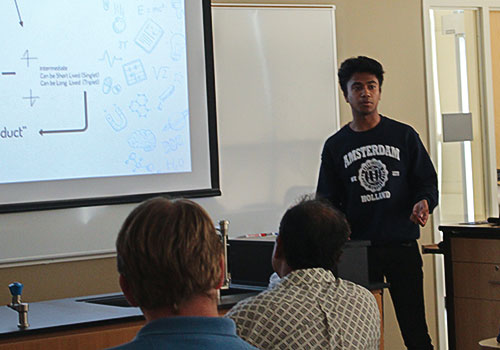 Wahedul Mahedi of Atlantic City, a rising senior at Atlantic City High School, explored the world of photochemical reactions with his mentor, Assistant Professor of Chemistry Barry Pemberton. In their project, titled "Precision Photochemical Reactions in Organic Molecules," the duo analyzed the products of different predetermined photochemical reactions, and worked to discover if humans can manually manipulate reactions to produce a desired product.
"Photochemical reactions are a part of everyday life," said Mahedi. "Light hitting your skin and your skin, in turn, producing vitamin D is a photochemical reaction. We wanted to see if we could mess with photochemical reactions to create a specific product, and we almost got there ... we could just about smell it!"
Panchatapa Baul of Northfield, a rising juionr at Mainland Regional High School, learned about hydrogels from her mentor, Associate Professor of Chemistry Pamela Cohn. In their project, "Kinetics and Properties of Hydrogel-Forming Reactions," the two explored hydrogels, their kinetic properties, and how to produce hydrogels themselves.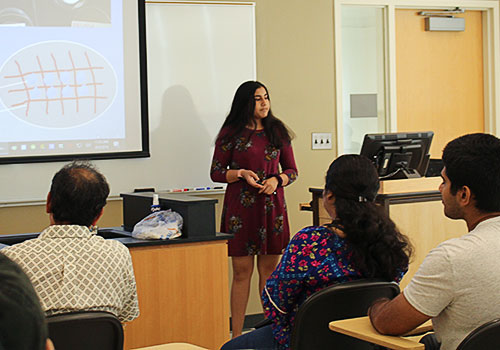 "Hydrogels are commonplace," said Baul. "They're in contact lenses, pills … and what we found is that you can use nitrogen to produce hydrogels, and we learned new information about their kinetic properties."
At the end of the program, Pemberton and Cohn noted the major growth they saw in their mentees.
"They definitely learned that research is a grind," said Pemberton. "You have to put in so much effort, and they did just that."
"It's tough, but when the breakthroughs happen, it's magical," Cohn said. "There were many great moments between groups."
The experience, although highly involved and time-consuming, was very well-received by the students.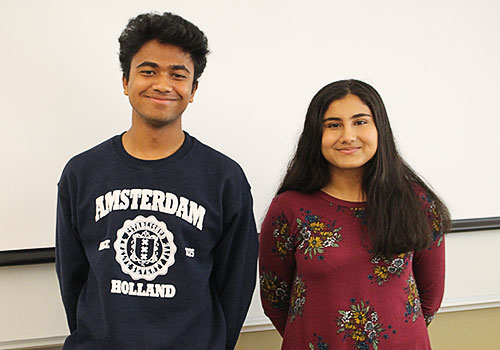 "This program made me realize how interactive and great researching is," said Baul. "I want to be a doctor, and this program taught me a lot of skills I need to know for that job, like being patient. This program also taught me just how much I should care about safety."
"This was the best part of the whole summer," Mahedi said. "It was one of the most unforgettable experiences of my life."
REAP is a summer STEM program that provides the opportunity for rising senior and junior high school students from underrepresented populations to work directly with mentors on research projects at Stockton University. Stockton was chosen to participate in this program by the United States Army Educational Outreach Program.
For more program information, including application and eligibility requirements, visit the REAP webpage or contact Program Director Steven Kalman at Steven.Kalman@stockton.edu.
Reported by Kat H. Wentzell.
# # #
Contact:
Diane D'Amico
Director of News and Media Relations
Stockton University
Galloway, N.J. 08205
Diane.DAmico@stockton.edu
609-652-4593
609-412-8069
stockton.edu/media