Twenty-Six Inducted into Psychology Honor Society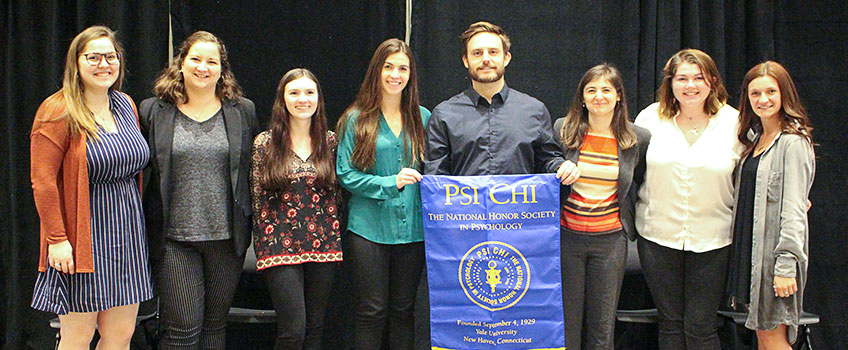 Galloway, N.J. – Nine Stockton Psychology majors received scholarships and 26 were inducted into the Psi Chi International Honor Society in Psychology at the Stockton University Research in Psychology Conference on April 17 in the Board of Trustees Room.
Scholarship recipients were:
Hughes Family Fund Awards: Roxanne Canfield, Kennedy Hubbard, Rukayat Olunlade, and Deysi Reyes.
Keith B. Williams Psychology Merit Scholar Awards: Roxanne Canfield, Benjamin Dykstra, Michelle Marroquin, Christopher McGuire, Christine Papaycik, and Po Yee Wong.
Students inducted into Psi Chi were: Elizabeth Aroune, Melissa Bertley, Allison Bluze, Charles Buvis, Kyle Dolch, Scott Hansen, Kenzie Hoinkis, Cassandra Kosty, Roseanne Johnson, Molly Lawlor, Anh Le, Ryan Lentz, Nicholas Luzio, Michelle Marroquin, Kristen McCormick, Christopher McGuire, Madison Muehlbauer, Madison Olsen, Morgan Pfau, Alexandra Price, Elizabeth Powers, Melanie Ressler, Samantha Salernitano, Dayna Sarcona, Madison Seiger, and Amanda Trippiedi.
"It is with great pride that we welcome these new members," said Stockton Psi Chi advisor and Assistant Professor of Psychology Zornitsa Kalibatseva. "Congratulations to everyone, and we hope you continue on with your commitment to the field of psychology."
Alumna Shaelene Lauriano Kite was also honored at the conference with a Distinguished Alumni Award for her work as a counselor and DBT-LBC certified clinician. Lauriano Kite gave a brief speech to students about "adulting" and how to build the life that one dreams of obtaining, stressing the importance of keeping your eye on the prize and being passionate.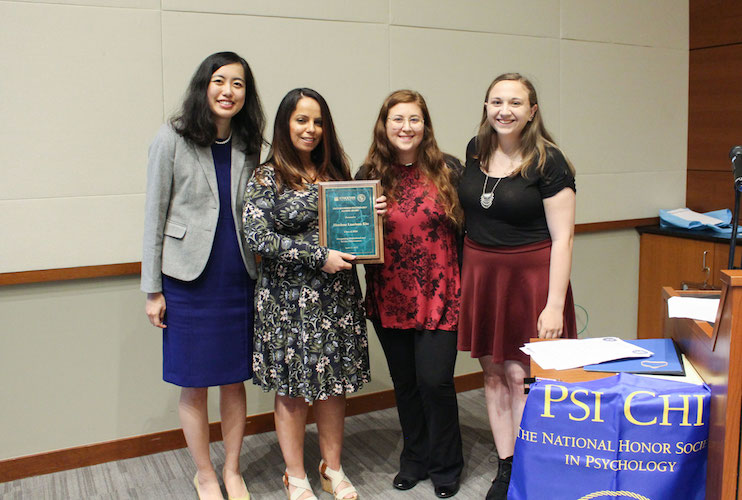 Psychology students and faculty also presented research at the conference. Three students presented their senior projects for distinction at the conference: Molly Arnold discussed the links between women lacking social support and postpartum issues, Katharine Casario investigated the effects of doodling on learning performance, and Abigail Donio explored mental illness in the media.
During the poster session, Benjamin Dykstra, Elizabeth Douglas, and Otto Morris discussed the role of cognitive reserve and brain connectivity in cognitive function. Assistant Professor of Psychology Anthony Austin presented his research on subjective social status and cardiovascular responses to stress.
Students Olivia Allison and Shannon Tissera from Temple University also participated in the conference, presenting research on developmental differences between the attentional orienting response of infants.
The event's keynote speaker was Peter Mende-Siedlecki, an Assistant Professor in the Psychological and Brain Sciences department at the University of Delaware. Mende-Siedlecki discussed his background and life history, and also presented the strides he has made in the field of psychology. Mende-Siedlecki has researched perceptual contributions to racial disparities in pain care. His research demonstrated that White perceivers show more stringent thresholds for recognizing pain on Black (versus White) faces, as a result of disruptions in configural face processing.
Upon the conference's conclusion, Canfield – Psi Chi President – and Arnold – Vice President – presented Kalibatseva with bouquets of flowers in appreciation of her dedication to Psi Chi and the Psychology department.
This event was funded by a Psi Chi Conference Grant and co-sponsored by the Stockton Psychology program, the Psychology Club, and the School of Social and Behavioral Sciences.
View more photos from the event on Flickr.
Reported by Kat H. Wentzell.
# # #
Contact:
Diane D'Amico
Director of News and Media Relations
Stockton University
Galloway, N.J. 08205
Diane.DAmico@stockton.edu
609-652-4593
609-412-8069
stockton.edu/media