Pinelands Summer Short Course Attracts Nature Lovers of All Ages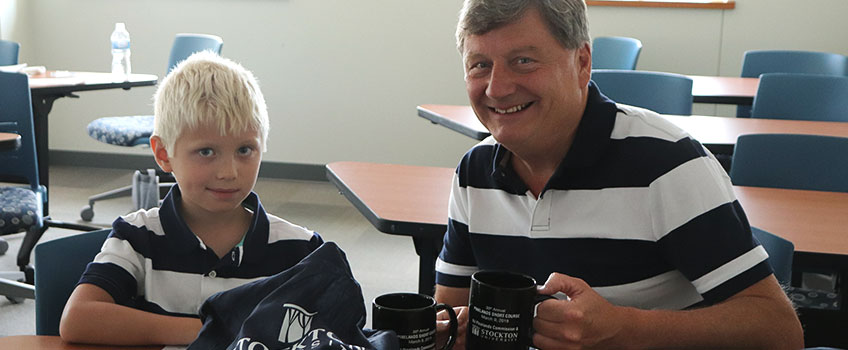 Hammonton, N.J. – Christopher Lohbauer of Pennsauken is a six-year-old birdwatcher, hiker, kayaker, and nature aficionado with an impressive knowledge of the landmark New Jersey Pinelands. He is, sometimes literally, following in the footsteps of his grandfather, Mark Lohbauer, Pinelands Commissioner and environmentalist.
Clad in identical navy blue and white polo shirts, the Lohbauers stepped through the doors of Stockton Kramer Hall in Hammonton on July 18, eager to spend the day learning all about their favorite ecosystem at the third annual Pinelands Summer Short Course. This was the second year that the duo has attended what has become a tradition and bonding activity for them.
"I am excited for the blueberries!" said Christopher Lohbauer, referring to the Atlantic Blueberry Company tour on Weymouth Road happening later that day, where attendees receive a tour of the company's blueberry factory and fields.
The Pinelands Summer Short Course features educational presentations and field trips that explore the unique history, ecology, and culture of the Pinelands. It is a partner activity to the Pinelands Short Course held earlier in the year. Both events are co-sponsore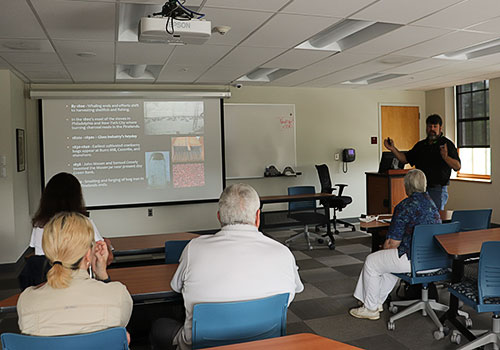 d by the N.J. Pinelands Commission and Stockton University.
This year, Joel Mott, principal public programs specialist at the N.J. Pinelands Commission led a discussion titled "Pinelands 101," where he detailed the history of the Pinelands. He discussed former booming industries – like charcoaling and ironworks – and how they led to tourism in the area, and he also discussed revolutionary battles and other skirmishes that took place there. He also revealed a few fun facts about the Pinelands.
"Mason jars actually come from the area," he said to a surprised audience. "In 1858, John Mason, a tinsmith, and Samuel Crowley, a glassblower, worked together and invented the Mason jar somewhere near present-day Green Bank, New Jersey. Now you know!"
Environmental educator and bird enthusiast Josh Grant presented a slideshow on "Backyard Birds," detailing facts about birds common to the Pinelands. Grant touched on bird sounds, bird habits, and even bird camouflage, such as the female cardinal's dull appearance serving to deter predators from making them their lunch.
William Zipse, supervising forester of the New Jersey Forest Service (NJFS) led a session titled "Game of Cones," in which attendees were able to "jump" into the lives of trees through a fast-paced, hands-on game. During the game, Zipse discussed traits of different trees and how they react to different stimuli, such as fire. Some trees produce pinecones that are serotinous, which means that they only open and release seeds when contacted with fire.
Christopher Lohbauer particularly liked this session; he has his own serotinous pinecone collection at home.
Bernard Isaacson, assistant regional forester at the NJFS, led a presentation on the ecology of forests and forest culture. He stressed the idea that our actions towards forests have serious consequences.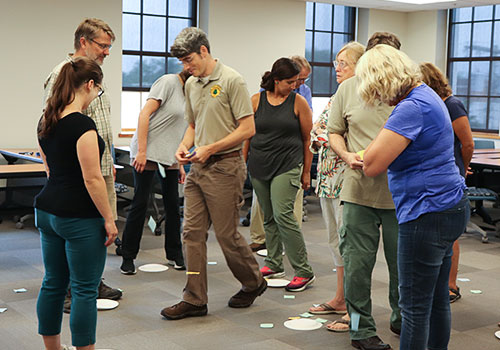 "What we're trying to do here is communicate forestry concepts so people can make decisions and have a better understanding of science," said Zipse.
During her lecture, Kaitlin Gannon, education coordinator of the Jacques Costeau National Research Reserve (JCNRR) discussed improving management of the nation's estuaries through research, education, and stewardship.
Steven Yergeau, Rutgers University cooperative extension and environmental resource management agent of Ocean and Atlantic counties, dived deeper into the topic of water. His presentation, "Using Water Wisely," began with an explanation of the hydrologic cycle, progressed to how urbanization disrupts this cycle, and ended with suggestions for water conservation practices that can be used in one's own yard.
Shawn Griggs, owner of Tomfoolery Brewery in Hammonton, and Jim Sacco, co-owner and brewer at Vinyl Brewery in Hammonton explored the history of beer and home-brewing, and gave a fact that made the audience cackle.
"The first brewery in New Jersey opened in 1641 in Hoboken," said Griggs. "That was more than 100 years before New Jersey became an official state. We had beer before New Jersey!"
The 2020 Pinelands Short Course will be held on Saturday, March 14. Anyone interested can info@njpines.state.nj.us to be included on the Pinelands Short Course email list.
The Lohbauers are already planning to attend.
Reported by Kat H. Wentzell.
# # #
Contact:
Diane D'Amico
Director of News and Media Relations
Stockton University
Galloway, N.J. 08205
Diane.DAmico@stockton.edu
609-652-4593
609-412-8069
stockton.edu/media