Stockton Poll Shows 52% in N.J. Support Impeachment Inquiry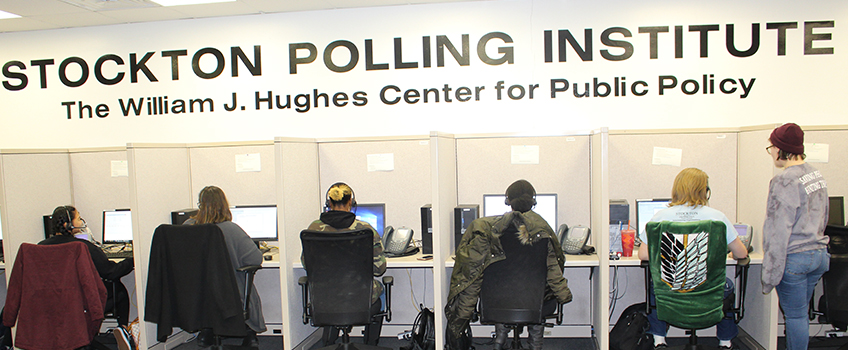 Galloway, N.J. - A small majority of New Jersey adults support the impeachment inquiry started against President Donald Trump in the House of Representatives, although they are split about whether Trump should be impeached at this point, according to a Stockton University Poll released today.
The poll of 544 adult state residents, conducted by the William J. Hughes Center for Public Policy at Stockton University from Oct. 3-7, 2019, found 52 percent supporting the House impeachment inquiry and 40 percent opposed. Four percent were neutral and 4 percent were unsure or not answering. The poll has a margin of error of +/- 4.2 percentage points
Among those who have paid attention to news about Trump's call with the Ukraine president and a whistleblower complaint that followed, 41 percent said Trump should be impeached while 36 percent said he should not be, based on what they know at this point. More than one in five (23 percent) were not sure or had no opinion.
A strong majority of 83 percent said they had either very closely or somewhat closely followed news reports about the Ukraine call and whistleblower complaint. Sixty one percent of those who had followed the news at all said the claims are either a very serious problem that should be investigated (46 percent) or a somewhat serious problem that could be investigated (16 percent). Eighteen percent each said the claims are a minor concern or no concern at all.
While the news is fairly negative for the president, the poll suggests that Trump's claims alleging impropriety in the Ukraine by former Vice President Joe Biden, a Democratic presidential candidate, and his son, Hunter, are having an effect. Among those who knew of Trump's claims, 24 percent said Biden's past actions in trying to get an ineffective prosecutor fired posed a very serious problem that should be investigated, and 23 percent called them a somewhat serious problem. Neither the candidate nor his son has been charged with illegality and are not known to be under investigation.
Trump remains unpopular in New Jersey, as he has been throughout his presidency. Only 37 percent hold somewhat or very favorable views of him, while 58 percent hold unfavorable views, including 49 percent as very unfavorable.
The poll found a profound partisan divide regarding Trump. Republicans in blue-state New Jersey are sticking with the GOP party leader, with 91 percent expressing favorable views of Trump; 91 percent of Democrats hold unfavorable views. Among independents, Trump has a 36 percent favorable rating and 56 percent unfavorable. Eighty-five percent of Democrats support the impeachment inquiry, while 91 percent of Republicans oppose it. Independents support the inquiry 48 percent to 41 percent opposed.
In the poll's only showing of some crack in GOP support, one in four Republicans (24 percent) said the whistleblower's claims are a very serious or somewhat serious problem.
The Stockton Poll also showed regional differences regarding support for Trump, which is higher in the state's eight southernmost counties than in central and northern New Jersey.
"South Jersey is more rural and more conservative than most of the rest of the state," said John Froonjian, interim executive director of the Hughes Center. "Remember, Donald Trump won the 2nd and 3rd Congressional Districts covering most of South Jersey in 2016."
The 2nd District includes all of Atlantic, Cape May, Cumberland and Salem counties and the 3rd District covers large parts of Ocean and Burlington counties.
North Jersey showed clear support for the impeachment inquiry at 56 percent versus 36 percent opposed. But South Jersey was split with 46 percent in support and 47 percent opposed. North Jersey supported impeaching Trump 45 percent to 31 percent opposed, with 21 percent unsure. In South Jersey, only 33 percent supported impeachment while 46 percent oppose it, with 21 percent unsure.
The poll also found a New Jersey gender gap on the impeachment inquiry. Men were more closely split with 48 percent supporting it and 44 percent opposed, while 58 percent of women supported the inquiry with 34 percent opposed.
For full poll results, go to Poll Results
About the Hughes Center
The William J. Hughes Center for Public Policy (www.stockton.edu/hughescenter) at Stockton University serves as a catalyst for research, analysis and innovative policy solutions on the economic, social and cultural issues facing New Jersey, and promotes the civic life of New Jersey through engagement, education and research. The center is named for William J. Hughes, whose distinguished career includes service in the U.S. House of Representatives, Ambassador to Panama and as a Distinguished Visiting Professor at Stockton. The Hughes Center can be found on YouTube, and can be followed on Facebook @StocktonHughesCenter, Twitter @hughescenter and Instagram @ stockton_hughes_center .
Methodology
The poll of New Jersey adults was conducted by the Stockton Polling Institute of the William J. Hughes Center for Public Policy at Stockton University. The telephone survey was conducted Oct. 3-7, 2019. Live interviewers who are mostly Stockton University students called random numbers of cell phones and landlines from the Stockton University campus. Overall, 76 percent of interviews were conducted on cell phones and 23 percent on landline phones. A total of 544 respondents screened as adults and residents of New Jersey were interviewed. Both cell and landline phone numbers came from a sample provided by Aristotle. Data were weighted based on U.S. Census Bureau American Community Survey 5-year data for New Jersey on variables of age, ethnicity, education level, sex and region. The poll's margin of error is +/- 4.2 percentage points at a 95 percent confidence level. MOE is higher for subsets.
# # #
Contact:
Diane D'Amico
Director of News and Media Relations
Stockton University
Galloway, N.J. 08205
Diane.DAmico@stockton.edu
609-652-4593
609-412-8069
stockton.edu/media