Picture Stockton...Using Heat to Help Grow a Healthy Forest Ecosystem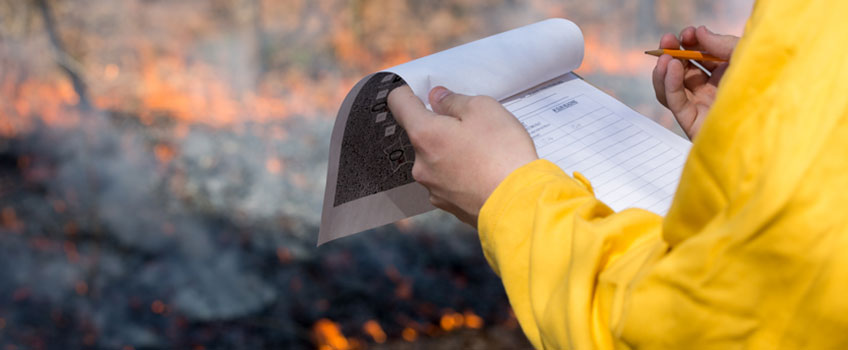 Stockton University students studying forestry with George Zimmermann, professor of Environmental Studies, had a warm spring break on the Galloway campus during a controlled burn March 14.
Returning fire to the forest ecosystem is part of Stockton's 10-year Forest Management Plan that was written by Bob Williams of Pine Creek Forestry. Students got the opportunity to shadow New Jersey Forest Fire crew members during the burns to collect data that will describe the impact of fire on a Pineland's ecosystem.
At the same time Stockton was using prescribed burns to reduce the chances of catastrophic fire on campus, a hearing in Trenton was taking place between lawmakers and forestry experts to discuss the risks of fire in the Pinelands National Reserve. Bob Williams explained that fires comparable to the California wildfires can happen right here in the Pinelands.
Our fuel loads in parts of New Jersey are just as high as the areas plagued by wildfires in the west, filling our forests with danger, noted George Zimmermann. "We are proud to be reducing these dangers proactively and most proud of the outreach educating the public on the value of management," he said.
Take a walk on an interpretive trail and explore the website to learn more about how Stockton is managing its forest for a healthy and biodiverse future.
View the photo story by Susan Allen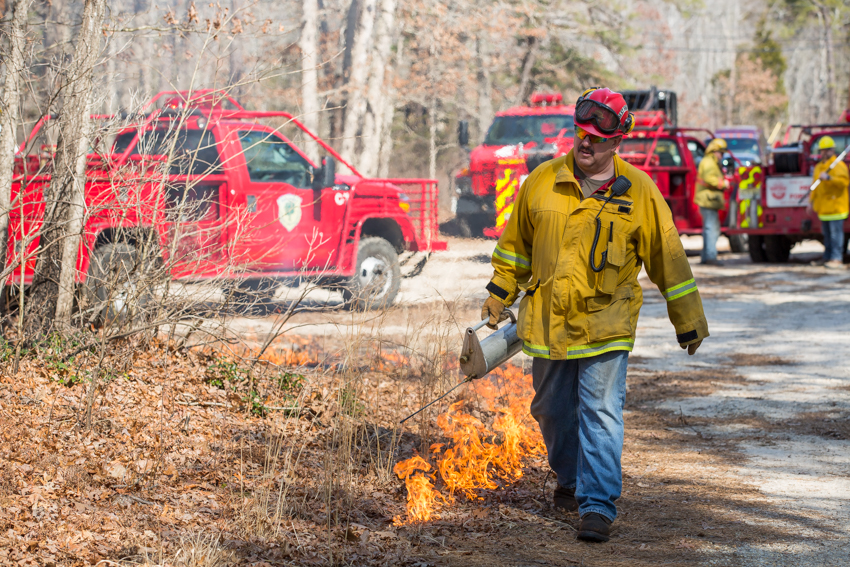 Edward Brook, a district warden with the New Jersey Forest Fire Service, walks along Delaware Avenue on Stockton's campus to ignite a controlled burn with a driptorch.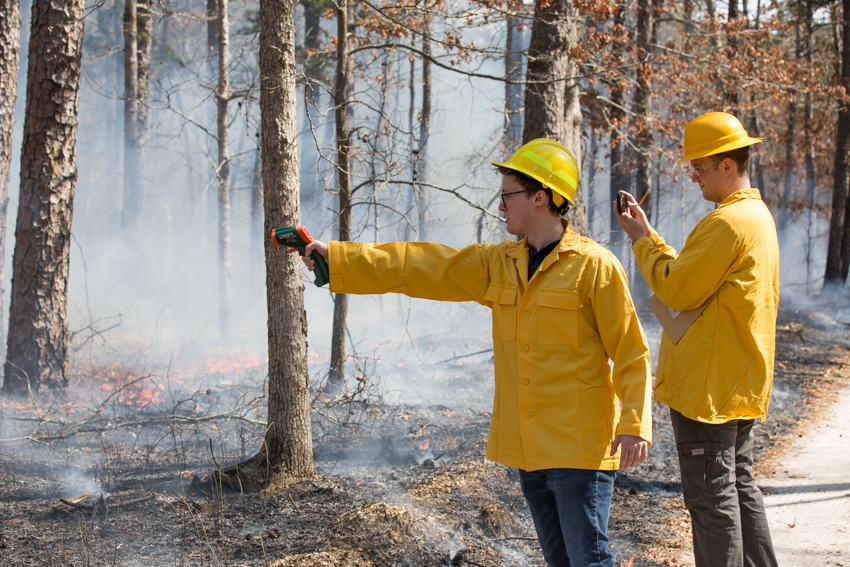 Students follow the flames with infrared guns to record the temperature of the fire as it feeds on forest floor fuels. Marc Ellsworth, a 2018 Environmental Science graduate, left, was a lead forestry technician for George Zimmermann, professor of Environmental Studies, for a long-term research project with NJDEP that uses numerous deer exclosures to study the effects of deer on forest growth. Preliminary observations have shown that "Atlantic white cedar regeneration is greatly enhanced when deer are removed from the equation," Ellsworth explained. Justin Gimmillaro, a senior Environmental Science major, is inspired by the outdoors and his mother who teaches science. Last year, he marked boundaries plotting fuel transects and assessed the loads of fuel in each plot. During the burn, he recorded the fire temperatures in those plots.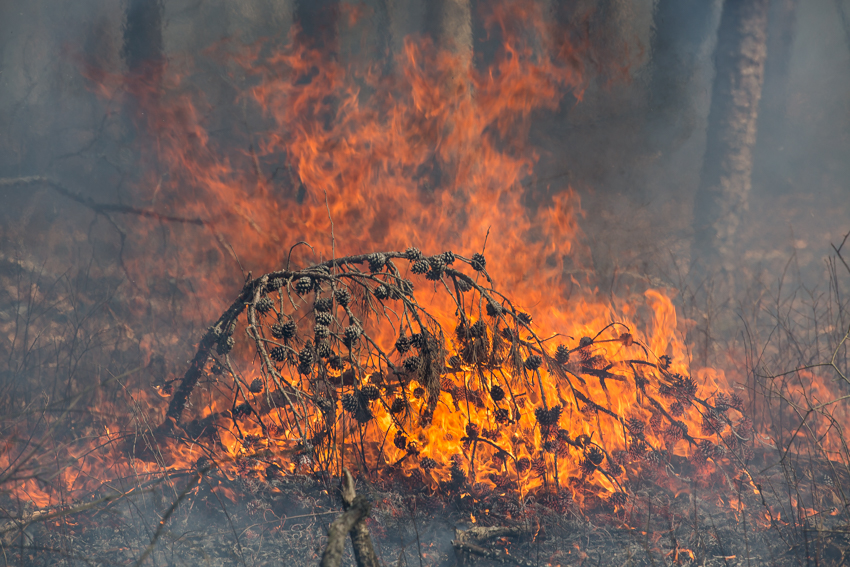 Pitch pine trees are uniquely adapted to withstand fire. Heat triggers the release of seeds from the cones.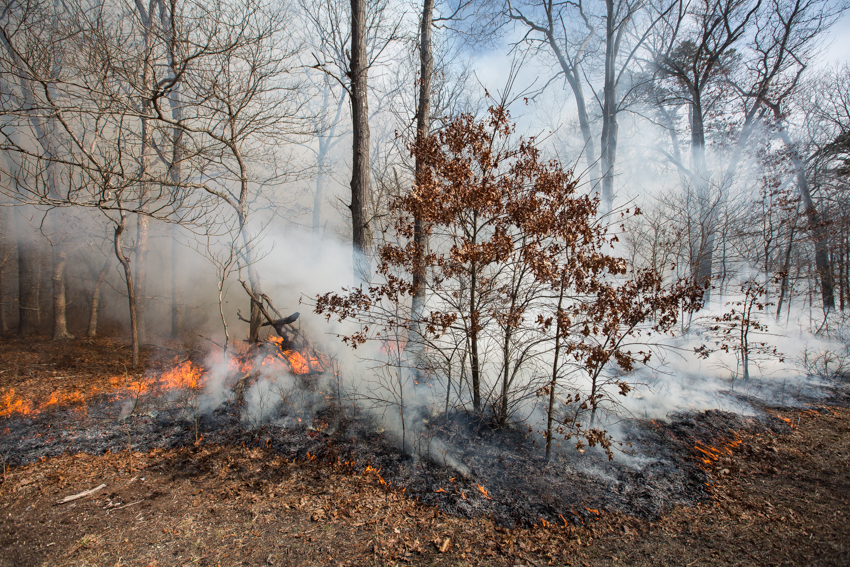 This year, Stockton's Forest Management Plan added a 75-acre burn site along W. Moss Mill Road.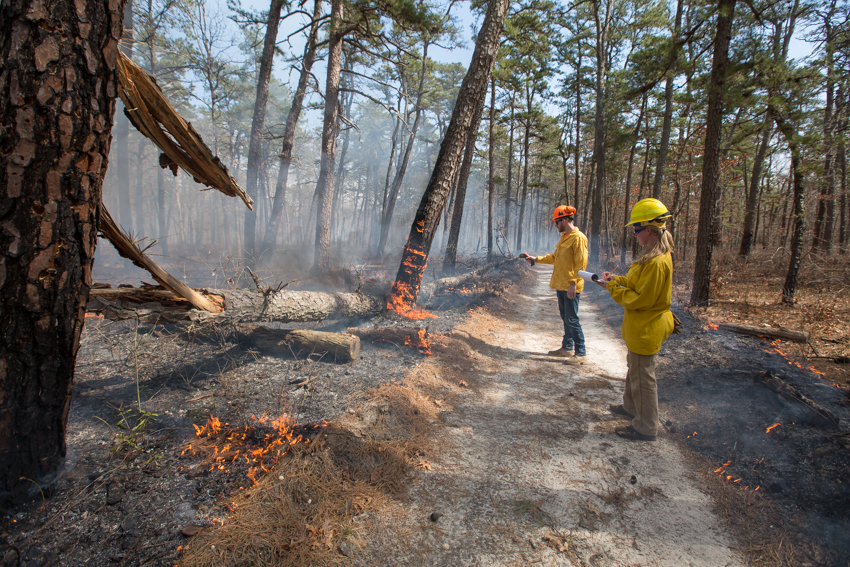 Environmental Science seniors Ben Brennan and Holly Seelman are no strangers to fire. Brennan volunteers with and Seelman works for the New Jersey Forest Fire Service and both have gotten their certifications. We asked Brennan what he wanted to do after graduating, and he smiled and said, "this," as smoke lifted from the crackling flames. Seelman said that participating in the burns at Stockton as a student sparked her interest and led her to her current position.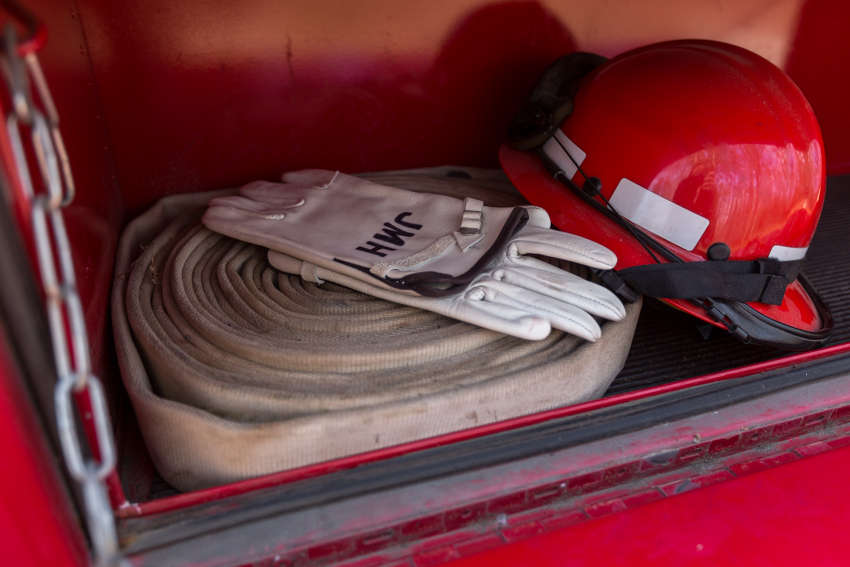 The School of Natural Sciences and Mathematics offers a forestry concentration. During fire season, students get the opportunity to shadow Forest Fire Service crew members on controlled burns to conduct research.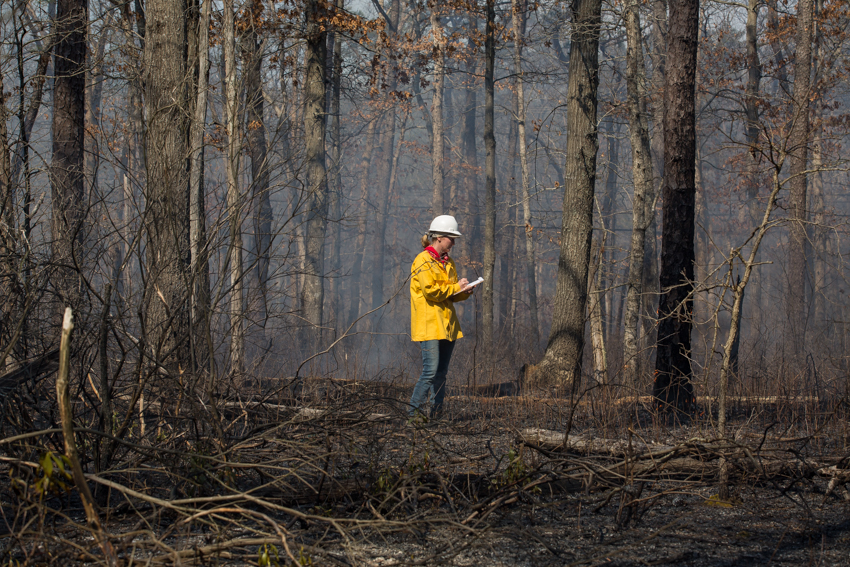 Caitlin Clarke, Sustainability Coordinator, checks a map outlining the specific regions to be burned. "Some forests need fire. Stockton Environmental Science students get a really unique living lab," where they experience fire as a management tool, said George Zimmermann.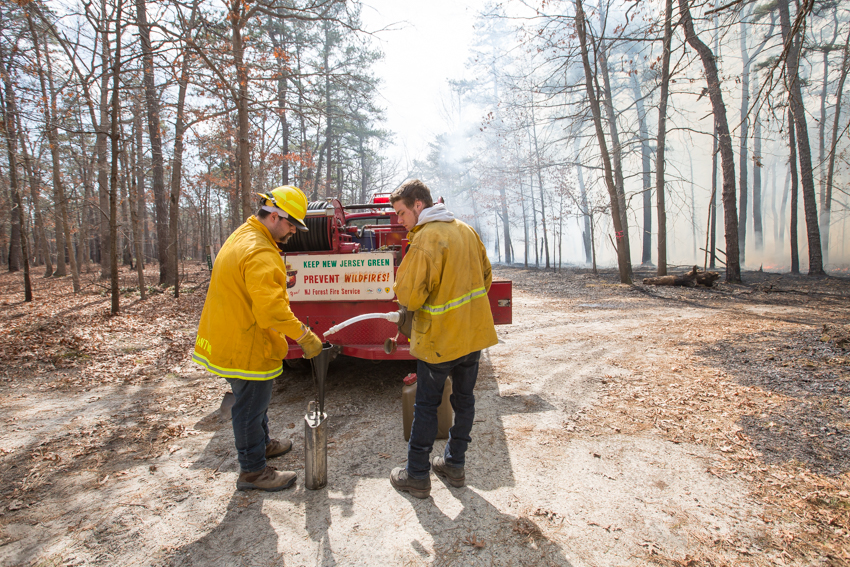 Forest crew members Nicholas Romantino and Jared Holliday refuel a drip torch during the burn.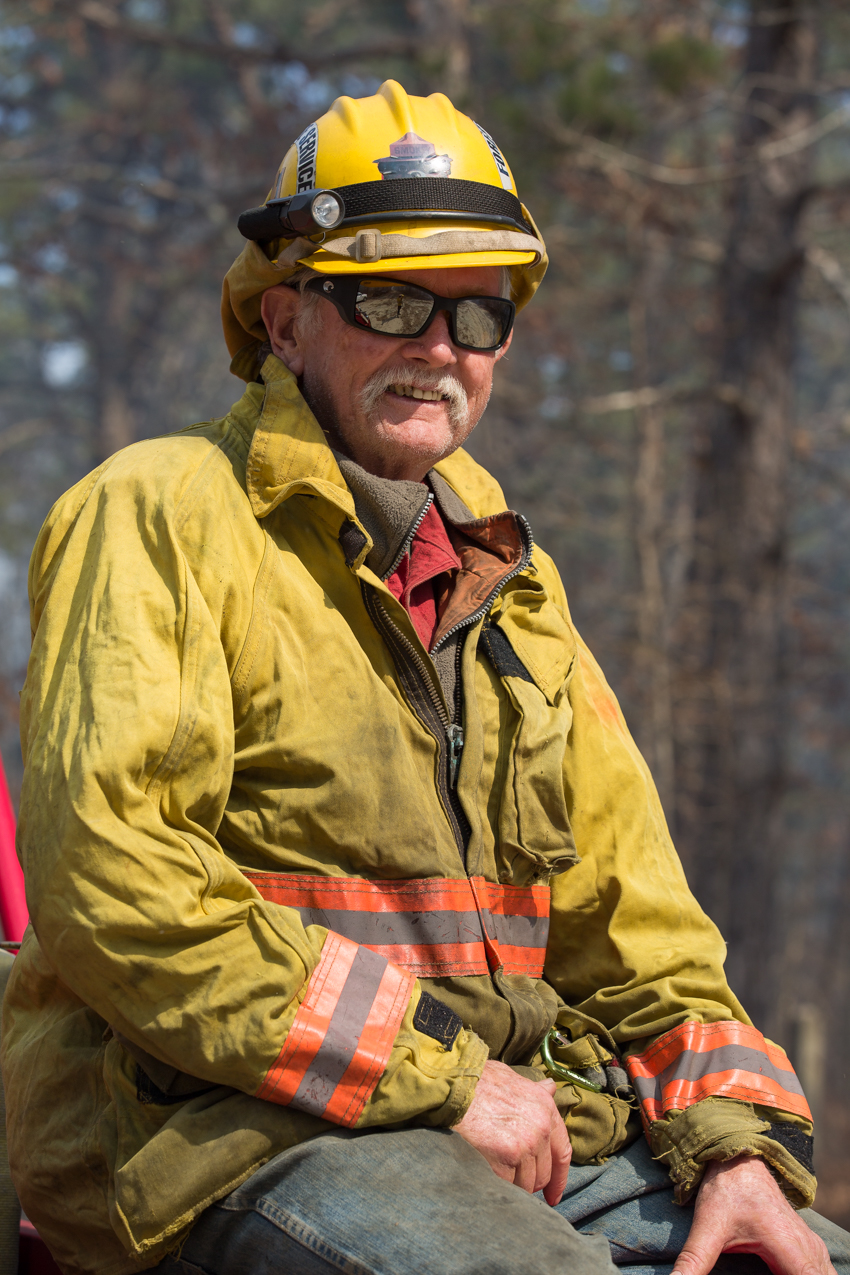 Bob Wilson, of the New Jersey Forest Fire Service, pauses for a moment after working the controlled burn on Delaware Avenue.
More photos on Flickr.