Picture Stockton…Remembering 9/11 with a Campus Memorial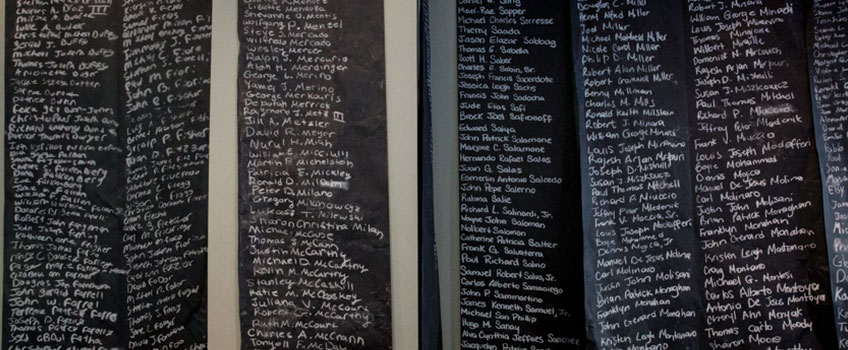 Student senators and their friends spent the past week writing by hand the names of each 9/11 victim who was killed during the attacks.
All 2,977 names are on display in the Campus Center coffeehouse today. The streams of paper spanning the height of the walls have converted the space into a visual memorial. Next to the names is a banner that reads, "Gone, but not forgotten."
"We wanted students heading for coffee or to class to stop and pause to have their own moment of silence to reflect," said Rosheka Faulkner, a senior Criminal Justice major and Student Senate vice president.
The Student Veterans Organization (SVO) and the Office of Military and Veteran Services hosted a ceremony in front of the memorial.
Angel Cordero, the SVO president and a post 9/11 veteran, said, "I share a bond with those who were immediately impacted by the attacks. We remember today, and tell these stories, because the 3,000+ people who perished cannot. We keep their memories alive through reflection, remembrance and respect."
Cordero still remembers the day of the attacks as if it were yesterday. He was in fourth grade. "I remember sitting in the back and closing my eyes hoping the next phone call was for me, and when it wasn't, I closed my eyes a little tighter and wished just a little bit harder that I would leave this dreadful classroom and get picked up," he said.
Eventually his phone call came, and his mom picked him up from school. Some students never got a phone call.
Six months after 9/11, Jason Babin, director of the Office of Military and Veteran Services, was deployed to Afghanistan. "We knew in our hearts what we were fighting for," he recalled.
"For too many, it feels like yesterday. On this day of remembrance, it is our duty as citizens of this great country to remember all those who were killed, recognize all who survived, honor the sacrifices of the first responders and recovery workers, and recapture the spirit of unity and service that arose in the immediate aftermath of the attacks."
Pedro Santana, assistant vice president for Student Affairs, pointed out that some of the students walking the hallways today are too young to remember, but we will always "continue to honor the memories and legacies" of all who were impacted that day and thereafter.
Ariana DiFillippo, Student Senate president, added that "in the worst of times, we continue to respond with the best of ourselves" and thanked the Stockton community for gathering in remembrance.
Photos and story by Susan Allen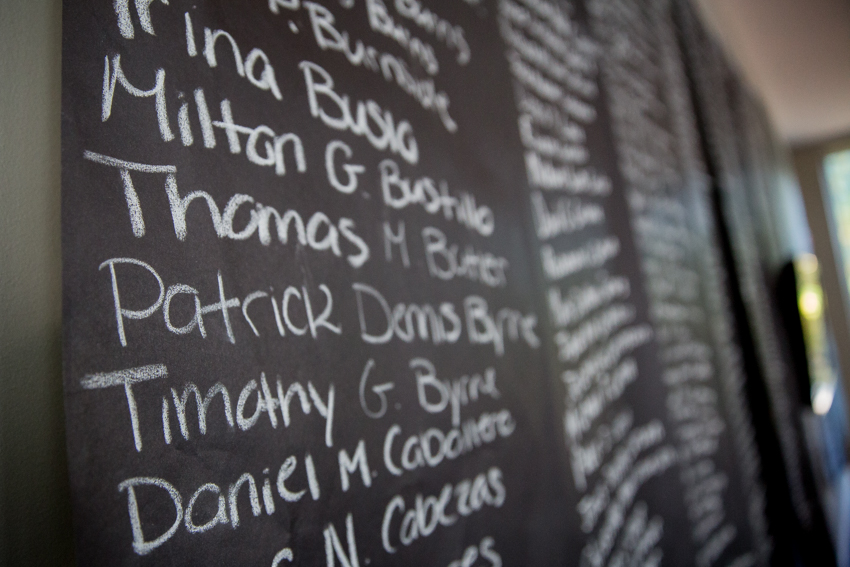 Each 9/11 victim killed during the attacks is commemorated in Stockton's memorial in the Campus Center coffeehouse.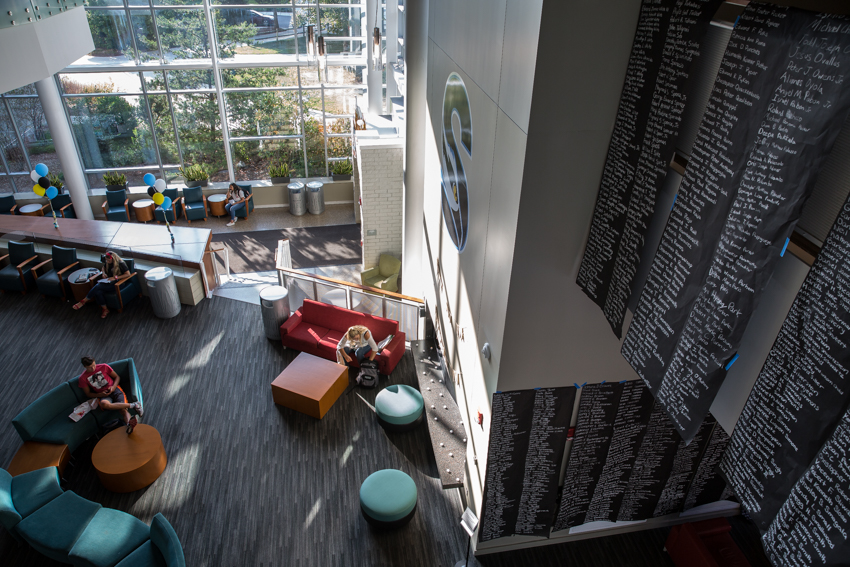 At 9:59 a.m. a moment of silence was held at the exact time the south tower fell for 10 seconds, which is how long it took for the tower to fall.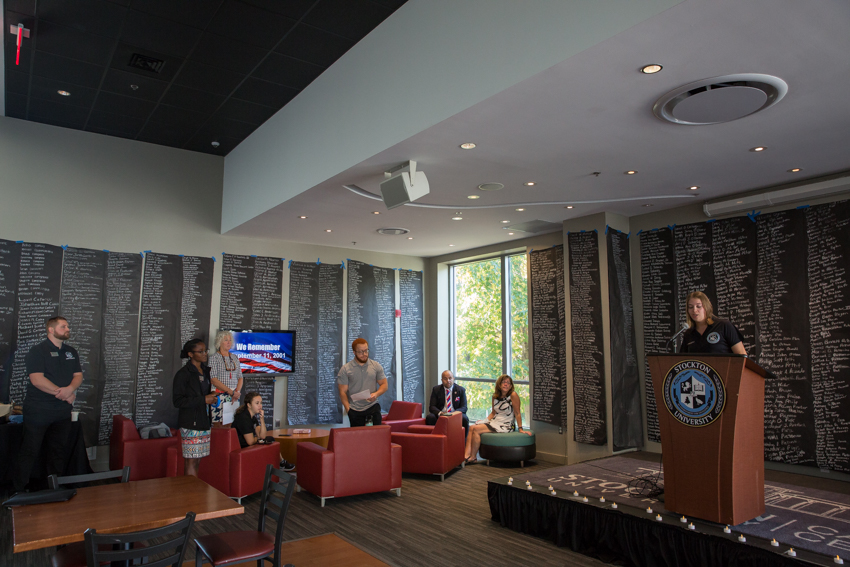 Speakers reflected on where they were when they heard about the attacks.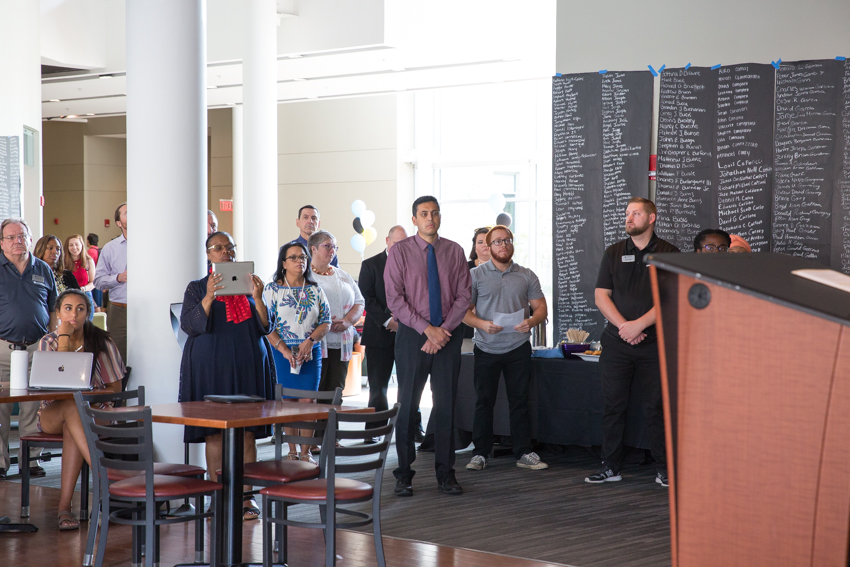 The Stockton community gathers in remembrance.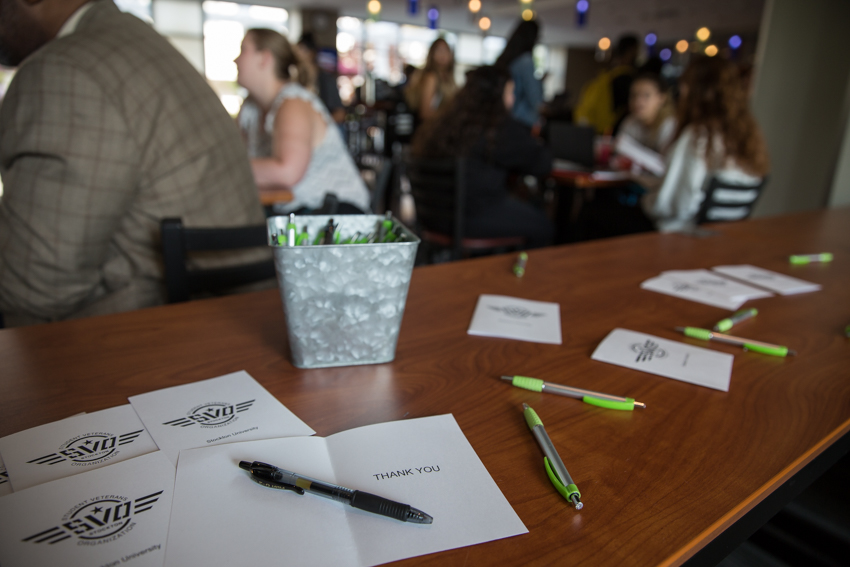 The SVO is sending thank-you cards to all first responders.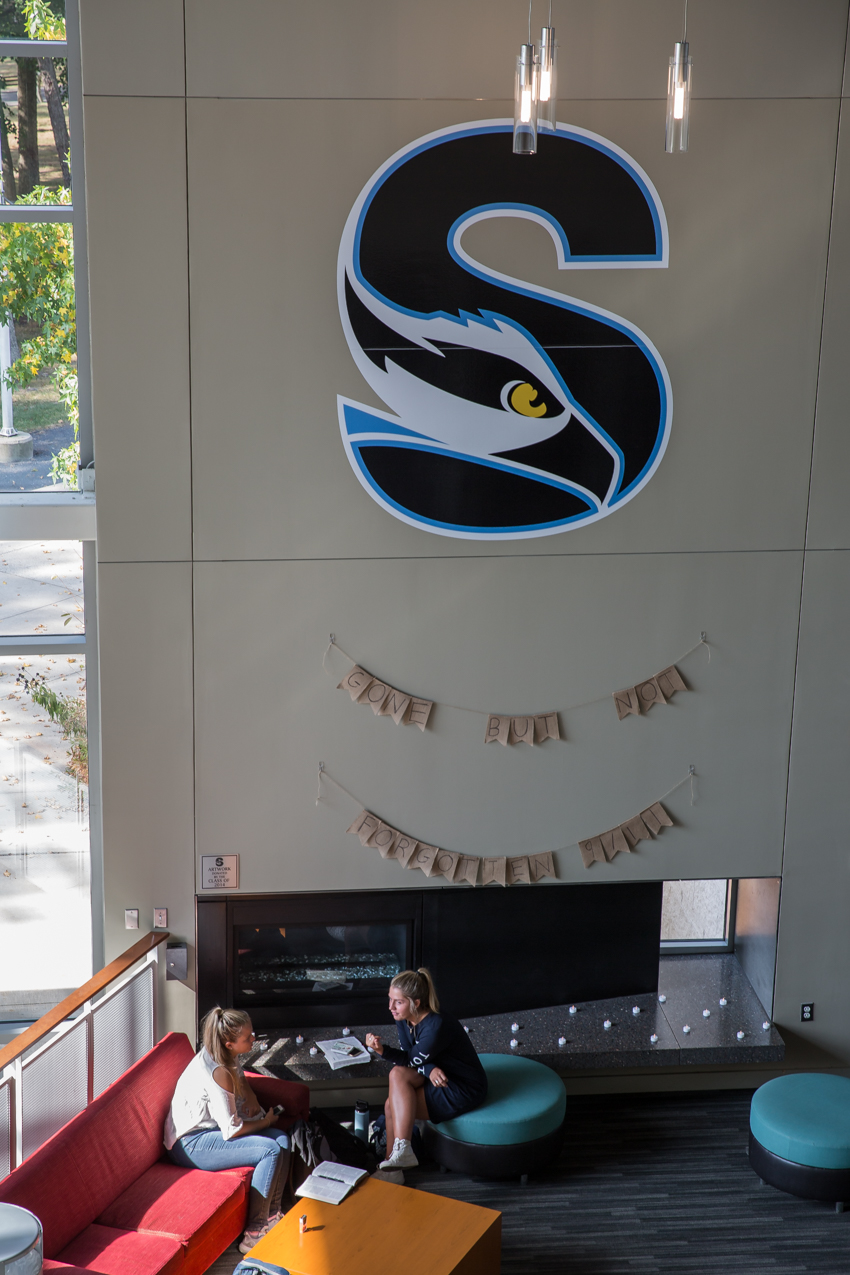 "Gone, but not forgotten."
View more photos on Flickr.