Picture Stockton...Helping Girls Sea a Future in Science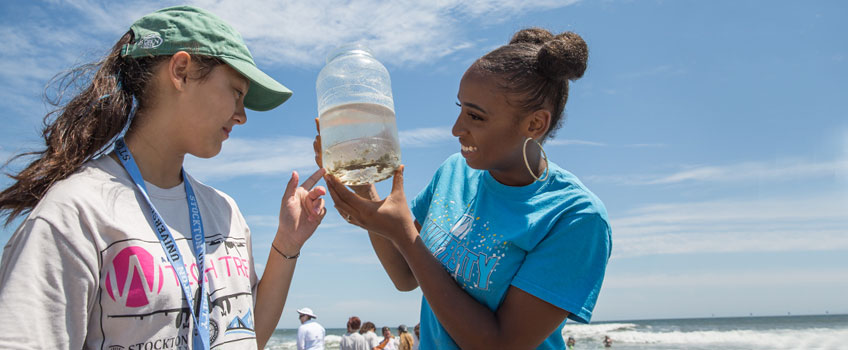 Rising eighth-grade girls spent a week at Stockton University to experience the sciences from a laboratory setting into the field while enjoying the chance to dorm and eat where college students do. The American Association of University Women's (AAUW) Tech Trek camp gets girls hooked on science at a young age by allowing them to be inspired, get creative and build a support system.
AAUW research has found that statistically, girls' interest in male-dominated science fields drops while they are in middle school. To help young girls beat the odds, Stockton faculty and students shared their knowledge and love for STEM fields. The girls' curious minds soaked up information like sponges on the beach during a field trip to Stockton Atlantic City. Campers studied coastal processes and saw the marine creatures that live along the shore.
View the photo story by Susan Allen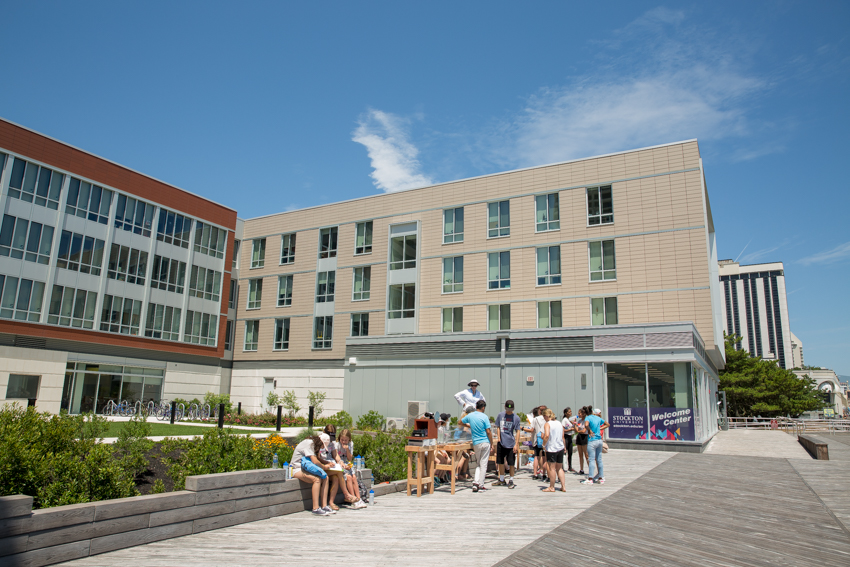 Susanne Moskalski, assistant professor of Marine Science, and her students set up a wave tank on the Atlantic City Boardwalk to demonstrate how waves work.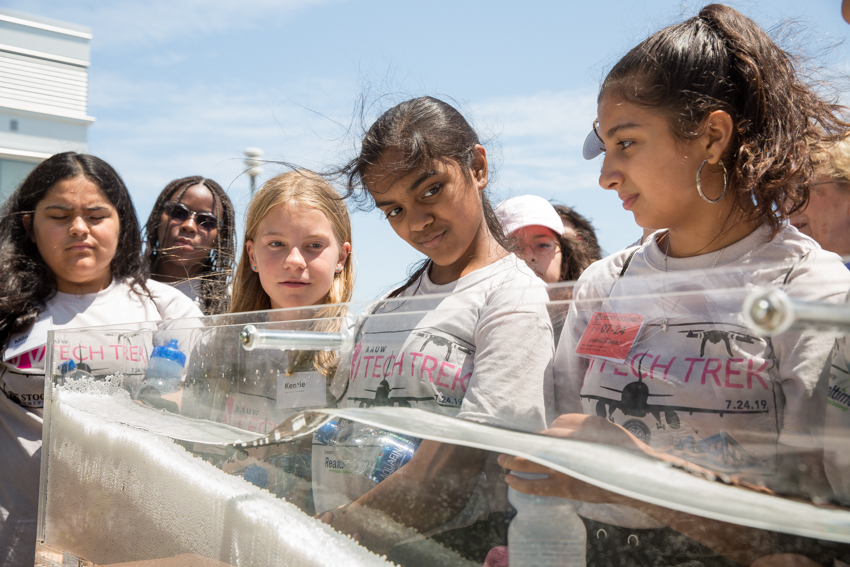 Campers watch as simulated waves generated by an electric motor push PVC pellets in the wave tank. Small waves that are predominant in the summer deposit sand and build up the beach. Larger, storm-generated waves that are more frequent in the winter pull sand away and erode the beach.
PVC pellets act like sand (without scratching the tank) to illustrate how beaches change based on wave activity. Campers used rulers to measure the distance between wave troughs (wave bottoms) and crests (wave tops) to calculate wave heights.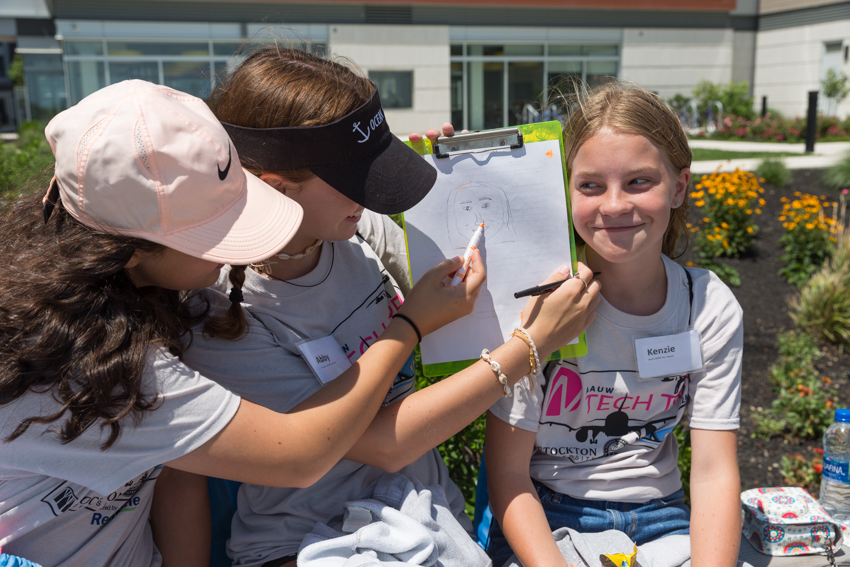 Campers take a doodle break.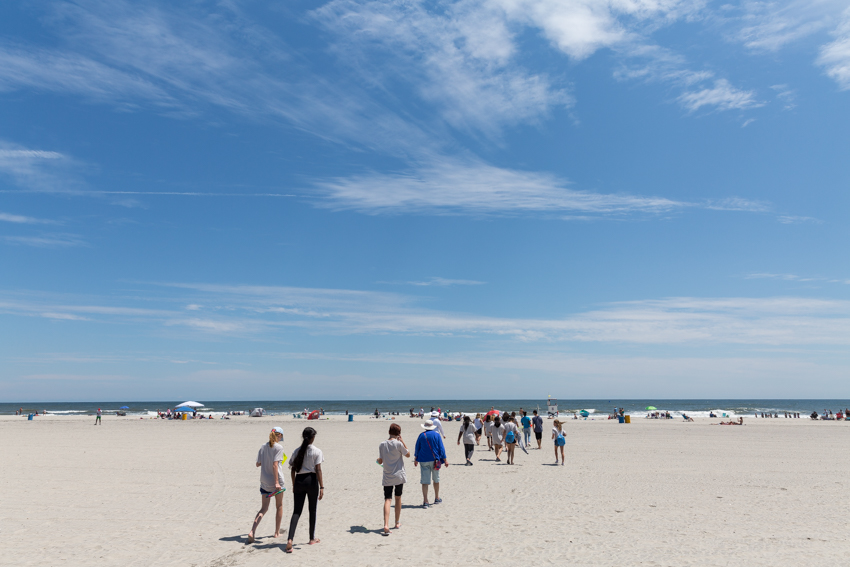 After studying simulated waves up close, campers head to the beach to see real waves and record data.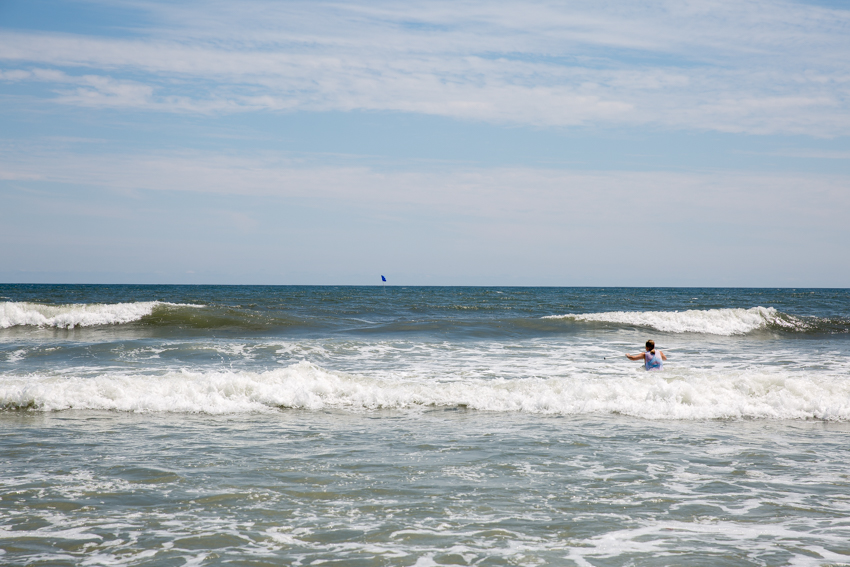 Caitlin Turner, a senior Marine Science major, walks into the waves with a measuring device to collect data for the campers to calculate wave heights.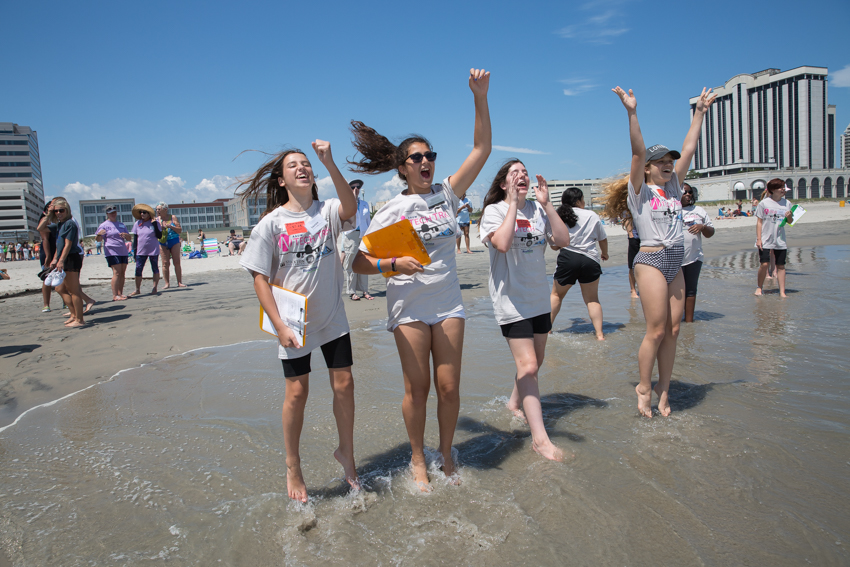 "You're so brave," the girls shouted while cheering on Caitlin.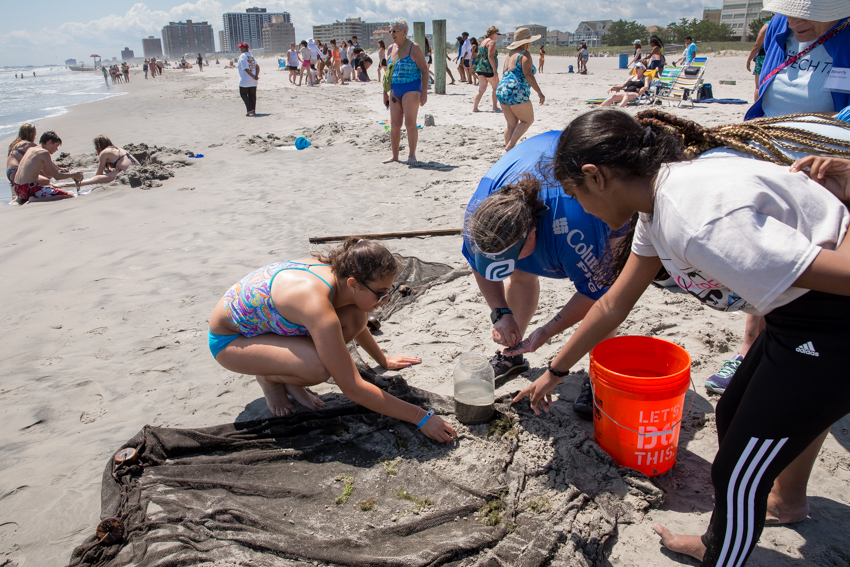 Gina Petruzzelli, a professional services specialist in the Biology Lab, sorts through seaweed to see what marine life was caught in the seine. A seine is a net that is walked upright through the water by two people holding the wooden handles on either end. The onshore winds made choppy waves, but that didn't stop the girls from catching a variety of clams and crabs.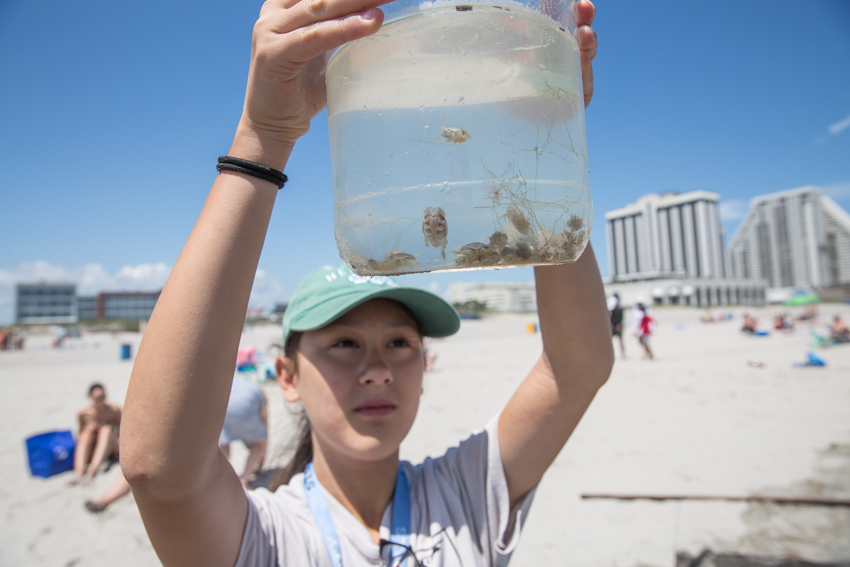 A camper examines a mole crab, which lives in the area where broken waves run up onto the beach to filter feed on plankton with their antennae.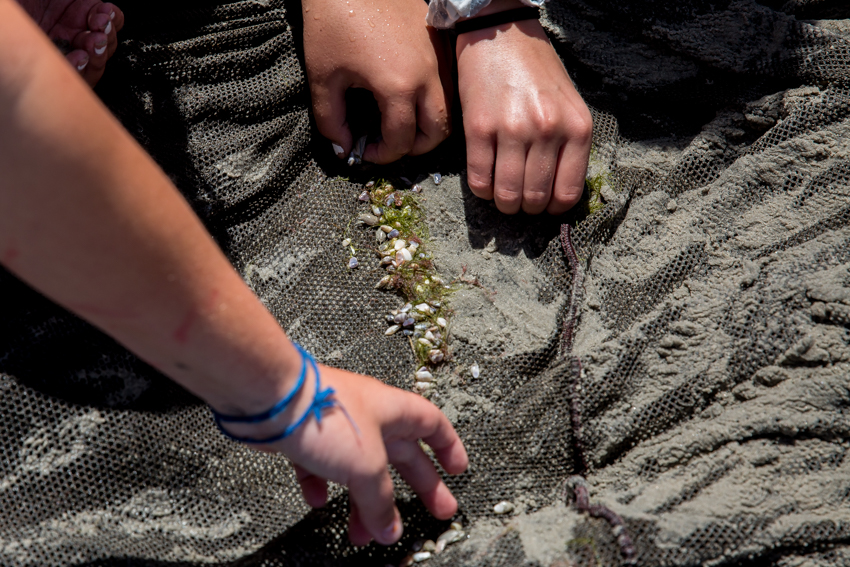 Colorful coquina clams were abundant in the seine net.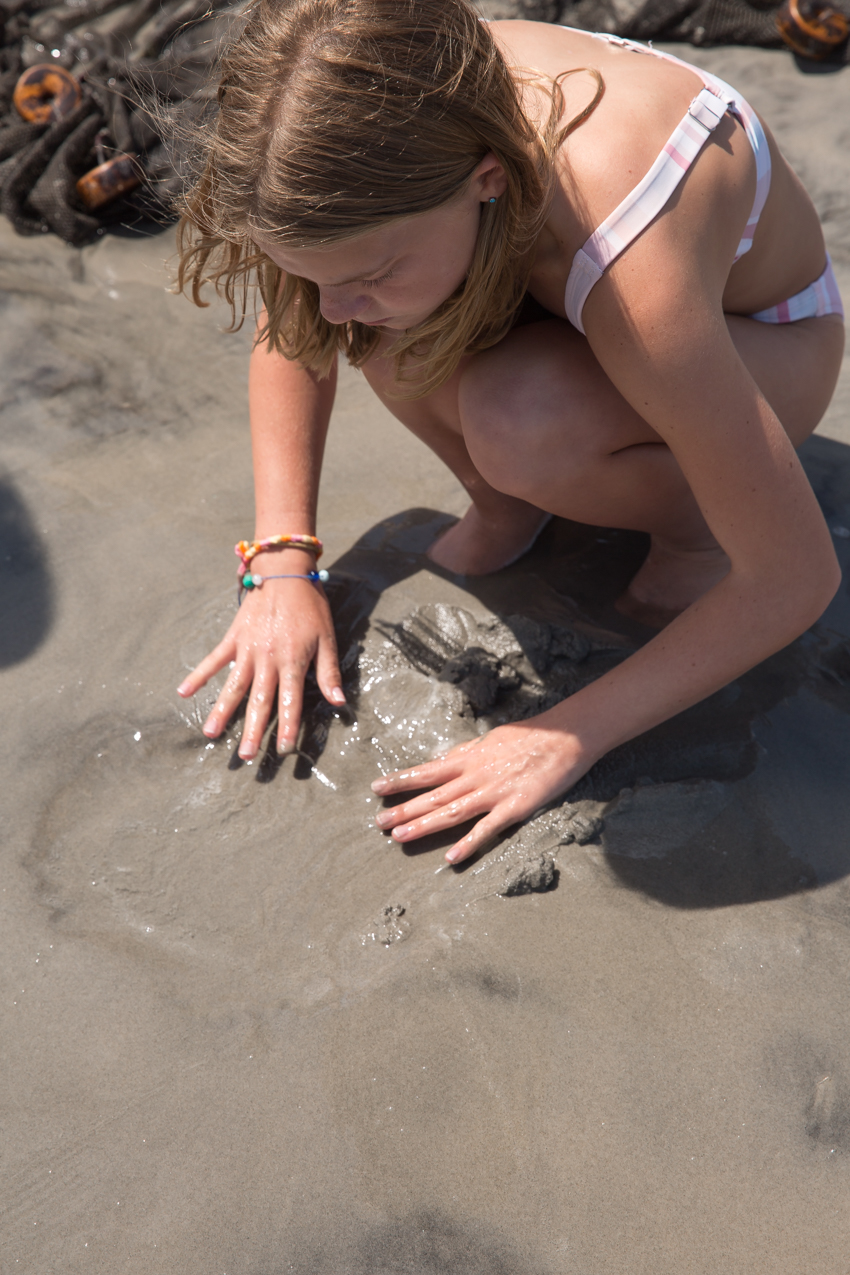 A camper digs into the sand after a receding wave in search of mole crabs.
View more photos on Flickr.