Picture Stockton...Diving into Seagrass Study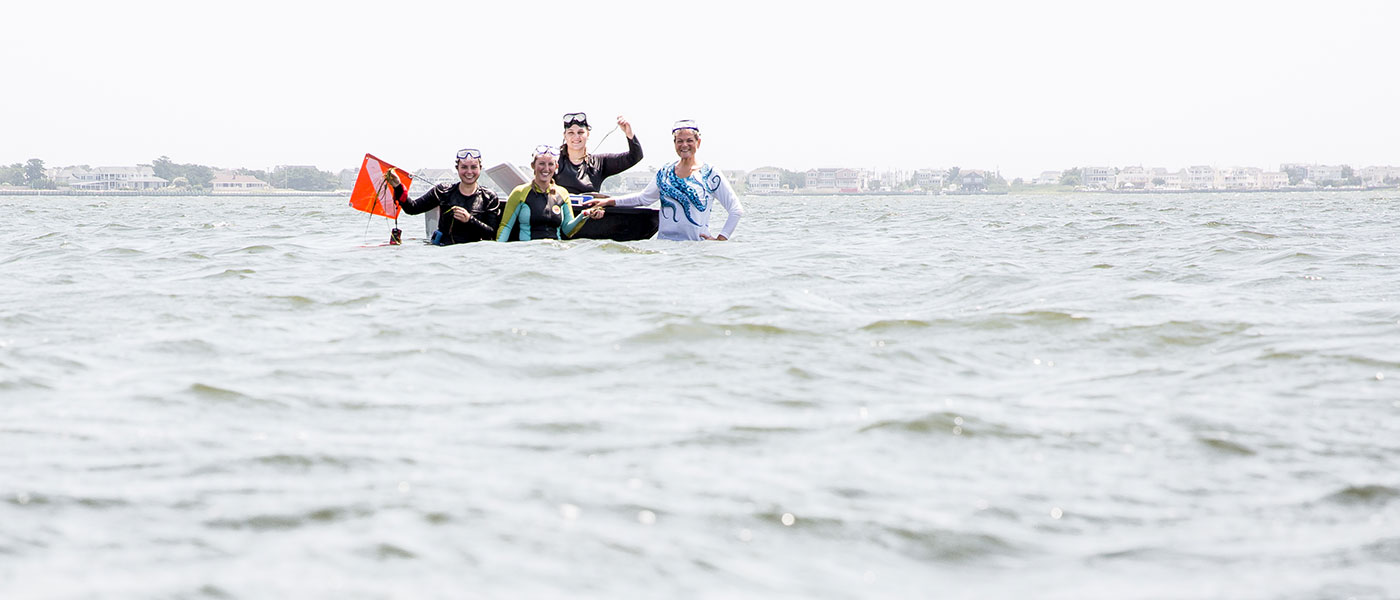 An underwater meadow of seagrass that supports marine life and helps to stabilize the coastline has been declining. Elizabeth Lacey, associate professor of Marine Science, has been overseeing a long-term seagrass study on the Barnegat Bay for the past five years with grant funding from the Barnegat Bay Partnership.
"The future of the bay's fauna, including recreationally and commercially important fish and invertebrate species, will be determined by the resilience of this vegetation in the face of changing water quality," said Lacey.
Poor water quality blocks sunlight from reaching seagrass beds, which impedes the photosynthesis process necessary for growth and reproduction. Excessive nutrient levels can trigger algae blooms that suffocate aquatic life when the algae is decomposed by microorganisms that use up available oxygen.
A healthy bay that supports seagrass means that fish and shellfish have nursery habitat and an extensive root system will keep sediment on the seafloor in place.
Lacey and her students survey seagass through diving masks and collect samples to process in the lab. This monitoring helps to inform and measure conservation efforts.
View the photo story by Susan Allen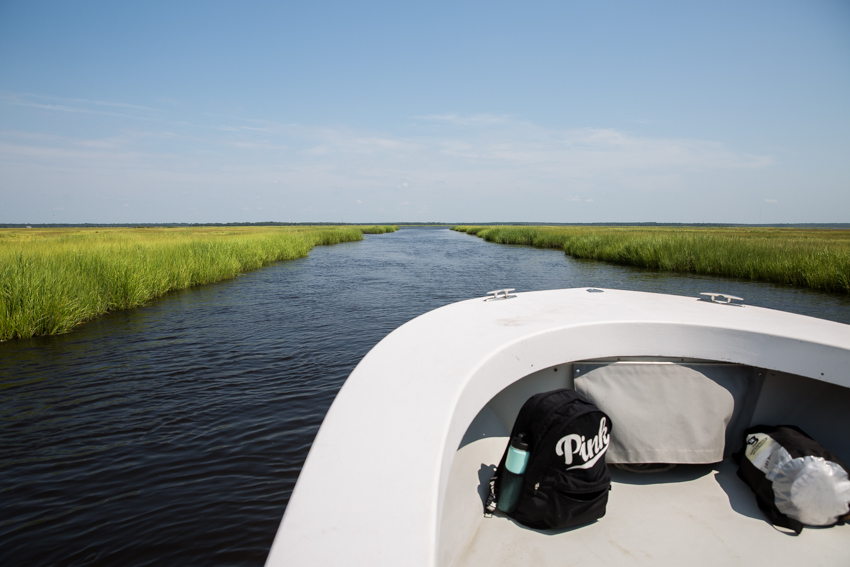 Wearing life jackets and sun protection layers, Elizabeth Lacey, associate professor of Marine Science, and her three-woman crew head into the Barnegat Bay by boat to survey the seagrass population that has been in decline.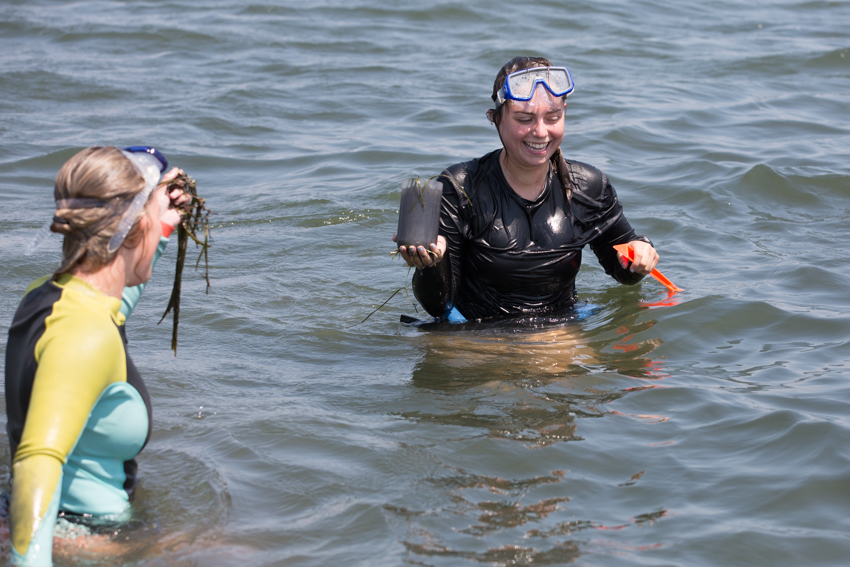 Danielle Dyson, a sophomore Marine Science and Environmental Science double major from Brick, N.J., surfaces with a core sample of seagrass that contains both the underground roots and aboveground shoots. Dyson grew up close to Barnegat Bay. "I used to bug my mom to take me to the beach," she recalled. On one of those trips, when she was about 10 years old, a mass of starfish had washed ashore, and she spent hours tossing them back into the ocean. That experience is one of many that influenced her life goal of being on Shark Week.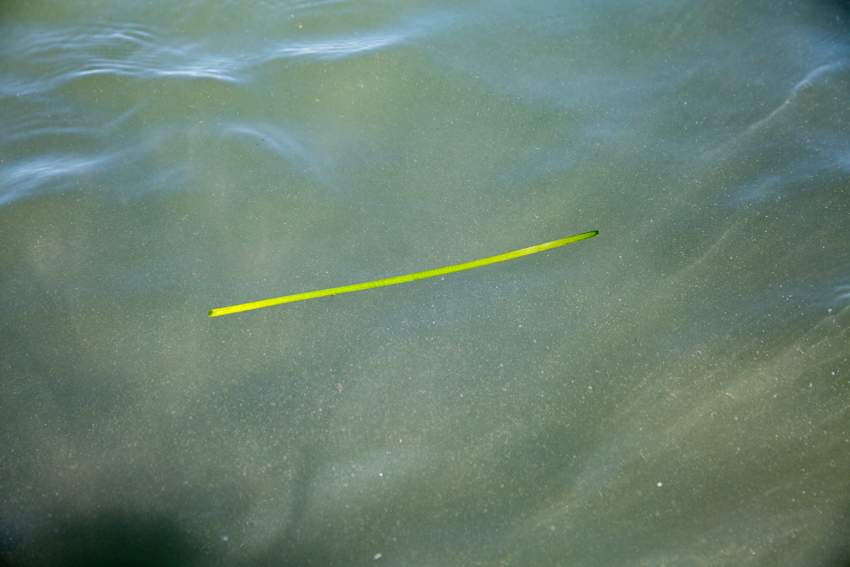 A single blade of eelgass (Zostera marina) floats on the surface of the bay. Under extreme heat, this submerged aquatic plant becomes stressed and will shed blades of grass. Elizabeth Lacey describes eelgrass as an "ecosystem engineer" that can help to protect shorelines by using its root system to hold down sediment and its blades to block sediment from moving through the water column. An underwater meadow of eelgrass works to lessen the impact of currents that would otherwise transport sediment. Biologically, eelgass provides nursery habitat for fish and shellfish. Baby scallops are very particular and will only settle on eelgrass blades. Wide blades provide a larger surface area for them to grow and feed.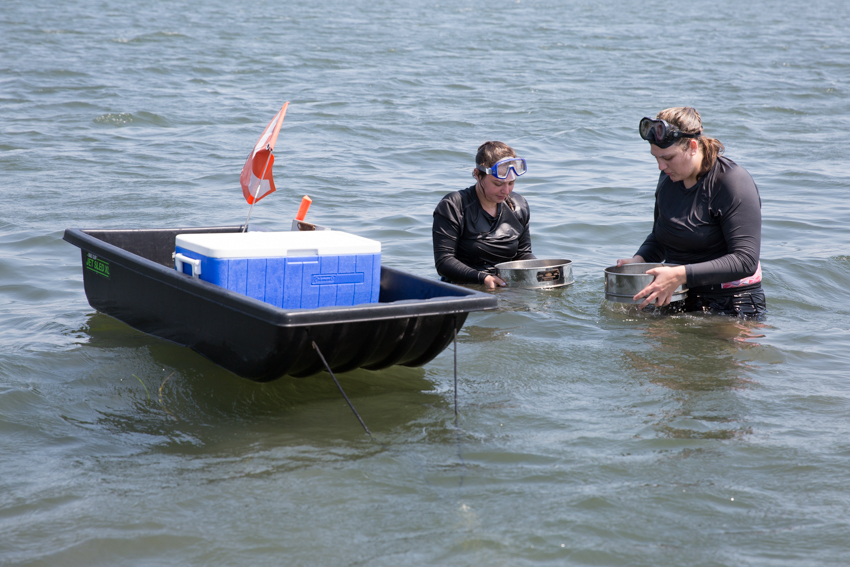 Danielle Dyson and Faelyn Meyers, a senior Marine Science major with a concentration in Marine Biology, use sieves to wash their seagrass samples clean of sediment before taking them back to the Marine Field Station for further processing. Their floating workstation holds tools and a cooler to store their samples. Meyers grew up nearly 1,000 miles away from the Atlantic Ocean in Illinois. Having the chance to dive into a scientific study over the summer has been an exciting opportunity for her.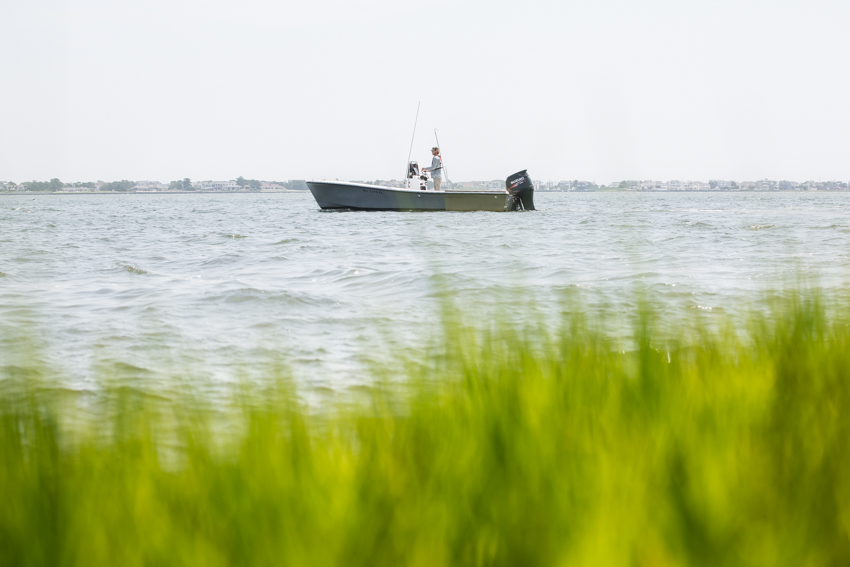 Dave Ambrose, a Stockton Marine Science graduate who works as a Field Research Technician out of the Field Station, motors away from the researchers to deploy a YSI instrument. The YSI hangs in the water column and records water quality data including salinity, pH, dissolved oxygen, turbidity and temperature. Ambrose avoids any stirred up sediment to get the most accurate readings.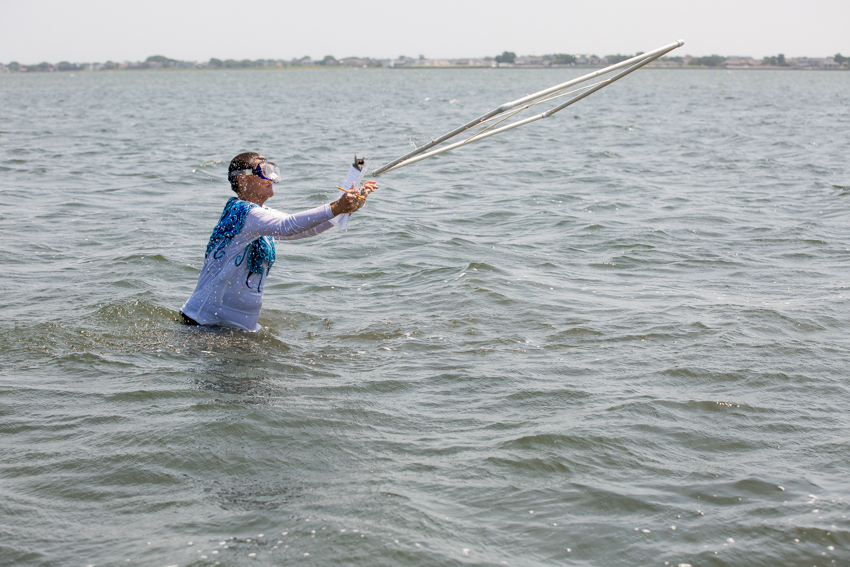 Elizabeth Lacey launches a quadrant randomly into the sampling site. After it sinks to the bottom, she dives in to conduct a visual census of the two types of seagrass that grow locally--eelgrass and widgeon grass (Ruppia maritima)-- macroalgae and any other aquatic vegetation. She estimates the percent coverage of each type of vegetation.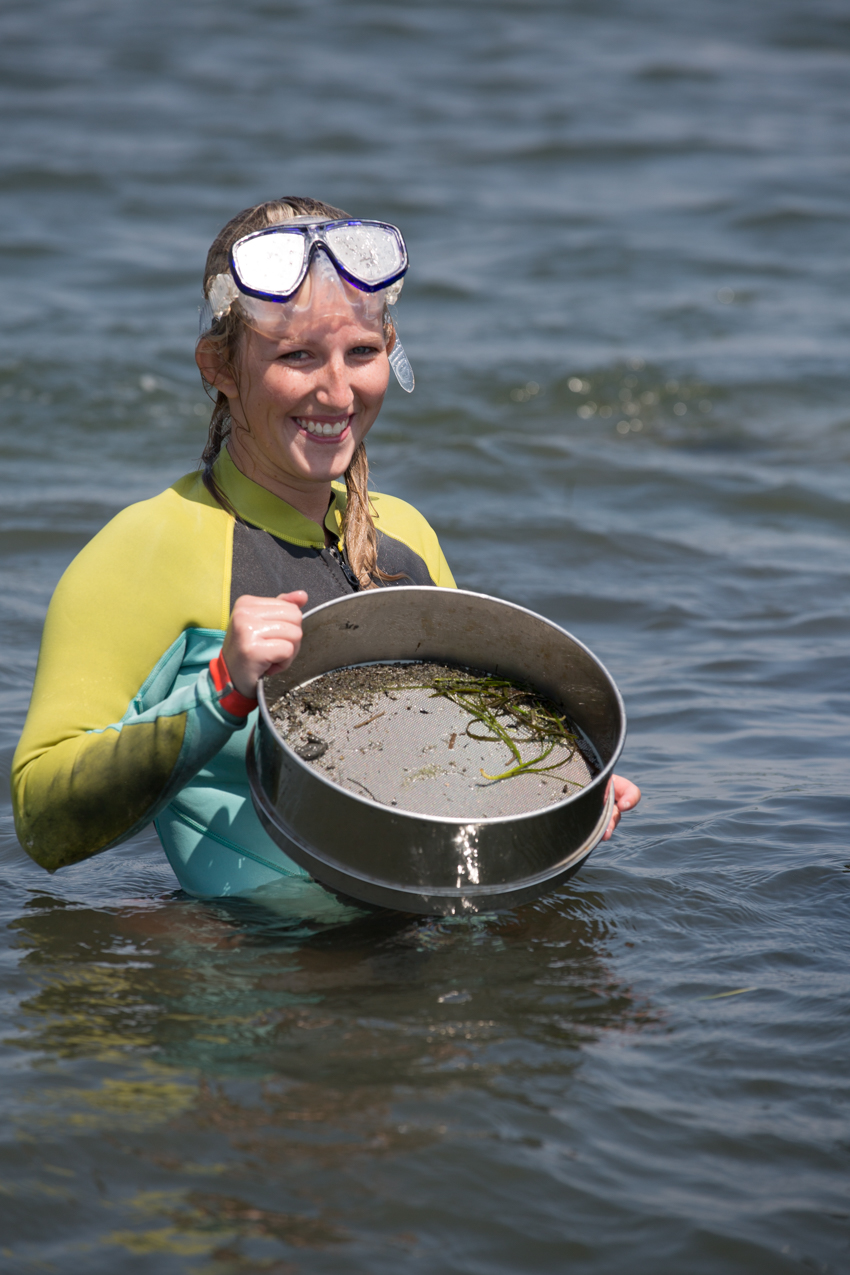 Alexandria Hoffman, a junior Marine Biology major from Ocean City, N.J., shows off her eelgrass sample. Eelgrass and widgeon grass, which isn't a true seagrass because it can also grow in freshwater, are distributed differently across the bay. The southern portion of the bay is less impacted by development and sees more eelgrass, while the northern portion sees predominantly widgeon grass because it is more tolerant to water quality fluctuations. "My favorite part of marine science and being out in the field is being able to get a better understanding of what is going on in our oceans and in our bay communities," said Hoffman.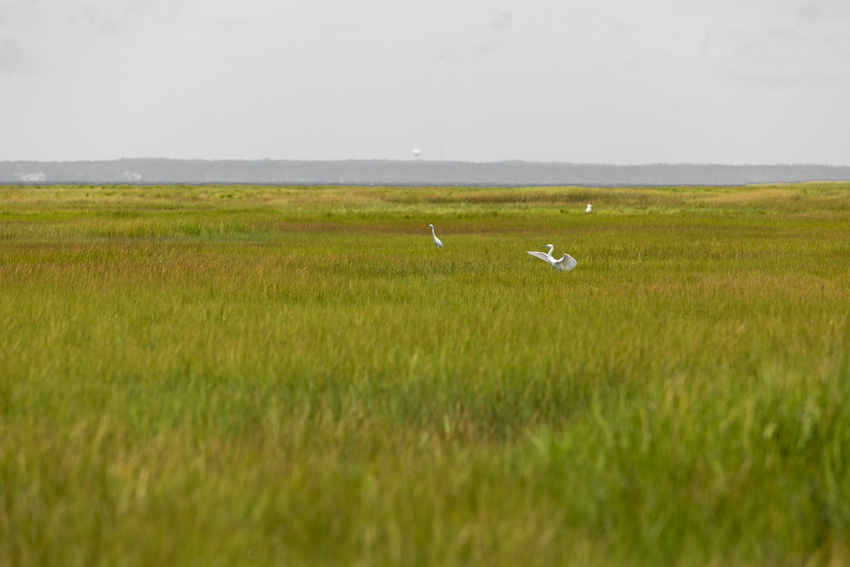 A couple hundred yards away from where the research team works, snowy egrets stalk prey in the saltmarsh.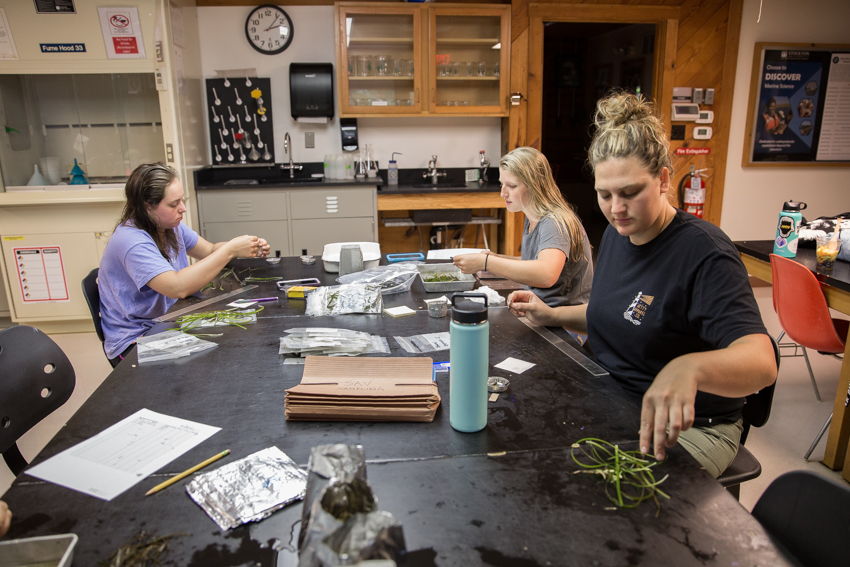 Back in the lab, the team processes the samples. Blades of grass are measured, shoots of growth are counted, macroalgae is sorted by species and epiphytes are scraped off of grass blades. Epiphytes and seagrass samples are dried and weighed so that biomasses can be calculated.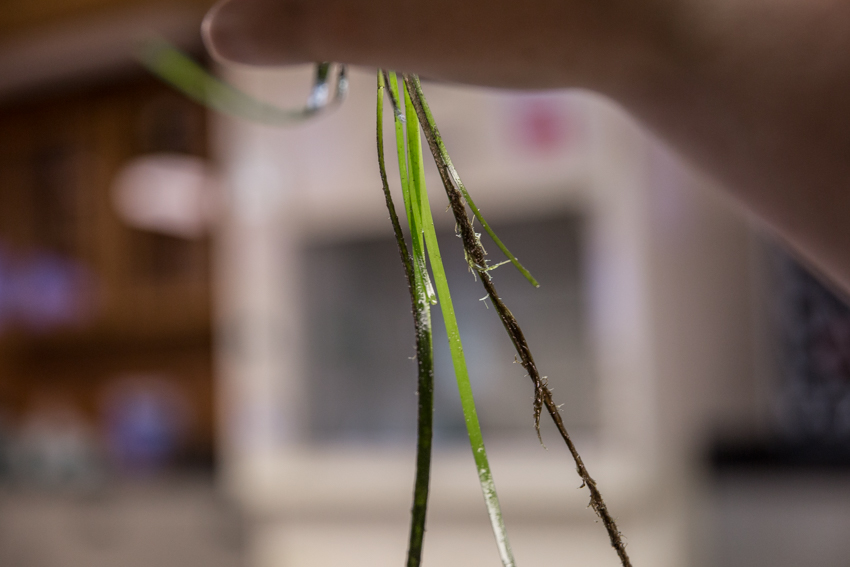 The brown "fur mat" coating the eelgrass blades is made up of epiphytes or surface loving plants says Lacey. "Epiphytes growing on the surface of seagrass are a sign of the amount of nutrients in the water. They can be bad because they cover the grasses' photosynthetic tissues," Lacey added. Using a razor blade, epiphytes are scraped off blades of grass so they can be dried out and weighed.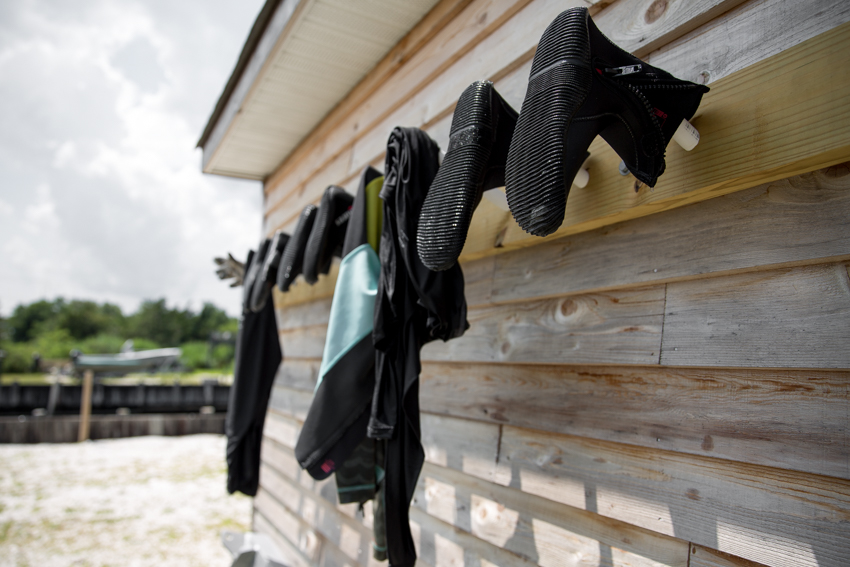 Neoprene tops and boots dry out for the next round of seagrass sampling.
View more photos on Flickr.