Philosophy Student Curates 'Philo-Jazz' Exhibit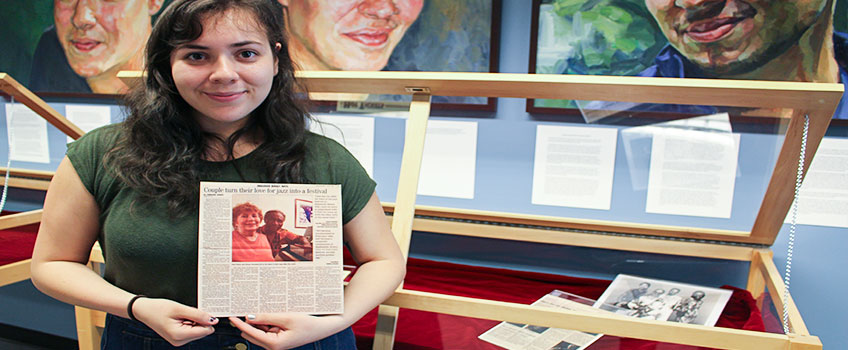 Galloway, N.J. - Kailey Romero is a junior Philosophy major at Stockton from Avenel, New Jersey, and she is a self-proclaimed "philharmonist." She derived this title from the Greek-rooted word "philharmonic," which translates to "lover of harmony" in English.
"Music has always been there for me all my life," she said. "and I know that it will continue to be there for me in the future."
In one of her philosophy classes, as a final project, Romero was instructed to create something that offers history and education while stimulating self-reflection. Instead of writing a paper or building a presentation, Romero reached out to her Stockton archives internship supervisor, Special Collections Librarian Heather Perez, who encouraged her to curate her own exhibition in the Richard E. Bjork Library.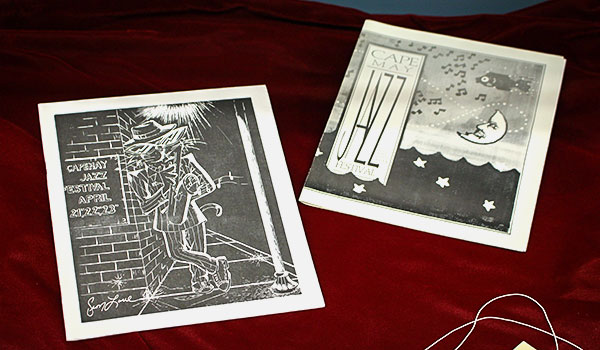 "Philo-Jazz," or "lover of jazz," is the name of Romero's project, and it showcases the chronology of the locally-famous Cape May Jazz Festival, starting from its creation in April 1994 by founders Carol Stone and Woody Woodland. The exhibition features old photos, newspaper snippets, CDs, and art pieces in glass cases with accompanying educational information.
"I chose to explore the Jazz Festival because I was so interested in all of the newspaper clippings and pictures I found in the archives," said Romero. "As I was searching more, I found a lot of information about other styles of jazz that were performed at the festivals, like Latin jazz. I'm half Cuban, and it has been great to get to know more of my roots."
Romero did a lot of self-reflecting while curating her exhibit.
"This project helped me learn how to relate more to older generations," she said. "I have gotten to listen to their music and read excerpts from old CD booklets, and after experiencing all of the different messages of unity, peace, and love in jazz, I feel like I can connect better with older individuals now."
This project also gave Romero a greater appreciation for hist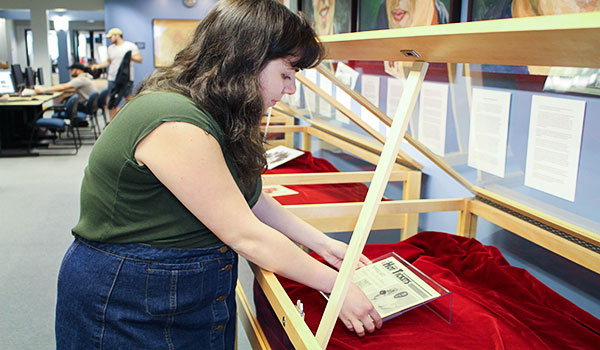 ory and the idea that it should be preserved.
"My sister was born in 1994, when the first Cape May Festival occurred," she said. "I was born in 1998. Most of the materials I have been working with are as old as us. Being able to touch a newspaper clipping that was as old as me has touched a part of me. It's not every day that you can have access to history like this and hold it right in your hand."
"Philo-Jazz" is free, open to the public, and will be displayed in the library until the end of summer. Check the Bjork Library hours of operation here.
"This was such a great opportunity for Kailey, and I encourage other students to take this opportunity as well," said Perez. "At the library, we want to give students the chance do something fulfilling and interesting, and also have it seen and appreciated by the many people that walk through this library every day."
Reported by Kat H. Wentzell.
# # #
Contact:
Diane D'Amico
Director of News and Media Relations
Stockton University
Galloway, N.J. 08205
Diane.DAmico@stockton.edu
609-652-4593
609-412-8069
stockton.edu/media