Oysters are Showing Researchers How to Restore Barnegat Bay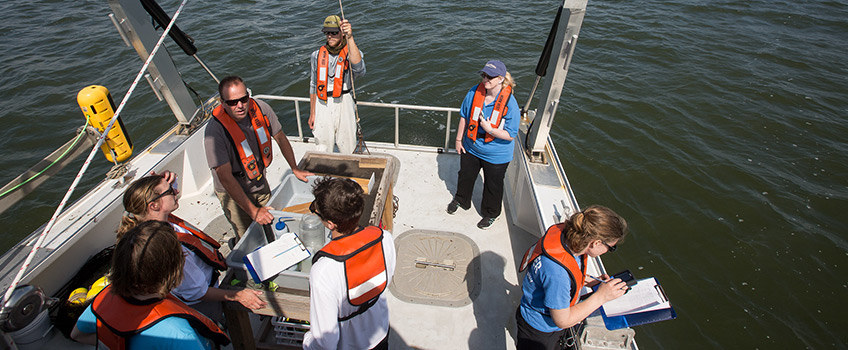 As the Tuckerton Reef in Barnegat Bay continues to grow in its fourth season, its oysters are teaching Stockton University researchers how to best restore the bay ecosystem.
Christine Thompson, assistant professor of Marine Biology, describes filter feeding oysters as "natural vacuums." A single market-size oyster has the power to cleanse 50 gallons of water in one day.
Thompson is on a mission with her students to find out just how many oysters it will take to bring the Barnegat Bay's water quality back to historic levels when oysters were abundant. A healthy oyster reef increases biodiversity and improves water quality.
Data collected from the experimental reef, located in the waters between Tuckerton and Beach Haven, are helping to answer the question.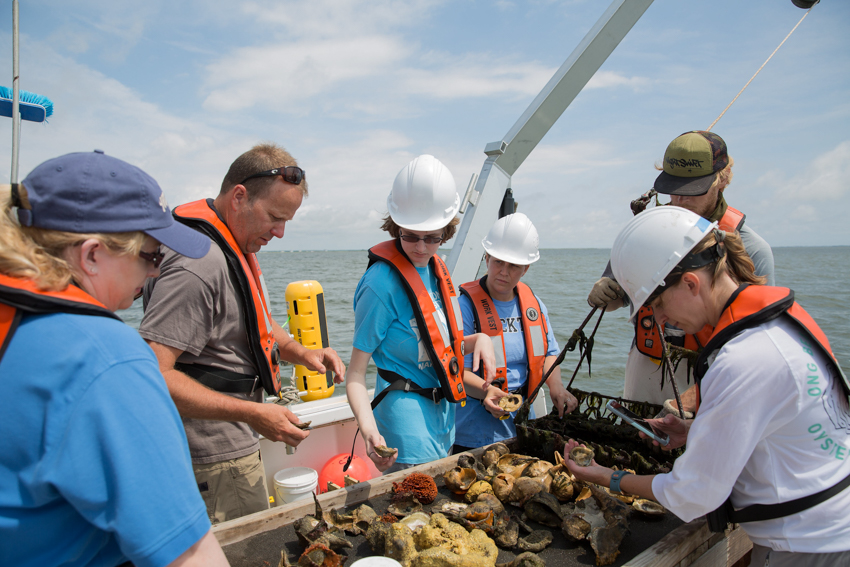 When the average biomass of oysters at the reef is entered into a mathematical model, researchers can predict their filtration potential. Water quality variables like temperature, salinity, dissolved oxygen and turbidity all affect the rate of oyster filtration and are accounted for in the model.
In 2016, the experimental oyster reef was established with a half-acre of disease-resistant oysters remotely set on whelk shells and a half-acre of wild oysters harvested and transplanted to the reef site.
Since then, more than a dozen restaurants on Long Beach Island are recycling shell to help expand the reef, and Long Beach Township has a designated pick-up truck that delivers the shell to a curing site before it's returned to the bay.
The Barnegat Bay Partnership is funding the reef research, and the non-profit Jetty Rock Foundation supports the shell recycling program and encourages the community to follow the shell.
In late June, Stockton's Marine Field Station worked with Dale Parsons, of Parsons Seafood in Tuckerton, for the third planting of spat on shell at the reef site. Spat is the term used for juvenille oysters, which need a hard substrate to settle and grow on.
Oysters are a colonial species that grow on one another and extend vertically up into the water column. If a larval oyster were to fall onto a muddy bottom, it would suffocate, but if it lands on shell, it can continue to grow. In Barnegat Bay, "there's not enough habitat for them right now because they need shell to settle on," explained Thompson.
For the Tuckerton Reef, Dale Parsons, a fifth generation oyster farmer, uses the remote setting method in which oyster larvae is added to tanks with shell. The larvae settle onto the shell and become spat on shell.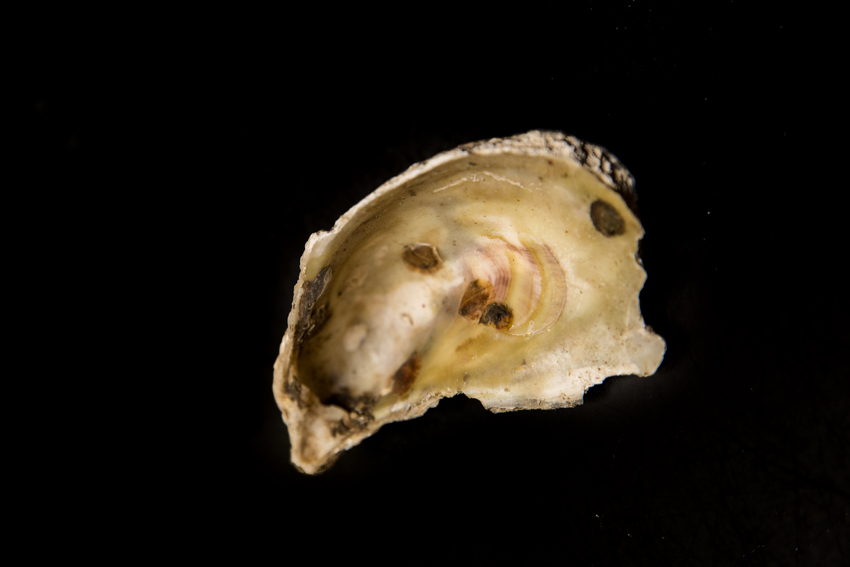 The expansion of the Tuckerton Reef sustained by shell recycling and a new state-funded oyster reef coming to the bay off of Manahawkin in two years are providing needed habitat.
"The study looks at the growth and survivorship of each cohort of oysters planted at the reef, habitat enhancement for fish and crustaceans, and water quality changes as oysters filter water and remove suspended sediments and excess phytoplankton," explained Thompson.
In the lab, Thompson and students looked through magnifying glasses as they counted 8,000 spat growing on a subsample of 1,000 shells that were taken from the oyster cohort planted on the reef.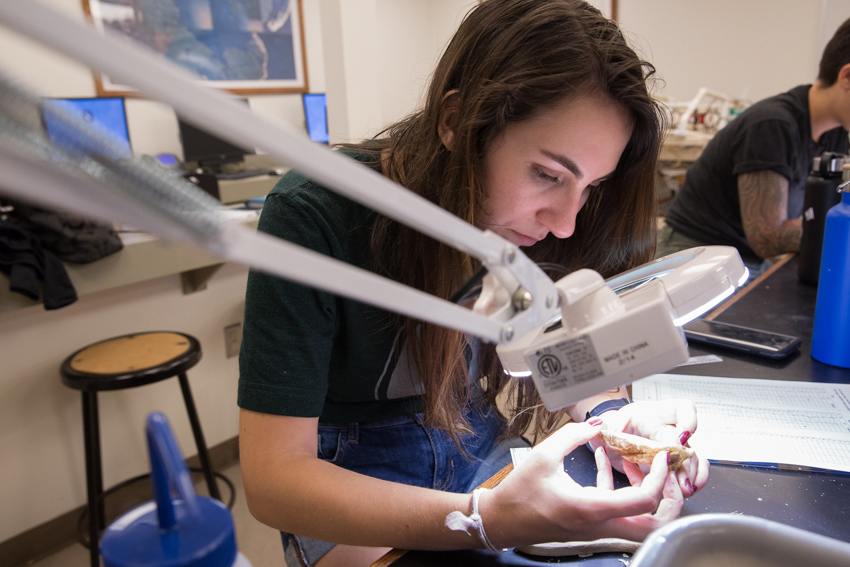 Alexandra Blanchet, a Marine Science graduate pictured above, has a keen eye for deciphering spat from slipper shells, which can look similar. This was her third year counting spat for this project.
All together, they arrived at an estimate of 2 million oysters planted this year. One more planting is planned for late summer.
Two weeks after the June planting, Thompson joined Anna Pfeiffer-Herbert, assistant professor of Marine Science, students, and staff from the Field Station to monitor water quality at the reef and check fish traps.
Fish traps set off the reef act as a control for comparison and saw fewer fish and crabs, but the traps on the reef saw a variety of species like black sea bass, cunner, goby, blenny, oyster toad fish, spider crabs, blue crabs and mud crabs.
"An obscure species of sea slug previously not established outside the Mullica River in recent years first showed up at the reef two years ago," said Thompson. After a year, the sea slug, also known as a nudibranch, which looks like a naked snail, established a population around the reef.
The slug is an example of how the oyster reef is increasing biodiversity.
Steve Evert, associate director of the Marine Field Station, used a small dredge to pull up a sample of the oysters planted this year. In just two weeks, they have about tripled in size.
A mud crab peeked out from a cluster of shells pulled up from an older section of the reef demonstrating how reef provides sheltered habitat for bay creatures.
Meet the Creatures of the Reef
Marc Buller, a sophomore Marine Biology major who grew up in Michigan, was excited to see marine life very different from what he found exploring lakes as a child.
Rebeka Seymour, a senior Marine Biology major, is studying how sponges and barnacles interact with oysters of different ages at the reef site. She's finding that older oysters tend to become habitat for boring sponge, which then makes them unsuitable for oyster spat to settle on.
As the reef grows, it will continue to teach us about the bay ecosystem and inspire new studies for students to gain hands-on research.
Story and photos by Susan Allen