Foundation Plans 24-Hour 'Ospreys Give' Campaign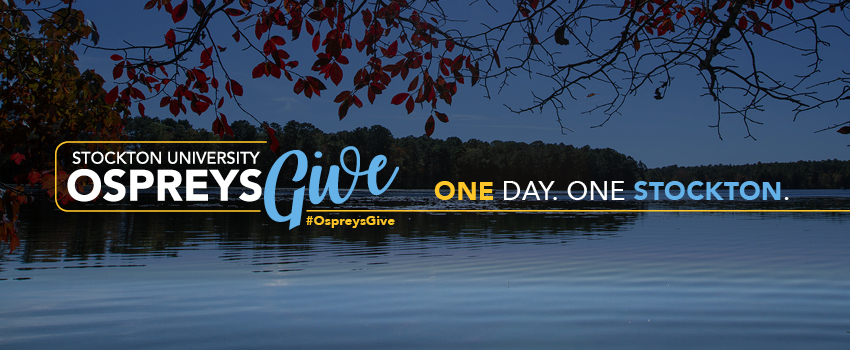 Galloway, N.J. – The Stockton University Foundation will reach out to the campus community and more than 56,000 alumni and other supporters this week for the second Ospreys Give campaign.
This year's theme is "One Day. One Stockton." For 24 hours, from 1 p.m. Oct. 2 until 1 p.m. Oct. 3, supporters will have the opportunity to participate in on-campus and online activities and challenges that support the university and its athletic, academic, service and scholarship programs.
Students at Stockton sites in Galloway, Manahawkin, Atlantic City and Hammonton will participate in pumpkin decorating, door decorating. The Talon Taxi will drive around campus asking Stockton trivia questions that will award winners the chance to donate $25 to the program of their choice. A variety of other matching and challenge grants are also being provided by Stockton alumni and friends.
President Harvey Kesselman and First Lady Lynne Kesselman will make a gift of $5 for every donation received from Stockton alumni. Chief of Staff Susan Davenport is sponsoring a Stockton Pride social media photo contest for alumni and students, with each winner getting to donate $500 to the program of their choice.
Stockton Chief Development Officer Daniel Nugent said the primary goal of event is involvement.
"We want to encourage our students, alumni, supporters and neighbors to come together to show their support for Stockton and the impact the university is making in the region," Nugent said. "Donations don't have to be large to be meaningful. Ospreys Give is about coming together to provide opportunities for students and the community."
Last year's event raised almost $102,000.
The community can follow the day's events on Stockton's web site, Facebook page and Instagram and Twitter accounts. Donations can be made online at ospreysgive.stockton.edu.
# # #
Contact:
Diane D'Amico
Director of News and Media Relations
Stockton University
Galloway, N.J. 08205
Diane.DAmico@stockton.edu
609-652-4593
609-412-8069
stockton.edu/media