Small Business Owners Connect with Colleges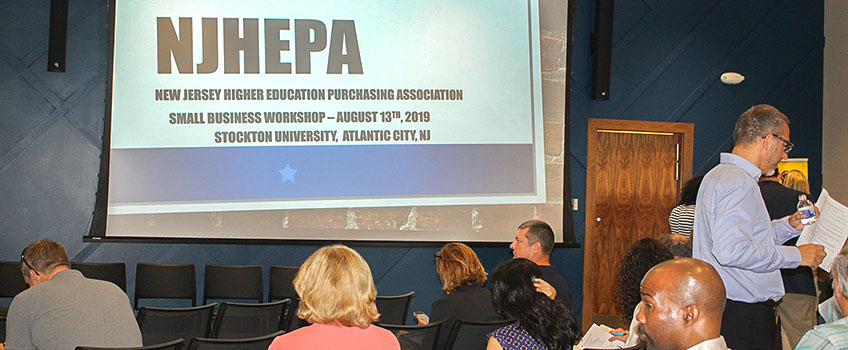 Atlantic City, N.J. – Last year, Stockton University bought $53 million in goods and services, Michael Angulo, Stockton vice president for administration and finance, told attendees at the first Small Business Workshop hosted by the New Jersey Higher Education Purchasing Association (NJHEPA) at Stockton University Atlantic City on Aug. 13.
Stockton is one of 11 colleges in the state that offer w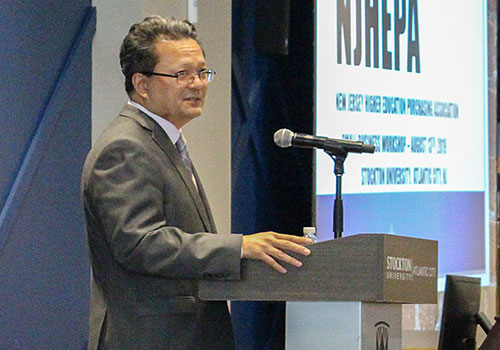 orking relationships with small businesses, and Angulo told the crowd of more than 100 people attending that state colleges are ready and willing to do business with them.
"Small businesses are what keep New Jersey's economy humming," he said. "Stockton and the state both recognize the importance of small businesses."
Maggie Quinn, Stockton Director of Procurement and Contracting and NJHEPA president, said one of the organization's efforts this year is to promote small business.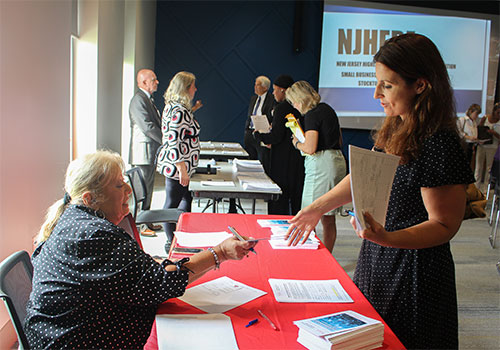 "Our mission is to foster small businesses, because they play a vital role in the economy," she said. "What better place to host the first of our workshop series than Stockton Atlantic City?"
At the event, Jamie Morgan and Beth Brook from Stockton's Office of Procurement and Contracting offered informational materials at a table to interested small business owners.
Gina Floyd and Alicia Gannon, representing Rowan University's Office of Contracting and Procurement, and Michael Dunn and Wes Coleman representing Rutgers University New Brunswick, each had tables offering materials of their own.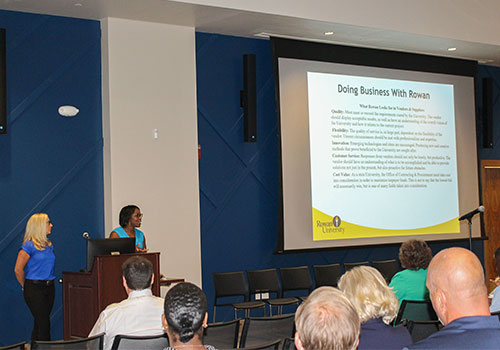 "We wanted to participate in this event because we are actively involved in building small businesses," said Dunn, the facilities category manager at Rutgers New Brunswick's procurement department. "From a procurement standpoint, we want participation and competition."
All three universities led presentations complete with tips and tricks on how small business owners can form successful working relationships with them. They also detailed required documentation and processes to ensure a chance of success.
John Cronin, certification auditor at the New Jersey Division of Revenue and Enterprise Services, Cronin led a presentation highlighting each business license and set-aside available to New Jersey small business owners, which include: the Small Bus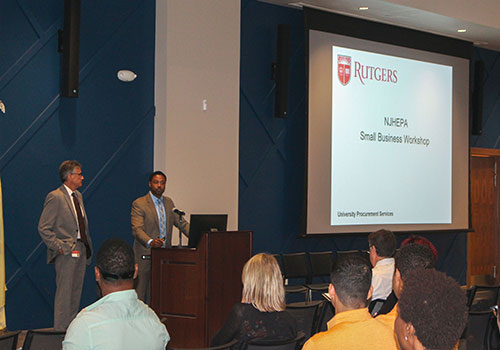 iness Registration (SBE), the Minority Business Enterprise Certification (MBE), the Women Owned Business Enterprise Certification (WBE), the Minority and Women Owned Business Enterprise Certification (MWBE), the Veteran Owned Business Registration (VOB), and the Disabled Veteran Owned Business Registration.
Cronin discussed the benefits and eligibility requirements of these designations, and also showed how to find the applications on the State of New Jersey Business Portal.
Sherry Rose, procurement specialist at the New Jersey Institute of Technology Procurement Technical Assistance Center (NJITPTAC), discussed available services for proprietors, which include counseling and marketing assistance. She also noted that all services are free.
"We know you have a lot of costs to deal with as someone starting a business," Rose said, "so we offer our services free of charge."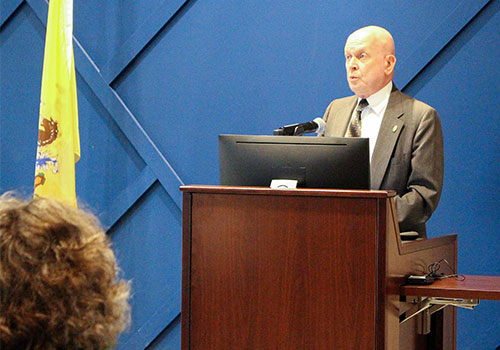 Carol Waties, regional director of the New Jersey Small Business Development Center (NJSBDC) at Stockton University, talked about the similar services the NJSBDC offers, which include assistance with annual reports, loan packages, and international trade. All services by the NJSBDC at Stockton are free as well.
"When you're a successful small business," Waties said. "It's not just you and your family that are affected. You could end up stabilizing or improving an entire community."
Most attendees found the event helpful. Jack Caulk, business development manager at the MCS Group, Inc. in Mount Laurel, attended because the company is currently working to expand to more areas of New Jersey.
"This event gave me so many good tips for branding within higher education," he said. "It also exposed me to a lot of solid contacts that the company will be following up with."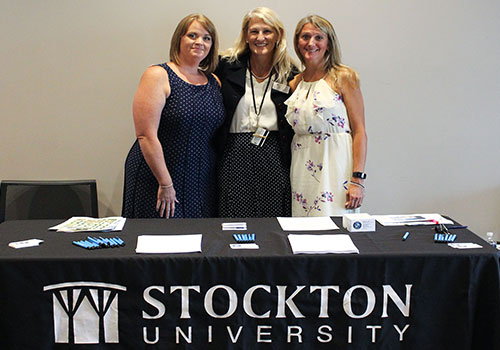 Caulk received the message of the event, that perseverance and determination are key in owning a small business.
"You have to work hard as a small business owner," said Quinn. "Don't stop at certifications. Keep going, and you'll succeed."
This workshop at Stockton A.C. was the first of three planned around the state. For more information, contact Quinn at Margaret.Quinn@stockton.edu.
View more photos from the event on Stockton's Flickr.
Reported by Kat Wentzell.
# # #
Contact:
Diane D'Amico
Director of News and Media Relations
Stockton University
Galloway, N.J. 08205
Diane.DAmico@stockton.edu
609-652-4593
609-412-8069
stockton.edu/media