Stockton Welcomes New Dean of Business School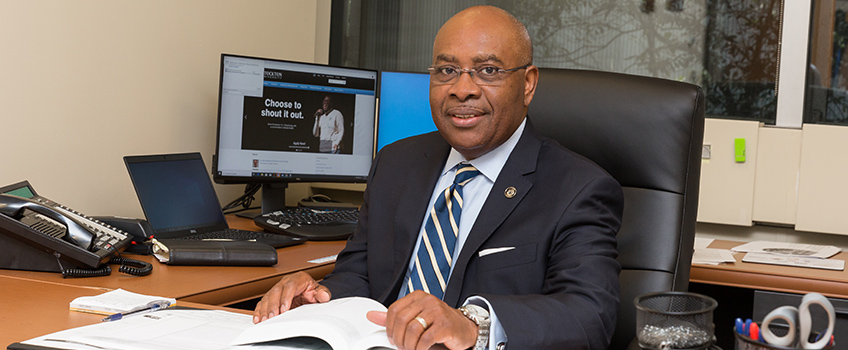 Galloway, N.J. – Stockton University's new School of Business Dean Alphonso Ogbuehi has only been at Stockton for a few weeks, but he's already full of energy and ideas to expand the profile of the program, especially at the new Atlantic City Academic Center.
"Atlantic City is the future for the business school," he said. "Our presence in Atlantic City will grow."
Ogbuehi said proposals under consideration include moving the entire Master of Business Administration (MBA) program to Atlantic City, and adding an MBA in Hospitality Management and more undergraduate courses there.
The new dean, who started in July, said he was excited about coming to Stockton from the moment he met President Harvey Kesselman and the staff.
"They had me at hello," he said.
He was also impressed that Stockton's program is accredited by the Association to Advance Collegiate Schools of Business (AACSB), an international body whose accreditation has been earned by less than 5 percent of the world's business programs.
"Stockton is very lucky to have an accredited program," Ogbuehi said. "That is the gold standard."
About 20 percent of Stockton students major in a business-related field. The school's programs range from traditional Business Studies to Computer Science, Computer Information Systems, and Hospitality, Tourism and Event Management studies.
Ogbuehi said he would like to develop a Dean's Lecture Series to bring in high-profile individuals from the business world to speak to students and the public.
He also wants to share the work of faculty and students, especially in Atlantic City, where faculty have already begun taking advantage of the proximity to the tourism industry and casino hotels. Another proposal is a two-week Summer Entrepreneurship and Business Academy for rising juniors.
"I want to embrace Atlantic City and promote interaction between the business school and the community," he said.
He also wants to reach out to alumni to build relationships and connections that can benefit both current and former students.
Ogbuehi said he is also open to naming opportunities for the business school and welcomes interested parties to discuss options.
Ogbuehi comes to Stockton from Kansas City, Missouri, where he was the founding dean of the School of Business at Park University. As a Fulbright Scholar Dr. Ogbuehi travelled to Sub-Sahara Africa where his work focused on the role of universities as catalysts for regional economic development. He was also a tenured professor in the College of Business at Clayton State University, Morrow, in Atlanta Georgia.
Stockton Provost Lori Vermeulen said Ogbuehi brings strong community relations and fundraising skills, and experience establishing partnerships with prominent business leaders and local companies, agencies and organizations.
"Dr. Ogbuehi has demonstrated a commitment to diversity and inclusive excellence and internationalization," Vermeulen said in announcing his appointment. "Further, he has fostered the development of international learning experiences for students. He has a keen understanding of strategy and branding as well as an acute perception of the potential for economic development in Atlantic City. He is uniquely qualified for this position."
# # #
Contact:
Diane D'Amico
Director of News and Media Relations
Stockton University
Galloway, N.J. 08205
Diane.DAmico@stockton.edu
609-652-4593
609-412-8069
stockton.edu/media