Twenty-Eight Receive U.S. Citizenship at Naturalization Ceremony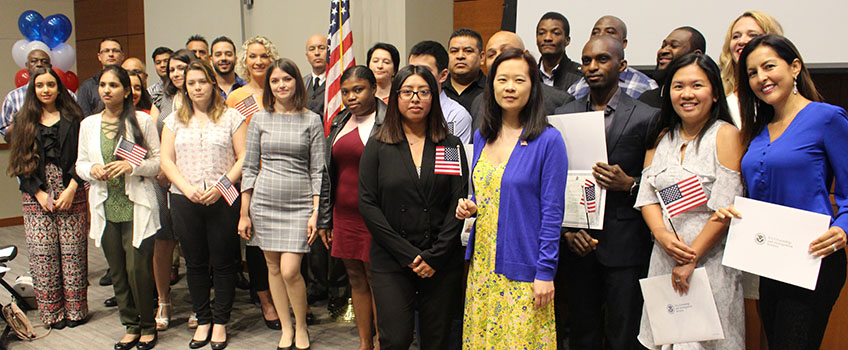 Galloway, N.J. – Twenty-eight people from 20 different countries, including two Stockton University students, received United States citizenship at the third Naturalization Ceremony hosted by the Stockton Center for Community Engagement on Wednesday, May 8.
"I am happy to have the privilege of witnessing freedom in action," said Provost and Vice President for Academic Affairs Lori Vermeulen during her opening remarks. "All of you are welcome here, and you are now members of the Stockton family. We are pleased to have you as part of our team. Congratulations."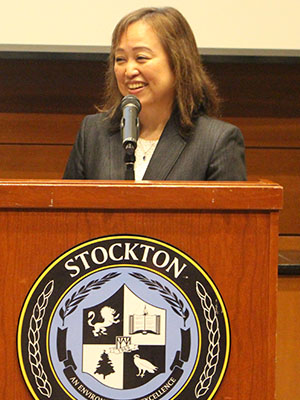 United States Citizenship and Immigration Services (USCIS) Supervisory Officer Keith Dorr read a list of the candidates' home countries, from Egypt to the Ukraine.
"We must mention and honor the countries you came from," he said. "They are a part of you, your family and your heritage."
The 28 stood, raised their right hands, and read the Oath of Allegiance, administered by USCIS Director Ya-Mei Chen.
"You just became the newest citizens of the United States," she said upon the Oath's conclusion. "How do you feel? Awesome? Accomplished? Relieved? Well, you've reached your final destination."
Chen then shared her own naturalization experience, when she first journeyed to America from Taiwan many years ago to receive her master's degree at the University of Ohio. She recalled venturing into a McDonald's and feeling overwhelmed by the extensive menu, which was completely in English. She was embarrassed by the staff and other patrons that pressured her to order quicker.
"As naturalized citizens, we face many issues," she said. "But it doesn't matter what we face, we make it work. Do not ever forget where you are from; it makes you who you are. Cherish that. Become a bridge between your country and the United States. Talk to people that want to learn about you. Share your culture with the world. If people understand each other more, there will be less fear and more respect."
Stockton student Omar Hassanein received his citizenship in January after taking the four-credit course "Paths to Naturalization."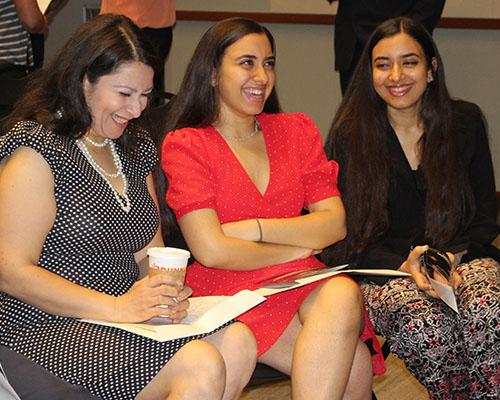 "Becoming a United States citizen meant so much to me and showed me how hard the process is for people," he said. "Congratulations to you all, your hard work paid off and you earned this. You should be very proud."
Two current Stockton students, freshman twin sisters Marina and Mariam Eskander from Egg Harbor Township, received citizenship at the ceremony along with their mother, Manar Eskander. Finally receiving U.S. citizenship was a relief to the family.
"We feel comfortable now," said Manar. "This was a really long, exhausting journey. Now we're here."
After receiving their Certificates of Naturalization, the new citizens were invited to enjoy snacks and refreshments.
"We have cake, coffee and tea available," said Merydawilda Colón, executive director of the Stockton Center for Community Engagement, "because that's how we celebrate in America – with cake!"
Reported by Kat H. Wentzell.
# # #
Contact:
Diane D'Amico
Director of News and Media Relations
Stockton University
Galloway, N.J. 08205
Diane.DAmico@stockton.edu
609-652-4593
609-412-8069
stockton.edu/media