First 'Mocktail Hour' a Real-Life Learning Experience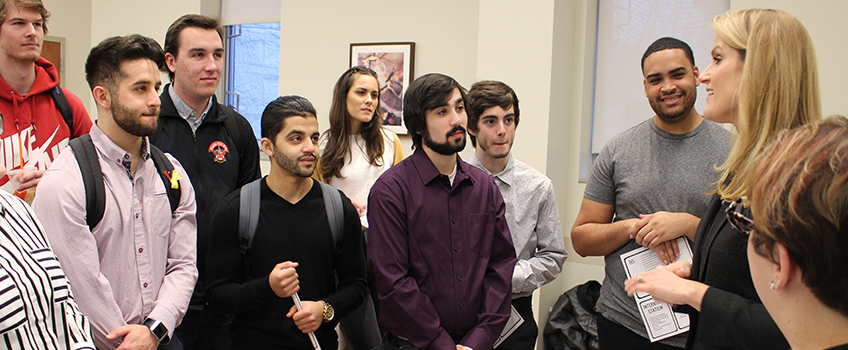 Galloway, NJ – Stockton University's Communication Studies program hosted its first ever "Mocktail Hour" on Feb. 8. The "speed-dating" style event was geared toward helping students network and learn business etiquette they can use in the professional world when applying for jobs and internships.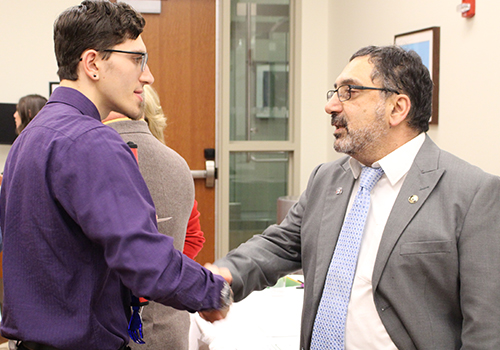 "We were hearing concerns from students about face-to-face interaction when they get to the point of interviewing for a job or an internship," said Toby Rosenthal, visiting instructor of Communication Studies, who coordinated the program.
Multiple stations were hosted by business professionals, faculty, community members and alumni. The lessons taught ranged from the perfect greeting to the "do's and don'ts" of how to act in professional settings.
Courtney Miller, a digital specialist for The Press of Atlantic City, participated in the Branding Station, which demonstrated how to master the perfect short "elevator pitch" to use when networking.
"My goal here was to help build confidence in the students," said Miller. "I wanted to give them some tools to have in their back pocket when they need them."
At the "Do's and Don'ts" table, Renate Taylor from the Community Food Bank of New Jersey-Southern Branch emphasized the importance of professional social media outlets.
"Build a Linkedin page. Linkedin is everything today," Taylor said.
Jim Drew, Employment Center manager for the Borgata, advised students to keep their options open when applying for jobs. An entry-level job can lead to other opportunities.
"Don't think that any job is beneath you and don't close your options," Drew said.
Assistant Professor for Business Studies Joy Jones staffed the Greetings Station and offered personal and technological tips for making contact. She said if they do not have a business card, students can pull up the personal QR code for their Linkedin profile to connect with other professionals.
"People's favorite words are their names," said Atlantic City entrepreneur Evan Sanchez. Sanchez, with Christina Morus, Communications Studies program coordinator, staffed the Food & Drink Tips Station. Sanchez said students can learn to remember names by using pneumonic device skills.
About 50 students attended the first "Mocktail Hour," and organizers hope it grows each year. Senior Communication student Trisha Quan said it was a helpful experience.
"I was excited to meet new people in the industry and learn some tips along the way," she said.
Other program participants were media specialist Laura Cranwell, Gavin Guglielmi, an advertising account executive with The Press of Atlantic City, Michelle Rice, vice president of sales and marketing with The Press of Atlantic City, Randee Rosenfeld, photographer and teacher at Atlantic City High School, and Erin O'Hanlon, an adjunct faculty member and coordinator of service learning.
View a gallery of photos from the event on flickr.
# # #
Contact:
Diane D'Amico
Director of News and Media Relations
Stockton University
Galloway, N.J. 08205
Diane.DAmico@stockton.edu
609-652-4593
609-412-8069
stockton.edu/media