Almost 1,000 Participate at 15th Annual MLK Day of Service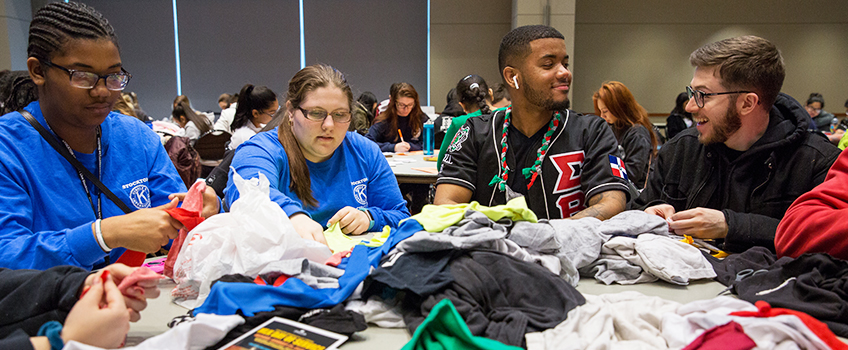 Galloway, N.J. – Despite abrasive winds of up to 25 miles per hour and a wind chill of about negative four, nearly 1,000 Stockton University students and members of the community came to Stockton's campuses and instructional sites to celebrate the university's 15th annual Martin Luther King Day of Service.
"Dr. King was a person of impact," said Stockton President Harvey Kesselman during the opening program. "[He], along with many other champions of the civil rights movement, overcame tremendous hardships, endured life or death experiences, and bore the physical scars from the hands of those who opposed his dream … Now, more than 50 years later, the impact of this powerful movement continues to live and breathe among us as we resolve to keep Dr. King's dream alive and bring it to total fruition. As each and every one of you devotes your time and efforts to today's day of service, I ask you to consider how you, too, can become a person of i
mpact."
Stockton Faculty Senate President Donnetrice Allison said the day is a wonderful way to honor Dr. King's legacy.
"It is great to see so many people come to make a difference, to step out of their comfort zone to assist others," she said.
Stockton Student Senate President Katie Coburn said students learn many important lessons outside the classroom, and community service is one of them. She said she remembers the first day of service she attended and the impression it left of Stockton as a place that cares and gives back.
Following these remarks was a presentation of the 2019 Stockton Community Engagement Awards to volunteers within the campus community. The award recipients were:
Undergraduate: Yomaris Acosta
Graduate: Sara Ferrara
Student Club/Organization: Student Occupational Therapy Association (SOTA)
Faculty: Tait Chirenje, Associate Professor of Environmental Studies
Staff: Brian K. Jackson, COO at Stockton Atlantic City Campus
Alumni: Julia Popefka ('13), occupational therapist
Both in-house and external community partners hosted workshops, seminars, and other activities. In Atlantic City, volunteers cooked and made sandwiches for the Atlantic City Rescue Mission and sorted donated clothes for the Eastern Service Workers Association. In Galloway, Circle K held a wreath-making workshop for individuals in a local assisted living facility and the Stockton EMS squad held a CPR training session. More than 50 South Jersey Industries employees and their families attended across all sites, helping with various projects.
Students also helped organize activities.
"It feels so good to be giving back to the community," said senior Meghan McGowan, activity leader for Books without Borders on the Galloway campus. "It's really nerve-wracking being in charge, but it's worth it because all of this is going to a good cause; all of these books will be sent over to children in need in Lukaya, Uganda."
Senior Margaret Erickson shares McGowan's enthusiasm regarding service.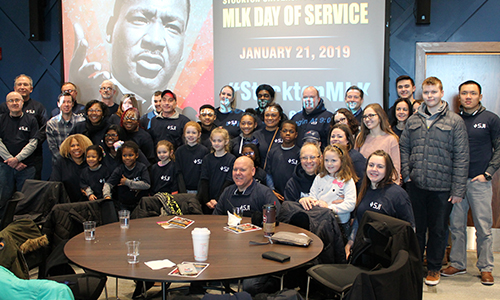 "The MLK Day of Service is a great way to start the semester every year," she said. "Stockton is very service-oriented, and this really gets that message out. We're here together to help each other and the community."
This event has become an annual tradition for many families. Freshman Dominic Bates from Manahawkin has been volunteering at Stockton's MLK Day of Service with his three younger brothers for over six years.
"Our Mom used to make us do this, but now it has become a family bonding activity that we look forward to," he said. "We get to talk more; we get to connect with each other without electronic devices. We also get to make a difference together, which is cool."
Jack Swenson, a senior at Cedar Creek high school, has also been participating in the MLK Day of Service for many years. Because of his positive experiences, he plans to apply to Stockton in the fall.
This annual event is coordinated by the Stockton Office of Service Learning. Campus and community partners that made this year's event such a success include:
African American Heritage Museum of Southern New Jersey; Amnesty International; Atlantic City Rescue Mission; Books Without Borders; Boy Scouts and Girl Scouts of Woodbine, NJ; Career Opportunity Development, Inc.; CARING Adult Medical Day Care Center; City of Atlantic City; Circle K; Delta Delta Delta Sorority; Eastern Service Workers Association; Family Service Association; Gilda's Club of South Jersey; Hammonton Cancer Foundation; Hammonton Center for Rehabilitation and Healthcare; Kibble Cupboard; Kramer Hall of Stockton University; NAACP, Atlantic City Chapter; New Jersey Organizing Project; Noyes Museum of Art of Stockton University; Ocean County 4-H; Princess, Inc.; South Jersey Industries; Stockton, Atlantic City Operations; Stockton EMS; Stockton Center for Community Engagement; Stockton Honors Program; Stockton Activist in Residence; Surf Rider Foundation, South Jersey Chapter; Stockton F.E.M.A.L.E.S.; The Leadership Studio; Tuckerton Seaport & Baymen's Museum; Azeez Woodbine Instructional Site; Women's, Gender, & Sexuality Center
View a gallery of photos on flickr.
Reported by Kat H. Wentzell.
# # #
Contact:
Diane D'Amico
Director of News and Media Relations
Stockton University
Galloway, N.J. 08205
Diane.DAmico@stockton.edu
609-652-4593
609-412-8069
stockton.edu/media