Stockton Signs Transfer Agreement with Mercer County Community College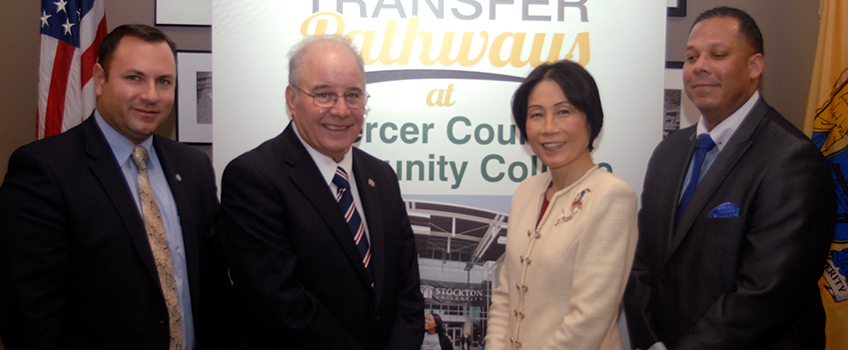 West Windsor, NJ - The presidents of Stockton University in Galloway Township and Mercer County Community in West Windsor, today announced a new dual admission and transfer partnership that will help students make a smooth transition from the two-year college to Stockton's bachelor's degree program.
The five-year Transfer Pathways agreement builds a strong relationship between Stockton and Mercer County Community College by offering multiple opportunities for students to seamlessly pursue associate and bachelor's degrees at the two institutions of higher education.
"This is indeed an exciting option for students seeking a quality college education," said Jianping Wang, president of Mercer County Community College. "Through this innovative partnership, from day one Mercer students will have a clear path to obtaining a four-year degree at a high-quality institution in Stockton University. We are honored to partner with Stockton in our common goal of making a college education affordable and accessible."
Stockton President Harvey Kesselman said the agreement will give students access to Stockton services while they attend Mercer County Community College.
"We look forward to providing students with a smooth pathway to the more than 160 programs Stockton offers at its beautiful 1,600 acre campus in the Pinelands National Reserve and at our new beachfront campus in Atlantic City," Kesselman said.
The terms of the agreement include:
Students who are denied direct admission to Stockton as a freshman applicant can receive conditional dual admission in partnership with Mercer County Community College. Students will attend classes at MCCC but have access to campus activities and student groups at Stockton and receive a special Stockton Identification card through Stockton's Transfer Pathways program.
Students already enrolled at MCCC can apply for conditional acceptance to Stockton while continuing to work towards their associate's degree, and be assured of acceptance prior to the term in which they are ready to transfer.
Students who successfully complete their associate degree at Mercer County Community College can automatically transfer to Stockton with junior standing to complete their bachelor's degree. Application fees to Stockton will be waived for eligible students.
Students who complete at least 36 credits at MCCC, and a total of 64 credits between the county college and the four-year institution, are eligible to receive a retroactive associate degree from MCCC. Stockton and MCCC will co-host "reverse transfer" information sessions for students.
Stockton and MCCC will develop specific program-to-program articulation agreements for high-demand majors to facilitate the quality and ease of transfer.
Students will receive joint advising from Stockton and MCCC and a Stockton advisor will have office space and a regular schedule at MCCC.
Students will be eligible for financial aid from whichever institution they are attending. Stockton will provide five one-year scholarships of $2,000 per year to MCCC graduates whose admission to Stockton is covered by the agreement.
Stockton and MCCC will establish an advisory committee to ensure best practices in recruitment, enrollment management, academic and student services, information technology, marketing and facilities use.
Stockton already has similar agreements with Atlantic Cape Community College, Brookdale Community College, Camden County College, Cumberland County College, Ocean County College as well as Rowan College of Gloucester County and is pursuing additional partnerships with other community colleges in the state.
# # #
Contact:
Diane D'Amico, Director of News and Media Relations
Stockton University Galloway, N.J. 08205
Diane.DAmico@stockton.edu
609-652-4593
609-412-8069
stockton.edu/media