Math Day a Fun Day for Atlantic City Third Graders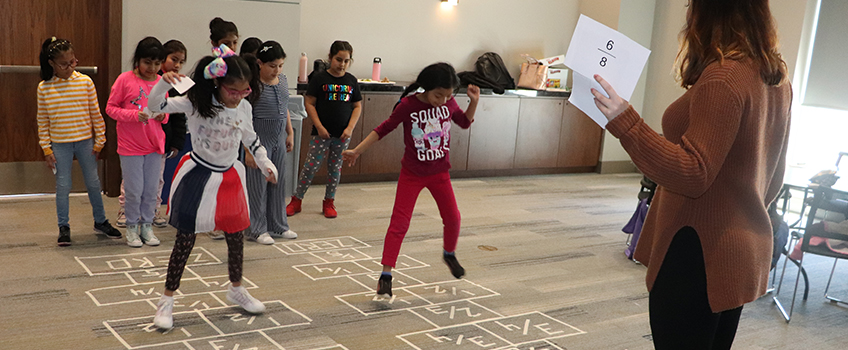 Galloway, N.J.– The 90 third graders at the Sovereign Avenue School spent a day at Stockton University Atlantic City applying their math skills to games and activities at a Math Day sponsored by the School of Education on March 28.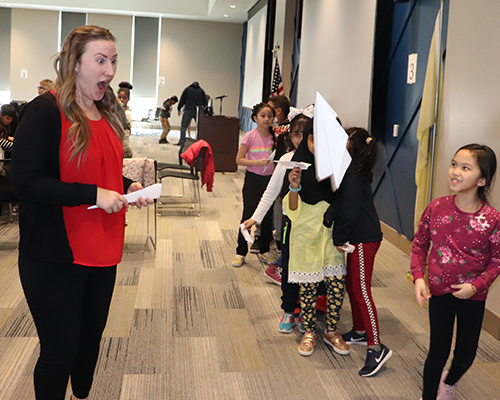 Students in the program coordinated with the classroom teachers to create activities that linked to what the teachers were doing in class. The experience was a training exercise for the Stockton students who got a chance to not only learn how to make math fun, but also got some experience in how to get 90 excited youngsters to stop, listen and follow instructions.
The Stockton project was inspired by the "real world" approach to math at the National Museum of Mathematics. The third graders played fraction hopscotch and told time with their bodies on a huge clock taped to the floor of the Fannie Lou Hamer event room. They solved word problems, reduced fractions and figured out how many geometric shapes and angles there are in the rug on the second floor of the Academic Center.
Faculty members who helped plan the event were Stacey Culleny, Instructor of Education, and Norma Boakes, Associate Professor of Education. The elementary and secondary math education students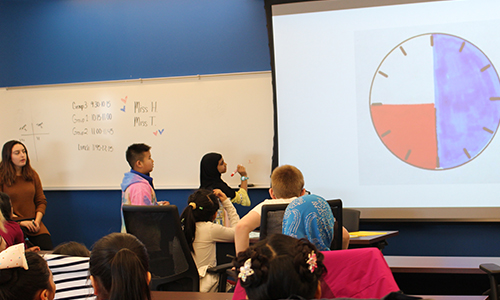 who participated were Lauren Adams, Alexandrea Byron, Ashley DeMaio, Jessica Dorta, Deborah Hanson, Sage Carfagno, Katherine (Katie) Hillblom, Cathy Truncale and Sabrina Perry.
Students also got a tour of the campus from A.C. Director of Operations Alex Marino, and had lunch in the Academic Center food court.
Dean of the School of Education Claudine Keenan said the program was just one more way Stockton students are interacting at the new campus with children in Atlantic City. Students also do observations and student teaching in city schools.
"We hope that by bringing children here now, while they are young, they will see college as attainable, and think of themselves as future college students," she said.
# # #
Contact:
Diane D'Amico
Director of News and Media Relations
Stockton University
Galloway, N.J. 08205
Diane.DAmico@stockton.edu
609-652-4593
609-412-8069
stockton.edu/media