Future Teachers Helping Young Readers at Pleasantville School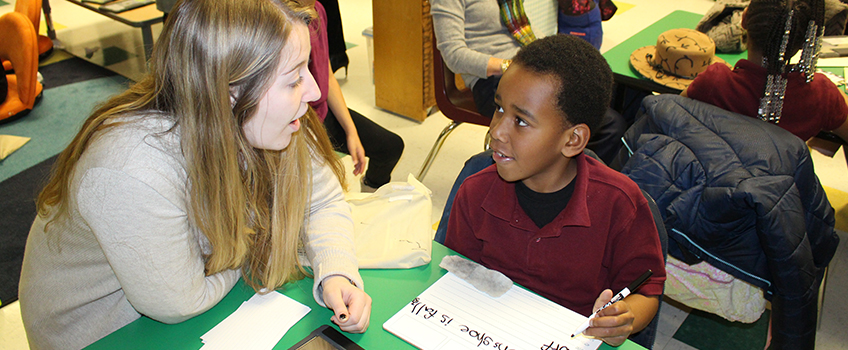 Pleasantville, N.J. – Future teacher Clancy Larkin of Sea Isle City remembers being asked on the first day of her Literacy Development Class at Stockton if she could remember how she learned to read.
"I really don't remember," she said. "But it's so interesting to see how it is taught."
Larkin and nine other students in the class are getting first-hand experience in how students learn to read through a partnership with the Pleasantville School District at North Main Street School.
Pleasantville teacher Renee Alford received a grant from the OceanFirst Foundation to implement the Wilson Fundations reading program with second graders who are struggling. She reached out to Stockton to see if students might be interested in partnering in the program.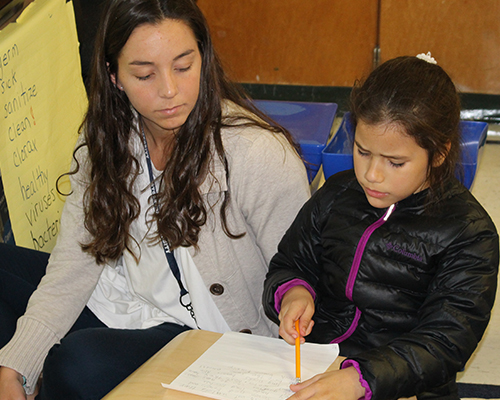 "We had done a partnership before in middle school, and I thought it could work again," Alford said.
The Stockton students not only spend time with the second-graders in the program, they also hold their Literacy Development class at the school once a week, where they get instant feedback on their work.
"The first thing we do in class is review what we did with the students related to the lessons we are learning," Larkin said.
Stockton Associate Professor of Literacy Susan Cydis, Associate Professor of Special Education Priti Haria and Associate Professor of Education Shelly Meyers also attend the class, observing their students as they work with the younger children.
On a recent Tuesday the students sat in on a class taught by Matt Barnard, then worked individually with the students, sitting on comfortable flexible seating that was also funded by the grant.
"This allows our students to make the connection between theory and practice," said Meyers. "And it will increase their marketability for jobs because they have had this direct experience working with students using this program."
The program will expand to Leeds Avenue School next year, at which time at least 20 Stockton students will participate.
Cydis said only one Stockton class is in the pilot program this year, and they are monitoring the impact of the hands-on experience with that group. She said she already notices a difference in her own teaching methods.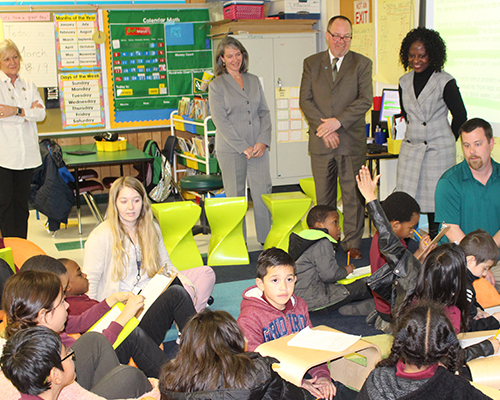 "Here in Pleasantville we can be immediately responsive to what we see our students doing in the classroom," Cydis said. "The students coming here are developing more confidence and competence."
Stockton student Jaeda Cooper of Hammonton said she has learned how to adapt in the moment, "because things don't always go as you planned."
She said is it rewarding to see how far the children have progressed just since she started coming in January.
Chelsea Drake of Mt. Holly said she wants to teach grades K-2 so she welcomes learning to teach the Fundations program so she can include it on her resume.
The Fundations program is phonics based. Student Amanda Lenahan of Egg Harbor Township said she already took the Praxis teaching exam to get licensed and a lot of what she is learning in the class about phonics is on the exam.
North Main Street School Principal Teresa McGaney-Guy said having the Stockton students in the classrooms to work closely with the students has been very helpful.
"The district has been struggling with how to effectively work with our students and really spend time with them to improve their skills," she said.
View a gallery of photos from the North Main Street School in Pleasantville.
# # #
Contact:
Diane D'Amico
Director of News and Media Relations
Stockton University
Galloway, N.J. 08205
Diane.DAmico@stockton.edu
609-652-4593
609-412-8069
stockton.edu/media