G. Larry James Bike Ride Raises More than $27,600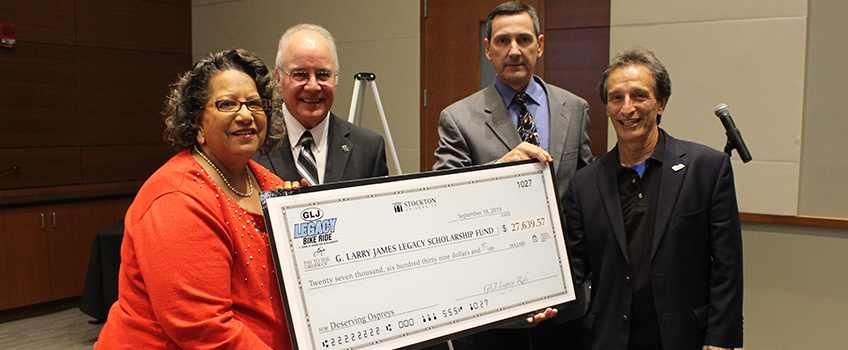 Galloway, N.J. – The 11th annual G. Larry James Legacy Bike Ride at Stockton in June raised more than $27,600 for student scholarships.
Ride coordinators Assistant Vice President Craig Stambaugh and Professor Arnaldo Cordero-Roman presented a check for $27,639.57 at the Sept. 18 Board of Trustees meeting.
The late G. Larry James was a longtime administrator at Stockton and a gold and silver medalist in track and field at the 1968 Olympics. He was known as "The Mighty Burner."
His widow, Cynthia, of Galloway, attended the presentation and thanked all those who organize and support the event each year. To date the ride has raised more than $210,000.
"We need this to help the students," she said.
Carole LoBue, Brian Pluchino and the Circle K student club were also recognized for their support of the race.
President Harvey Kesselman and trustee Nelida Valentin recalled James' impact on students and thanked participants for continuing his legacy.
"James was an inspiration for everyone on campus," Kesselman said, recalling that during the summer Educational Opportunity Fund program James would lead the morning exercises, including a run around the lake.
"The most humbling experience is running around the lake with Larry," Kesselman said. "He'd lap everyone."
# # #
Contact:
Diane D'Amico
Director of News and Media Relations
Stockton University
Galloway, N.J. 08205
Diane.DAmico@stockton.edu
609-652-4593
609-412-8069
stockton.edu/media