Kramer Veranda Named at A.C. Academic Center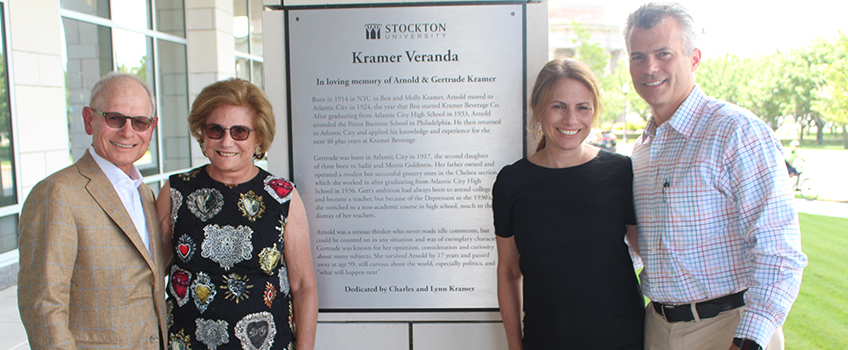 Atlantic City, N.J. – Gertrude Goldstein Kramer wanted to attend college to become a teacher.
But money was tight during the 1930s Depression, so the daughter of a small grocery store owner in Atlantic City gave up her college plans. After graduating from the local high school, she went to work in the family store and married Arnold Kramer, whose family operated Kramer Beverage in Atlantic City.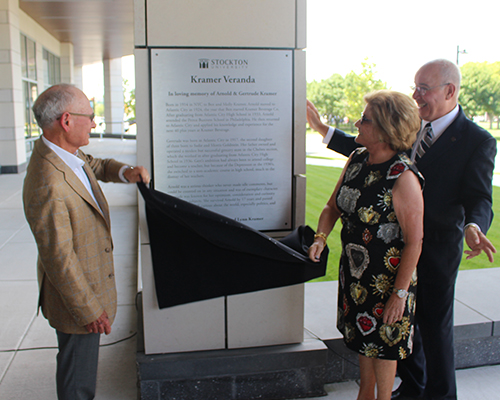 Arnold and Gertrude's son, Charles, and his wife, Lynn, are honoring the memory of his parents by creating in their name an endowed scholarship fund at Stockton University that will assist Atlantic City High School graduates who attend the university.
Stockton thanked the Kramers at a ceremony on July 18 at which the front veranda of the new Stockton University Academic Center was named the Kramer Veranda in memory of Arnold and Gertrude Kramer.
"If there had been a Stockton, or scholarship money, when my mother graduated high school she could have gone to college," Charles Kramer said. "She was so smart. This endowment is really about providing scholarship money for students, but I hope they also take the time to read the plaque."
A plaque on the veranda provides a short history of Arnold's and Gertrude's lives. Arnold's father, Ben, started Kramer Beverage in Atlantic City in 1924. Arnold, a 1933 Atlantic City High School graduate, joined the business after graduating from the Peirce School of Business in Philadelphia. Charles and Lynn expanded the family business which is now based in Hammonton and extends into eight counties.
"But it all started In Atlantic City," Charles Kramer said. "My parents were both devoted to Atlantic City, and were involved in a lot of organizations. It was a wonderful place to grow up. I want to perpetuate their memory and when I told my mom I wanted to do this in Atlantic City she really liked the idea."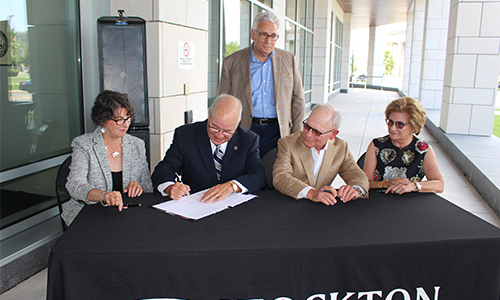 The Stockton Atlantic City Academic Center is located on the site of the former Atlantic City High School.
"It means a lot to me that the plaque is going on the site where my parents attended high school," Charles Kramer said.
The Kramers have been major supporters of Stockton University, providing scholarship funds and gifts and serving on the Stockton Foundation. Stockton's Kramer Hall in Hammonton is named in recognition of their support. Kramer said they believe in Stockton and its mission.
"Stockton's opening (in 1971) meant a lot to South Jersey," he said, "and it has kept pace with the growth of the area. Opening a campus in Atlantic City is a big deal."
Charles Kramer said he and Lynn understand the value of scholarship funds for students and hope their long-term commitment of $250,000 for the endowed scholarship fund will assist more students as they attend college.
"It really blows me away how many students work and still have high grade point averages," Kramer said. "Lynn and I hope we can inspire others to create scholarships as well."
Stockton Foundation Board chairwoman Johanna Johnson said scholarships remain a top priority for her and Charles Kramer has been a member of the foundation for 23 years.
Stockton Board of Trustees chairman Leo Schoffer said the Kramers represent the type of family business that is important to a community.
"Thank you for your ongoing support of Stockton," Schoffer said.
Stockton President Harvey Kesselman said both the Kramer business and Stockton have their roots in Atlantic City and the Kramer family support of Stockton is a model of community spirit.
"Stockton will never forget your kind and generous spirit," Kesselman said.
View a gallery of photos from the event.
View a video of Charles Kramer speaking at the ceremony.
# # #
Contact:
Diane D'Amico
Director of News and Media Relations
Stockton University
Galloway, N.J. 08205
Diane.DAmico@stockton.edu
609-652-4593
609-412-8069
stockton.edu/media