Stockton President to Co-Chair Higher Ed Working Group
Galloway, N.J. _ Stockton University President Harvey Kesselman will co-chair one of five working groups that will help implement New Jersey Gov. Phil Murphy's student-centered vision for New Jersey Higher Education, which was announced March 26 at Rutgers-Newark.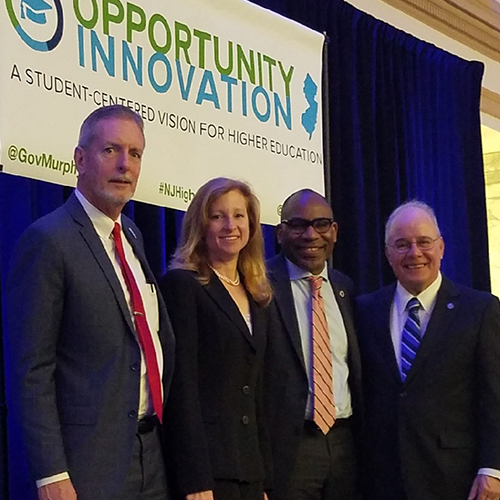 Kesselman will co-chair the working group on Student Success along with Reginald Lewis, executive director of the Newark City of Learning Collaborative and an assistant professor at Rutgers Newark.
Kesselman said he is honored and excited to play an active role in the plan presented by Murphy and Secretary of Higher Education Zakiya Smith Ellis.
"Student success is integral to Stockton's mission of Students First," Kesselman said. "I could not be more pleased that Governor Murphy and Secretary Smith Ellis have made it a cornerstone of their strategic plan for higher education in New Jersey. They are to be commended for clearly identifying areas upon which those of us in higher education can rally around. I look forward to working with the Secretary as she begins implementing the plan."
The plan, outlined by Murphy and Smith Ellis, is based around a Student Bill of Rights that outlines their vision. The Bill of Rights includes:
Early Exposure to College, starting in middle school.
Clear and Comprehensive Financial Information on costs and financial aid.
Affordable and Predictable Education Costs with support to cover expenses.
Experiential Learning Opportunities through research and/or internships.
Supportive Faculty and Staff with time and resources to support student learning
Support for On-Time College Completion
Opportunities to Earn College Credit Outside the Classroom for work and other experiences.
High-Quality Academic Programs that will prepare students for success in the global economy

Safe, Supportive and Inclusive Campuses that welcome all students.
10. A Voice in the Decisions that Affect Their Education.
# # #
Contact:
Diane D'Amico
Director of News and Media Relations
Stockton University
Galloway, N.J. 08205
Diane.DAmico@stockton.edu
609-652-4593
609-412-8069
stockton.edu/media