Explore Marine Life and Maritime History with Tara Luke During NOAA Expedition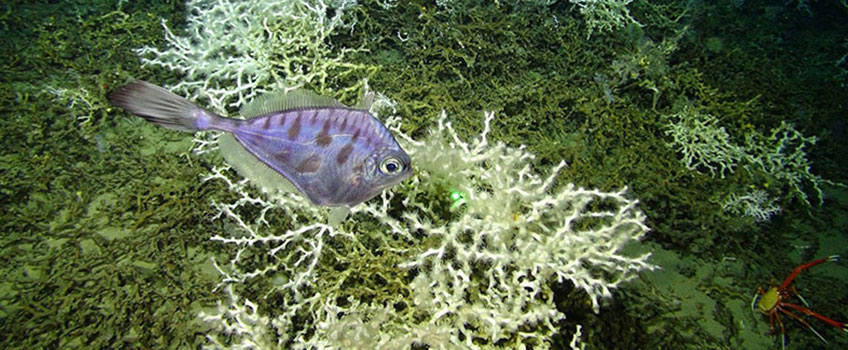 Marine technology provides a window into the deep sea.
Tara Luke, professor of Biology, is serving as a shore-based scientist for the National Oceanic and Atmospheric Administration's (NOAA) ocean exploration off the southeastern United States this summer.
The mission is exploring rarely seen habitats to identify new species of marine life and to search for lost ships. Daytime observations of creatures switch to sonar mapping operations at night.
The NOAA Ship Okeanos Explorer dropped the Deep Discoverer, a remotely-operated vehicle (ROV), into the Atlantic Ocean to film submarine landscapes and cultural heritage sites. From her computer in New Jersey, Luke is participating in daily ROV dives where she is identifying species and collaborating with other scientists worldwide to collect baseline data on a rarely seen or studied habitats.
Sightings so far have revealed some interesting findings. At 650 meters deep, some hermit crabs wear sponges instead of shells. "The sponge spicules are spikey, so they provide additional protection," explained Luke.
A blobfish, which looks just like its name with a pouty expression, also made an appearance. "They look very different alive underwater than they do when brought to the surface," Luke explained.
The ROV can dive as deep as 6,000 meters, and its nine high-definition video cameras offer up-close views.
The sonar technology is mapping geologic features and the seafloor. According to NOAA, the deepwater areas off Florida, Georgia, South Carolina and North Carolina are some of the least explored areas along the U.S. East Coast.
This region is also a resting place for war ships sunk during the American Revolution through World War II's Battle of the Atlantic. The mission is following sonar leads to locate lost history. Sonar reveals shapes that might resemble artifacts like an anchor or a piece of a ship, which can then be confirmed by an ROV.
Over time, these pieces of history become home to a variety of sea life.
"Depending on how long a ship has been on the seafloor, and how fast sediment accumulates on it, different types of organisms can use it as habitat," explained Luke.
Stockton's Marine Field Station is using side scan sonar and an ROV locally to locate Revolutionary War shipwrecks. "These can provide hard surface for the animals that need to attach to solid surfaces. Shipwrecks, in shallow water and in deep water, can also provide places for animals to hide from predators," said Luke.
The community can watch the expedition via a daily livestream, 8:30-4 p.m. ET through July 11, to witness discoveries as they happen alongside scientists.
"What I enjoy most about these expeditions is the opportunity to discover new species, some that no one has ever seen before and share this with other scientists and the general public alike," explained Luke.
Luke has served on previous NOAA missions that have taken her virtually to the deepest spot on the planet, the Marianas Trench, and to the New England seamount chain, the American Samoa, the Musicians Seamounts northwest of Hawaii and deep sea canyons offshore of Puerto Rico and the U.S. Virgin Islands.
Locally, Luke studies artificial reefs that attract colonies of coral, mussels and fish such as tautog and sea bass. She looks at the genetic diversity of corals and microorganisms to predict their ability to withstand change. As a post-doctoral researcher, she dove 2,512 meters below the ocean in Alvin, the U.S. Navy's manned deep-ocean research submersible operated by Woods Hole Oceanographic Institution.
Stockton Marine Field Station offers students the opportunity to drive an ROV and use sonar for mapping the seafloor, shipwrecks and hazardous marine debris for removal. Luke's participation in the Okeanos mission provides additional opportunities for students and the community to connect with a global effort to document the ocean for informed decision making and conservation.
"Knowing what's out there and being able to identify species helps us document biodiversity," she explained.
Luke will be using her Twitter account, @TaraLuke1, to share updates throughout the mission. View the tweets below for highlights from the exploration.
Note: From July 14-20, Stephen Nagiewicz, an adjunct instructor of Marine Science, will partiscipate as an onshore scientists while the crew of the Exploration Vessel Nautilus searches for the wreckage of the Samoan Clipper, a flying boat used for long-distance surveys, which was lost in January 1938. Viewers can watch live at https://nautiluslive.org.
Reported by Susan Allen
Different species of fish than we have seen on this expedition 1359 m deep at Blake Escarpment. #Okeanospic.twitter.com/kyfFycUT86

— Tara Harmer Luke (@TaraLuke1) June 30, 2019
Skate 784 m deep at Richardson Jellyfish. #Okeanospic.twitter.com/h7KCJGSuKT

— Tara Harmer Luke (@TaraLuke1) July 1, 2019
Hermit crab with glass sponge on its back 651 m deep at Richardson Jellyfish. #Okeanospic.twitter.com/ZUqJrlIRw1

— Tara Harmer Luke (@TaraLuke1) July 1, 2019
Octopus 593 m deep at Richardson Jellyfish. #Okeanospic.twitter.com/rmS5lqNPVX

— Tara Harmer Luke (@TaraLuke1) July 1, 2019
OH WOW! Dogfish sharks are being watched DEVOURING a swordfish carcass RIGHT NOW on #OKEANOS Stetson Mesa terrace 455 m https://t.co/GJRot3WAOEpic.twitter.com/VLcd5ivTLT

— Christopher Mah (@echinoblog) June 28, 2019