Johanna Johnson Receives Fundraising Award
Galloway, N.J. - Dr. Johanna Johnson, immediate past chair of the Stockton University Foundation Board of Directors, was presented with the "Outstanding Volunteer Fundraiser" award at the Association of Fundraising Professionals of Southern New Jersey's 2019 National Philanthropy Day celebration on Nov. 14 at the Mansion on Main Street in Voorhees. The award honors "commitment to the advancement of philanthropy, and exceptional skills in coordinating and motivating groups of donors and volunteers for the benefit of non-profit/ charitable organizations."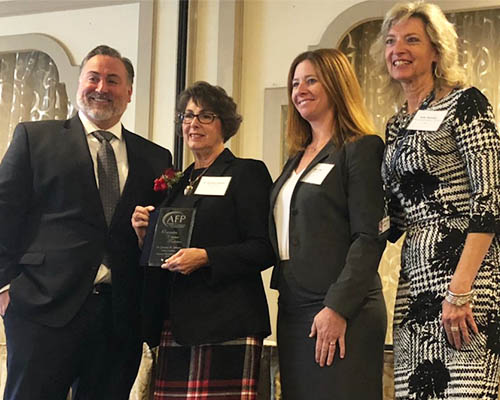 "With all that she's achieved through her tremendous commitment to service, Dr. Johnson embodies what it truly means to be a philanthropist," said Dan Nugent, chief development officer and executive director of the Stockton University Foundation. "Her dedication, leadership, and personal commitment to so many important causes have had a positive impact on our entire region. She is especially deserving of this recognition."
In her time on the Board, Johnson made supporting scholarships her top priority. She herself received a college scholarship, which she credits as the inspiration for her commitment. During her term as chair, the Foundation awarded more than $1.7 million in scholarship support to 1,250 students. Johnson has dedicated countless hours to the Foundation, work that has led to growth in the number of donors who support the University and the number of programs established to support students and faculty.
A life-long resident of Hammonton, she combined her passions for fundraising and her hometown to establish the Stockton Foundation's Hammonton Area Endowed Scholarship Fund. To date, more than $100,000 has been raised for the Fund, which provides scholarships for students from Hammonton who choose to attend Stockton.
"Education is central to my life," said Johnson during the ceremony. "Being able to help students get the education they need and deserve is paramount to me, and seeing young people complete their education with less financial stress is a true reward."
Johnson was instrumental in establishing the Stockton Women's Leadership Council, a group which seeks to provide mentoring opportunities for Stockton students and alumnae, create a culture of philanthropy, and provide personal and professional enrichment opportunities for women in our region. Johnson devoted time to researching best practices, attending conferences, recruiting members, and providing financial support for what has become an active group providing opportunities for women and others throughout southern New Jersey.
"Dr. Johnson has made a tremendous impact on Stockton University," said Dr. Harvey Kesselman, Stockton's president. "Our students will reap the benefits of her dedication and selfless service for generations to come."
PHOTO CAPTION: From left, Christopher Polito, president of the AFP NJ Southern Chapter, Johanna Johnson, and event co-chairs Julie Fink and Kelly Hageman.
- Reported by Alexandra Sandberg
# # #
Contact:
Diane D'Amico
Director of News and Media Relations
Galloway, N.J. 08205
Diane.D'Amico@stockton.edu
609-652-4593
609-412-8069
stockton.edu/media