Congressman Jeff Van Drew to Speak at Commencement
Galloway, N.J. – U.S. Representative Jeff Van Drew will be the keynote speaker at Stockton University's Baccalaureate Commencement Ceremony at noon May 10 at Boardwalk Hall in Atlantic City.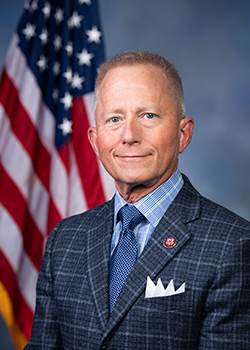 "We are honored that Congressman Van Drew has agreed to be our Commencement speaker this year," Stockton President Harvey Kesselman said.
"He has a long history of public service to New Jersey and his constituents. We look forward to him sharing his insights with our graduating students."
Dr. Van Drew was elected to Congress in November, 2018. He was sworn in on Jan. 3, 2019, and has been named to serve on the House Agriculture Committee and the House Natural Resources Committee. Van Drew also sits on the following Subcommittees, Biotech, Horticulture, and Research, Nutrition Oversight, and Department Operations, Commodity, Exchanges, Energy and Credit, General Farm Commodities and Risk Management, and Water, Oceans, and Wildlife. He previously served four terms in the New Jersey State Senate and three terms in the state Assembly where he earned the role of Assistant Majority Leader.
A dentist and resident of Dennis Township in Cape May County, Dr. Van Drew earned a reputation as a strong advocate for South Jersey municipalities and residents, especially veterans, senior citizens and consumers. He has been honored with numerous awards for his advocacy. He has also shown a willingness to work on a bipartisan basis.
One of his first acts in Congress was to introduce the "End Government Shutdowns Act" that would permanently prevent the federal government from shutting down. In his first speech on the House floor he asked for support for legislation that would keep the Coast Guard and Federal Aviation Administration funded during the recent shutdown.
# # #
Contact:
Diane D'Amico
Director of News and Media Relations
Stockton University
Galloway, N.J. 08205
Diane.DAmico@stockton.edu
609-652-4593
609-412-8069
stockton.edu/media