Mother's Group Founder Shares Stories of Loss in Mexico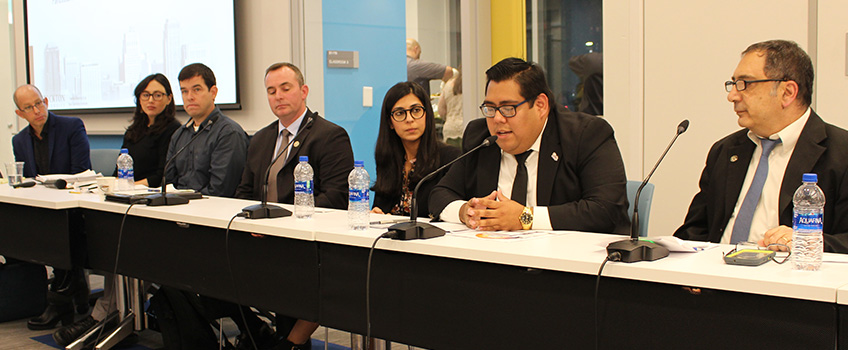 Galloway, N.J. - Thousands of innocent people, most of them young men, have gone missing in Mexico, victims of drug cartels and violence.
Lucía de Los Ángeles Díaz Genao, co-founder of Colectivo Solecito de Veracruz, shared her story of how the kidnapping of her son, who is still missing, empowered her to form a group to raise awareness of the crisis.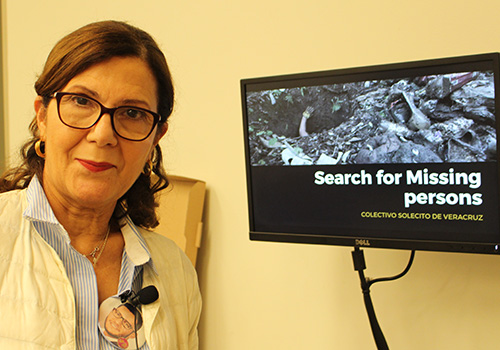 "We are desperate for people to know what is going on," Genao told students and community members at a series of talks at Stockton's Galloway and Atlantic City campuses on Oct. 17-18 and as part of a panel on immigration, refugees and responses to state violence.
Speaking in both Spanish and English, Genao said that government claims that only criminals are at risk is just not true, and that innocent people are being kidnapped and killed.
"They say that to keep people from protesting," she said. "I bought it myself until it happened to my son. He was a businessman making good money and that made him a target."
Genao, who wore a button with a photo of her son, said for a long time she was just depressed.
"It was like going through hell with my eyes open," she said. "I was focused on my own pain and depression."
But after she started meeting other mothers in the same situation or worse, she felt selfish.
"I said we have to start doing something because the government will not," she said.
Her group started with eight or nine mothers, but quickly grew through social media.
Media has brought some attention to the issue, but Genao said no one really knows how many people are missing. Some media estimates run as high as 40,000 or more.
Genao also participated in a program on immigration issues at the Stockton Atlantic City campus. A panel discussion, moderated by John Froonjian, interim director of the William J. Hughes Center for Public Policy at Stockton, included Pleasantville Police Chief Sean Riggins, attorney Nishtha Kohli and Irvin Moreno-Rodriguez, a program assistant at Stockton's Sara and Sam Schoffer Holocuast Resource Center who also helped found Hispanic Advocacy Committee for Equity (H.A.C.E.) in Vineland.
The panel talked about current laws affecting immigrants, how they should respond, and services that are available to assist, including naturalization classes offered at the Stockton Atlantic City campus.
A representative of the 2020 Census attended and Moreno-Rodriguez said it is important that everyone complete the census.
A second panel of Stockton faculty, Associate Professor of Criminal Justice Jess Bonnan-White, Assistant Professor of Political Science Lauren Balasco, Assistant Professor of Holocaust & Genocide Studies Raz Segal, and Adjunct Professor Matthew Hone also participated in the discussion.
# # #
Contact:
Diane D'Amico
Director of News and Media Relations
Galloway, N.J. 08205
Diane.D'Amico@stockton.edu
609-652-4593
609-412-8069
stockton.edu/media