Florio, Whitman to Receive Awards at Hughes Center Honors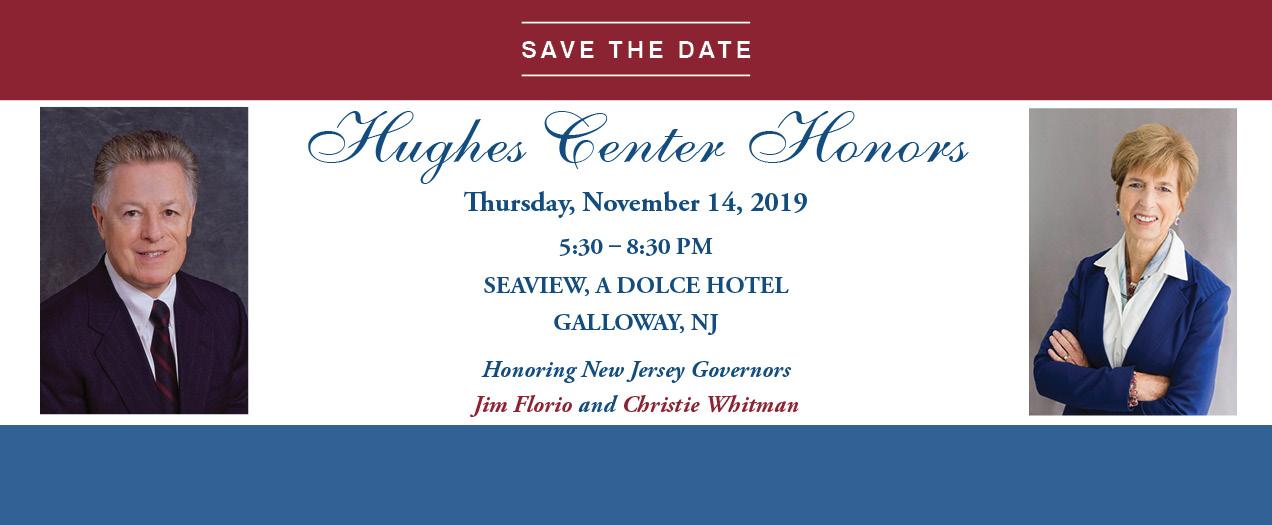 Galloway, N.J. – Former New Jersey Governors Jim Florio and Christie Whitman will receive Distinguished Lifetime Achievement Awards for their contributions to New Jersey public life at the Hughes Center Honors on Nov. 14, 2019. Three other New Jersey leaders will also be recognized.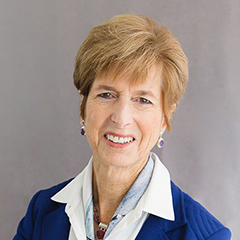 The Hughes Center Honors are awarded for professional excellence and a commitment to public service, civility and bipartisanship, which reflect the life and career of Ambassador William J. Hughes, who served as U.S. ambassador to Panama and as a U.S. congressman for 20 years. The awards program is sponsored by the William J. Hughes Center for Public Policy at Stockton University.
The ticketed event, which is open to the public, will start at 5:30 p.m. at Seaview, a Dolce Hotel, in Galloway Township.
"These two outstanding New Jersey leaders embody the values of public service and civility in public affairs," said Edward H. Salmon, chairman of the Hughes Center Steering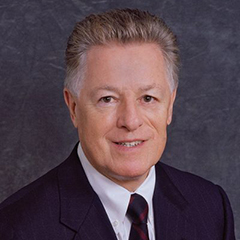 Committee. "Those values are the hallmarks of Ambassador Hughes' career, and they guide with work of the Hughes Center for Public Policy."
Past Lifetime Achievement Award recipients include the late former New Jersey Gov. Brendan Byrne, former Gov. Thomas Kean, and Ambassador Hughes, who was presented his award in 2017 by former Vice President Joe Biden.
Other honorees at the Nov. 14 event are Mark Giannantonio, President and CEO of Resorts Casino Hotel; Sharon Schulman, Founding Executive Director of the Hughes Center; and Ike Ejikeme, a recent Stockton University graduate.
Florio began his public service career in 1969 by serving three terms in the New Jersey General Assembly before his election to the U.S. House of Representatives in 1974. He represented the 1st Congressional District until 1990, when he was sworn in as New Jersey's 49th governor. As governor, Florio enacted landmark legislation on clean water enforcement, school finance reform, welfare reform and the nation's toughest assault weapons ban.
In Congress, Florio authored the Superfund law to clean up hazardous waste sites and was involved in all major environmental legislation as chairman of the House subcommittee with responsibility over that issue. He was also influential on transportation policy, especially regarding railroads and Amtrak, as Chairman of the House Subcommittee on Commerce, Transportation and Tourism of the Energy and Commerce Committee. Florio is a founding partner of the Florio, Perrucci, Steinhardt & Cappelli law firm. He is a Senior Fellow for Public Policy and Administration at the Edward J. Bloustein Graduate School of Public Policy at Rutgers University. Florio, a U.S. Navy veteran, Florio was awarded the 1993 "Profile in Courage Award" by the John F. Kennedy Library Foundation.
Whitman is president of The Whitman Strategy Group, a consulting firm that specializes in energy and environmental issues. She served in the cabinet of President George W. Bush as administrator of the Environmental Protection Agency from January of 2001 until June of 2003. She was the 50th Governor of New Jersey, serving as its first woman governor from 1994 until 2001. During Whitman's tenure at EPA, the agency passed and implemented landmark brownfields legislation to promote the redevelopment and reuse of previously contaminated industrial sites. As governor, she preserved a record amount of New Jersey land as permanent green space. She was also recognized by the Natural Resources Defense Council as having instituted the most comprehensive beach monitoring system in the nation. Whitman had earlier served as president of the N.J. Board of Public Utilities and on the Somerset County Board of Freeholders.
Whitman also authored a New York Times bestseller titled "It's My Party Too," published in January 2005. Among the many organizations in which she serves, Whitman is co-chair of the National Institute for Civil Discourse advisory board.
"It's an honor for Stockton to host these two leaders, who have played crucial roles in shaping New Jersey public policy throughout their careers," said Stockton University President Harvey Kesselman. "They remain role models for the values of civic involvement and civil discourse, which are hallmarks of Stockton's mission."
Three other honorees will receive Hughes Center Honors awards.
Excellence in Civic Engagement Award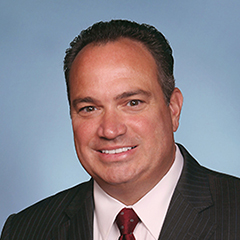 Mark Giannantonio, President and CEO for Resorts Casino Hotel, has more than 35 years of Atlantic City gaming expertise. Before joining Resorts Casino Hotel, Giannantonio was a senior gaming consultant with Spectrum Gaming. He previously held various executive positions within the casino industry, most recently as president and CEO of Tropicana Casino & Resort.
A lifetime Atlantic County resident and a Stockton '87 graduate, Giannantonio serves on the board of the New Jersey Casino Reinvestment Development Authority (CRDA). He is also a board member of the William J. Hughes Center for Public Policy and the Lloyd D. Levenson Institute of Gaming, Hospitality and Tourism at Stockton.
Distinctive Alumni Leadership Award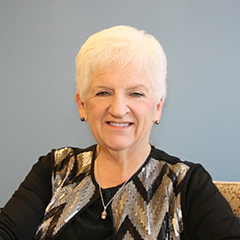 Sharon Schulman, Stockton '80, recently retired as the Special Advisor to the President and Founding Executive Director of the William J. Hughes Center for Public Policy, where she held panel discussions, speaker events and candidate debates at Stockton University. During her tenure at Stockton she held multiple leadership positions in the areas of marketing, public affairs, institutional research, and development. Prior to joining Stockton, Schulman was president and CEO of Aqua New Jersey, Inc., a regulated water and wastewater provider. She also served in management for Atlantic Electric in Pleasantville, N.J., and was founder and principal of Spe-Schul Communications of Vineland, N.J. She also served as chief of staff and CEO at the NJ Board of Regulatory Commissioners. Schulman holds a B.S. in Biomedical Communications, M.A. in Communications, and M.B.A./Marketing.
Distinctive Student Leadership Award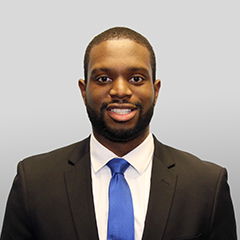 Ike Ejikeme, Stockton '18, served as a student representative on the Stockton University Board of Trustees. After graduating from Stockton's Dual Degree B.A./M.A Criminal Justice Program with a track in Homeland Security, he moved to Washington D.C. and accepted a position with the U.S. Department of Homeland Security, where he works for the department's Citizenship and Immigration Services Background Check Unit (BCU). Ejikeme has been featured in the agency's national "Our Stories" campaign, and has also received a special recognition award and commendation for his leadership and accomplishments during his time with the agency.
Ejikeme was an active student at Stockton, serving for two years in the Stockton Student Senate. He was also president of the Alpha Alpha chapter of the Iota Phi Theta Fraternity, Inc., where he founded the I-Phi Food charity drive. In 2016, Ike received the Stockton University Greek Leader of Distinction award. He was named the Stockton NAACP Chapter's Outstanding Male Leader of the Year in 2015. He also worked as an Admissions Ambassador and as a Stockton Polling Institute interviewer.
Ticket information
The Hughes Center Honors event is open to the public. Sponsorships are available at various levels. Net proceeds will benefit the William J. Hughes Center for Public Policy Endowed Fund. Tickets and information are available on the Hughes Center website at stockton.edu/hughescenter.
The William J. Hughes Center for Public Policy at Stockton University serves as a catalyst for research, analysis and innovative policy solutions on the economic, social and cultural issues facing New Jersey. The Center is named for Ambassador William J. Hughes, whose distinguished career includes service in the U.S. House of Representatives, Ambassador to Panama and as a Distinguished Visiting Professor at Stockton College. The Hughes Center can be found at www.facebook.com/Hughes.Center.Stockton.College and can be followed on Twitter: @hughescenter.
# # #
Contact:
Diane D'Amico
Director of News and Media Relations
Stockton University
Galloway, N.J. 08205
Diane.DAmico@stockton.edu
609-652-4593
609-412-8069
stockton.edu/media