Florio, Whitman, Promote Civility at Hughes Center Honors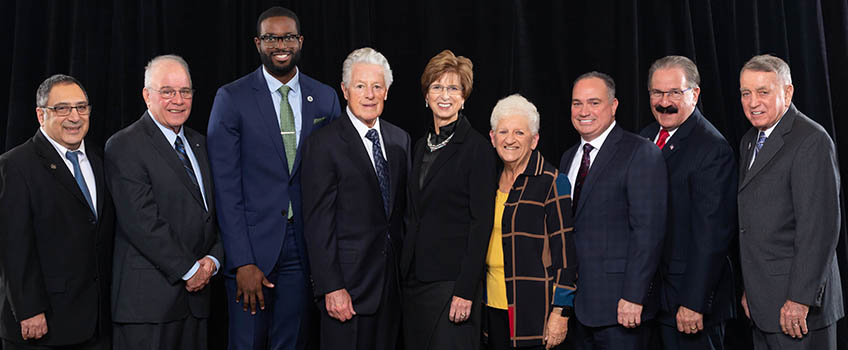 Galloway, N.J. – The legacy of Ambassador William J. Hughes was the central theme of the 2019 Hughes Center Honors, as speakers and honorees at the event Nov. 14 said Hughes set an example of civility and civic engagement that is needed more than ever in politics today.
"He was the epitome of a public servant and a role model," Stockton President Harvey Kesselman said in opening the program at Seaview, A Dolce Hotel.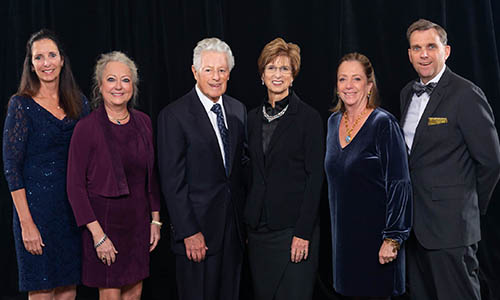 The almost 500 guests viewed a preview of a documentary on Hughes, who died Oct. 30, and his daughter, Tama Hughes, thanked guests for supporting the William J. Hughes Center for Public Policy at Stockton University, which sponsors the awards and advocates for civility in government.
Former New Jersey Governors James J. Florio and Christine Todd Whitman received Distinguished Lifetime Achievement Awards and both spoke about Hughes and the lessons today's leaders can learn from him about strong moral leadership and civic engagement. He encouraged participatory democracy and coming together to make decisions.
"His voice is so desperately needed now," Whitman said.
"We have complicated problems," Florio said. "Democracy is about making choices. Don't become so invested in something that you can't walk away from it if something doesn't seem right. Maintain and preserve your independence."
N.J. Senate President Stephen Sweeney introduced Florio as a personal hero who worked to cleanup New Jersey beaches and create the Pinelands National Reserve.
"Real leaders don't worry about their personal position, they just do what's right," he said.
Whitman said she and Florio were examples of how two sides can work together.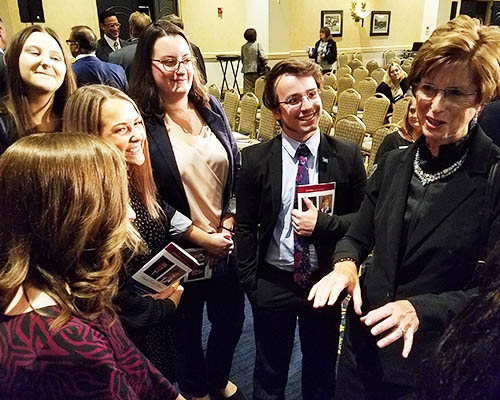 "We need civil discourse now more than ever," she said. "We have to remind people that you can be partisan but not be enemies. We can work together to find solutions. Yes, we need to win elections, but then we need to govern and serve the people. We can be there again. That is our better nature and a way to honor Ambassador Hughes."
Mark Giannantonio, '87, received the Excellence in Civic Engagement Award. An Atlantic City native and now president and CEO of Resorts Casino Hotel, Giannantonio serves on the boards of the Casino Reinvestment Development Authority, the Hughes Center and the Lloyd D. Levenson Institute of Gaming, Hospitality and Tourism at Stockton. He thanked Florio and Whitman for "helping to fight the vile rhetoric in today's politics."
Sharon Schulman, '80, the founding Executive Director of the Hughes Center, received the Distinctive Alumni Leadership Award. She joked that she was in the presence of both the governor who hired her (Florio) and the governor who fired her (Whitman), but both led her to a career in public service.
"The Hughes Center was created by Ambassador Hughes for the people of South Jersey," she said. "It gave me an opportunity I'd never dreamed of to create a center that will stand the test of time and keep leaders talking to each other. (Hughes) listened and valued the dialogue. All of you here tonight have helped keep that work going."
The Distinctive Student Leadership Award went to Ike Ejikeme, '18, a former student member of the Stockton Board of Trustees who is now working for the U.S. Department of Homeland Security in Washington, D.C. Ejikeme said his family instilled in him the value of education and Stockton gave him the opportunity to achieve his dreams. He recalled working in the Stockton Polling Institute and the sense of pride it gave him to know he was contributing to the political process.
"I have always believed in the power of learning," he said. "Stockton will always have a place in my heart."
Edward Salmon, chairman of the Hughes Center Steering Committee and a close friend of Hughes, introduced the documentary preview. He said Hughes did get to see the hour-long documentary, which will be released in 2020.
Hughes Center Interim Executive Director John Froonjian said the center has partnered with the National Institute for Civil Discourse's Initiative to Revive Civility and will host dialogues about civility in political conversations during the 2020 election year. Whitman is a co-chair of the institute's advisory board.
Tama Hughes said the center meant a lot to her father and was a touchstone of his career.
"He achieved great things for New Jersey through listening and compromise," she said. "That is what the founding fathers had in mind. We could use more his kind today, and that is why the continuance of this center is important."
# # #
Contact:
Diane D'Amico
Director of News and Media Relations
Galloway, N.J. 08205
Diane.D'Amico@stockton.edu
609-652-4593
609-412-8069
stockton.edu/media