State Higher Education Officials Meet with Students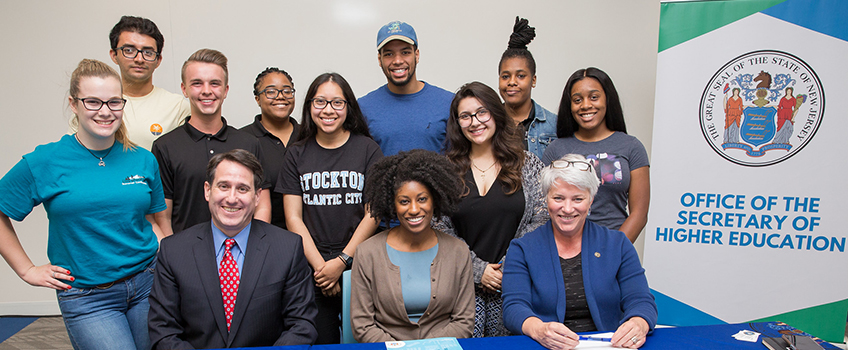 Atlantic City, N.J. _ Paying for college is difficult, obtaining financial aid can be complicated and confusing, and high schools should start helping students plan for college far earlier than their senior year a panel of Stockton University students told state higher education officials at a roundtable discussion at the Stockton Atlantic City Residential Complex.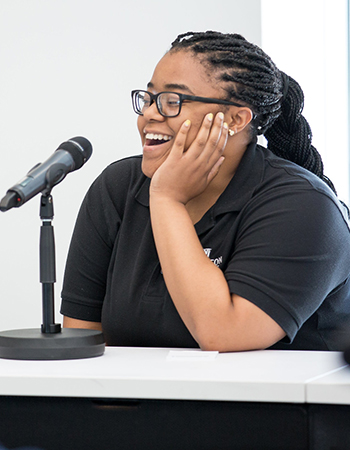 Secretary of Higher Education Zakiya Smith Ellis and Executive Director of the state Higher Education Student Assistance Authority David Socolow visited Stockton on one of the last stops of their Garden State Graduation Tour to promote Gov. Phil Murphy's plan for higher education and get input from students about what they need to succeed.
"We want to give students a seat at the table," Smith Ellis said. "Most jobs in New Jersey require some post-secondary education. We want more students to go to college."
Michelle McDonald, associate vice president for academic affairs at Stockton, outlined programs available at Stockton, which include an expanded EOF program for the Stockton Atlantic City campus, and a College Bound program for middle and high school students from Pleasantville and Atlantic City that helps introduce and prepare them for college.
Stockton also has food banks at both the Atlantic City and Galloway campuses, and a special Student Assistance Fund to help students with unexpected expenses that could jeopardize their ability to stay in school.
Stockton graduate student Melissa Sandoval said when students apply to college they have to learn a lot of information about financial options in a very short time.
Students said beyond tuition and housing, they may also need access to social services like food banks and health services.
Qulique Simms said students in her town were not encouraged to attend college, and she was not made aware of programs like the Educational Opportunity Fund (EOF) and federal and state grants to help cover the cost.
"We didn't have conversations about college until senior year," Dominique Sanchez said. "It needs to start earlier and be interactive with parents."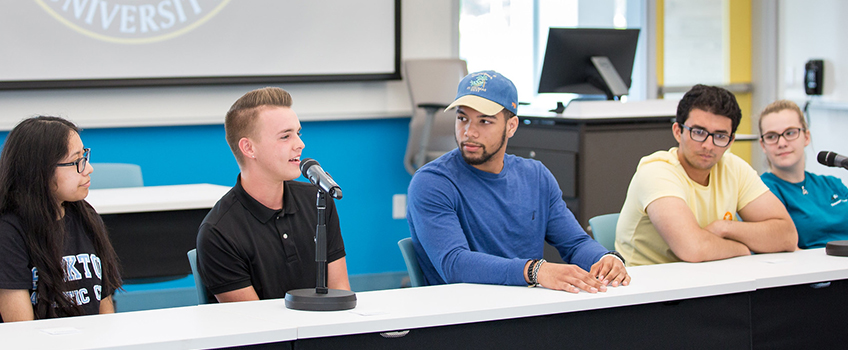 New Jersey offers many options to help make college more affordable, and, ironically, the multiple options can contribute to the confusion among students about which pathway is best for them. Dual-credit programs in high school, the NJSTARS scholarship program, EOF, and the new free community college plan all sound great, and students can struggle to decide which will be the best for them personally.
Some students have difficulty applying for grants or loans due to family situations, and Socolow said those are among the most difficult problems to address.
After the roundtable Socolow said student concerns vary somewhat around the state, but some issues are universal.
"The biggest issue for students, especially at the community colleges, is the cost of books," Socolow said. "That came up over and over."
Smith Ellis said they will take back what they have learned to develop concrete proposals.
"My big takeaway is making that connection to the K-12 system," Smith Ellis said, "and that having a financial aid plan is not good enough if college is still not affordable. Our goal is to make the path clear for you. It's crazy that something so important is so difficult."
Participating Stockton students were Melissa Sandoval, Brandon McCleery, Franco Castillo, Vakaz Akram, Taylor Fairman, Dominique Sanchez, LaTasha R. Randolph, Danielle Combs and Quilique Simms.
# # #
Contact:
Diane D'Amico
Director of News and Media Relations
Stockton University
Galloway, N.J. 08205
Diane.DAmico@stockton.edu
609-652-4593
609-412-8069
stockton.edu/media