Brianna Chelednik Named 2019 Hero of the Year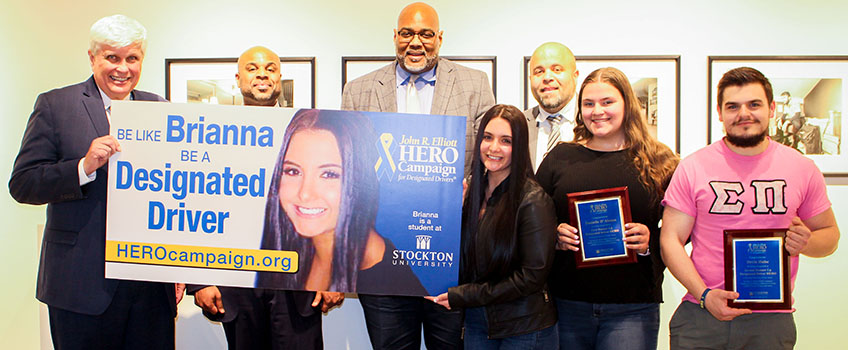 Galloway, N.J. _ Sophomore Brianna Chelednik of Egg Harbor Township, a public health major at Stockton University, was named the 2019 Hero of the Year by the John R. Elliott HERO Campaign for Designated Drivers at a ceremony in the Stockton Art Gallery on April 15.
Chelednik will be a spokesperson for the campaign and will be featured on the Hero Campaign billboard on the Atlantic City Expressway, donated by ClearChannel, which promote the use of designated drivers to reduce drunk driving.
Chelednik became involved in the Hero Campaign because her younger brother's school bus was struck by a drunk driver in 2009.
"I did all four Hero Walks in high school as a cheerleader," she said. "I met Shelby (Gribbins, the 2018 Hero of the Year) at Stockton, and have been volunteering ever since."
The runners-up were sophomore Danielle D'Alonzo of Philadelphia, a criminal justice major and Devin Hulse of Canonsburg, Pa., a graduate MBA student. Also nominated were Brandon Bess, Ashley Burns and Millie Shah.
The Hero Campaign is named for Ensign John Elliott, a graduate of the Naval Academy, who was struck and killed by a drunk driver on his way home for his mother's birthday in 2000. His family started the John R. Elliott Foundation and HERO Campaign that year.
This is the 10th year Stockton has partnered with the Hero Campaign on the Hero of the Year program and the HERO Games on campus, in which members of the university's Greek organizations compete and raise awareness of the campaign.
"We had one of the largest participations this year," Thompson said of the games.
Elliott's father, Bill said John was killed because a friend did not take a drunk driver home, but instead took him back to his car.
"He put him back behind the wheel," Elliott said. "Being a designated driver is a little thing, but over time we have seen a reduction in DUI's (driving under the influence charges.)
The group's next event is the Be a Hero Golf Tournament on May 15 at the Union League National Golf Club in Cape May Court House.
Elliott said they are also preparing for the 2019 Great Herotini Challenge, in which area bars, casinos and restaurants will compete to create a "mocktail." The public will vote via a $10 donation to the HERO Campaign between Memorial Day and Labor Day and the proceeds will be used to provide free rides from bars and restaurants between Thanksgiving and New Year's Day. To date 35 businesses are participating.
"We are not trying to ruin anyone's fun," Elliott said. "We are keeping them safe."
Elliott said services like Uber have made it easier for people to avoid driving home, but the awareness of the dangers of driving while under the influence is still crucial.
More information about the Hero Campaign, the golf tournament and the Herotini Challenge is online at HERO Campaign.org
# # #
Contact:
Diane D'Amico
Director of News and Media Relations
Stockton University
Galloway, N.J. 08205
Diane.DAmico@stockton.edu
609-652-4593
609-412-8069
stockton.edu/media