Classroom in A.C. Named for Myra and Jerome Greenberg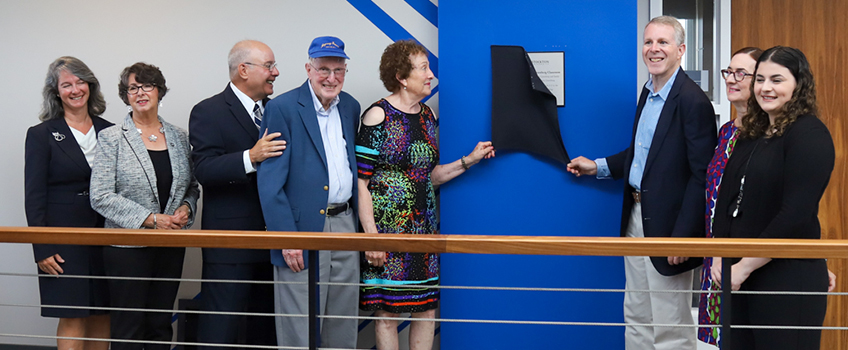 Atlantic City, N.J. _ Myra and Jerome Greenberg had one mission when they toured the new Stockton University Atlantic City Academic Center shortly after the ribbon-cutting in September 2018 – to pick a classroom.
But the decision was not difficult.
For years, Myra had taught Chemistry in room 313 at the old Atlantic City High School, which is now the site of the new Academic Center.
"My parents went in and it was clear my mom already had a classroom number in mind," her son, Paul, said.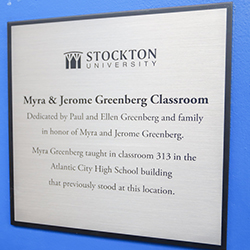 Paul, and his wife, Ellen have generously committed a gift of $100,000 to the Stockton Foundation; $50,000 for the Atlantic City Opportunity Fund – an endowment that will provide funds annually for initiatives designed to expand Stockton students' engagement with and in Atlantic City – and another $50,000 to support the University's greatest needs through the Stockton Fund.
In honor of their gift, Paul and Ellen had the opportunity to name a classroom in the new Academic Center. On July 18, the naming of the Myra and Jerome Greenberg Classroom was made official in a ceremony at room 313.
"My mom was a teacher long before I was born," Paul said. "She graduated from the University of Pennsylvania and began teaching Chemistry."
After a break from teaching, Myra returned to the profession in 1976, but regulations had changed, and she needed to obtain her New Jersey permanent teaching certification.
Myra earned her certificate at Stockton, one of the only schools offering the program at the time. She was one of the first Stockton students to graduate from the teaching program.
"Luckily Stockton was there for her to get her teaching certificate," said Paul. "From there she taught various sciences at ACHS for many, many years in classroom 313."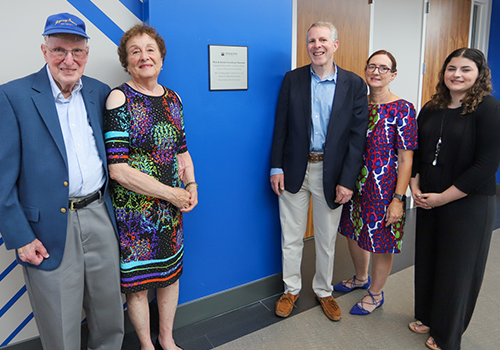 The Greenberg's connections to ACHS go back even further than Myra's teaching career. Jerome graduated from the school in 1951. Paul followed in his father's footsteps and graduated from ACHS in 1979, and at one point in his high school career, Myra was his substitute Chemistry teacher.
As long-time residents of Atlantic City and Margate, the Greenbergs have a deep appreciation for giving back to the Atlantic City community, particularly to support education.
"My mom comes from a long line of teachers, so we've been connected to education for some time," Paul said. "We're also very loyal to the community."
Amy Greenberg, Paul and Ellen's daughter, is a current Stockton student who plans to carry on the family legacy of teaching when she earns her degree in education in 2020.
The Greenbergs' loyalty to education and to Stockton is evident not only through Paul and Ellen's gift to Stockton, but also through Jerome and Myra's philanthropic initiatives. Jerome played a pivotal role in establishing the Ye Olde Tymers Club Endowed Scholarship at the University. Myra led a study group in 1971 that evolved into the group now known as Friends of Encore Learning of Stockton (FELS). FELS is a popular study organization that offers a host of educational courses to local residents throughout the year that regularly attract over 300 participants.
"We had no idea until Paul sent us the information for the plaque that the room was going to be dedicated to us, which was a very kind thing to do." Myra said.
The Greenbergs' legacy will permanently be a part of Atlantic City and Stockton University through room 313 – although Paul has a different idea of legacy when it comes to his donation.
"To us, making an impactful investment in education and in the community is the most important legacy." Paul said. "Whether anyone remembers us is going to be much less important than the impact that Stockton can have in Atlantic City, and that's why we're donating."
Stockton President Harvey Kesselman said since the opening of the building in fall 2018, he has met many people who attended the old high school or worked there and still feel a connection to the site. He said he remembers Myra Greenberg from when he did his own student teaching at the old Atlantic City High School.
"I remember the energy and passion for teaching in that building," he said. "I hoped it was something that would translate here in the new building at Stockton, and I believe it has. Thank you for a gift that will change lives."
View a video of the Greenbergs on YouTube
_ Reported by Alexandra Sandberg
# # #
Contact:
Diane D'Amico
Director of News and Media Relations
Stockton University
Galloway, N.J. 08205
Diane.DAmico@stockton.edu
609-652-4593
609-412-8069
stockton.edu/media