More Than 80 Graduate Students Share Research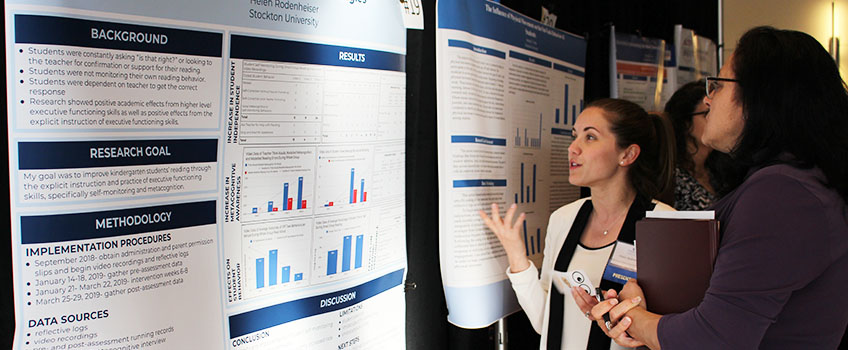 Galloway, N.J. – More than 80 students in masters and doctoral programs at Stockton University presented their research in the Spring Graduate Research Symposium, which filled the Campus Center Event Room on April 24.
Provost Lori Vermeulen noted that she was celebrating the 25th anniversary of finishing her own dissertation and she understands the commitment, focus and passion it takes to attend graduate school often while also working.
She gave a special "shout out" to the graduates of the first cohort of the Doctor in Organizational Leadership program who will walk on May 7.
"You have paved the way for others," she said.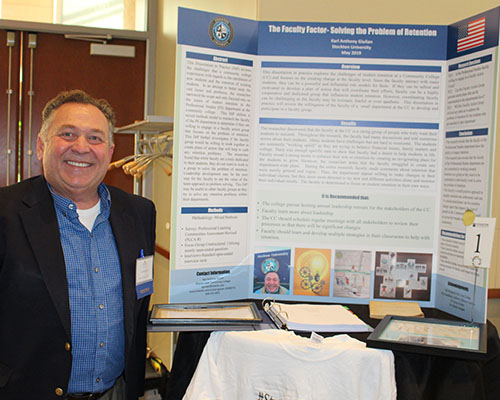 She thanked all of the graduates for their hard work.
"Thank you for doing meaningful research that will have a long-term impact."
Karl Giulian, a member of the inaugural Ed.D. in Organizational Leadership program received the award for best table presentation. His research "The Faculty Factor - Solving the Problem of Retention" explores the student retention issue at the community college level. This research Dissertation in Practice studied the possibility of creating a departmental level Faculty Group (FG) that would focus on creating action plans to help to retain the students enrolled in a school's Professional Studies Department.
He noted that because the faculty of the PS department interact with many students, they can be a powerful and influential role model for their students. Faculty can be a highly cooperative and dedicated group that focuses on educational goals. However, coordinating faculty can be challenging. This Dissertation in Practice will review the willingness of the faculty of the PS department to develop and participate in a faculty group.
Giulian's advisor was Assistant Professor MAED-CE Pamela Vaughan.
The Poster Presentation award went to Helen Rodenheiser for her project "Is That Right? Improving Kindergarteners' Self-Monitoring and Metacognitive Reading Strategies."
The purpose of this study was to determine if the explicit instruction of executive functioning skills, specifically self-monitoring and metacognitive strategies, had an impact on student performance in reading. The study included 17 kindergarten students within an inclusion classroom. Rodenheiser collected and analyzed pre- and post-running record assessments and metacognitive interviews along with weekly video recordings and reflective logs. Analysis of the data revealed that students increased their independence and their self-correction rates during reading sessions and became less dependent on the teacher. Data analysis also showed that the teacher increased her use of "think aloud" and modelled metacognition to make the reading process more transparent.
Rodenheiser's advisor was Associate Professor of Education-Special Education, Priti Haria.
# # #
Contact:
Diane D'Amico
Director of News and Media Relations
Stockton University
Galloway, N.J. 08205
Diane.DAmico@stockton.edu
609-652-4593
609-412-8069
stockton.edu/media