Graduate Students Share Research at Symposium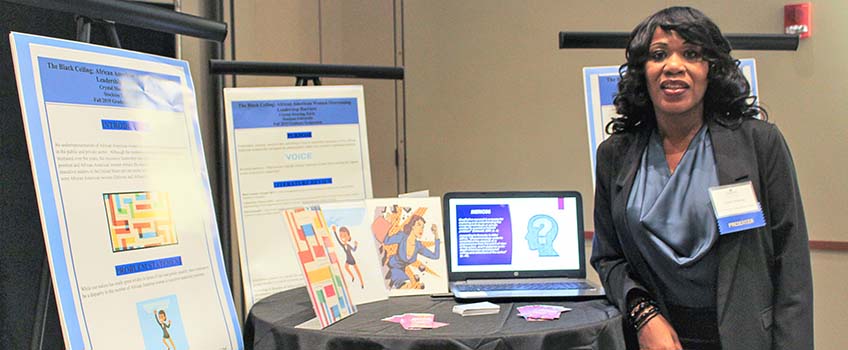 Galloway, N.J. _ Research on the challenges facing African-American women in achieving leadership positions, and the psychological and institutional barriers sexual harassment victims face in reporting were recognized at the annual fall Graduate Symposium Dec. 11 in the Campus Center Event Room.
More than 30 graduate students in the Ed.D. in Organizational Leadership, and master's degree programs in Criminal Justice, Business Administration, Nursing and Social Work presented their research and projects.
"We are here to celebrate your graduate school journey," said Director of Graduate Studies AmyBeth Glass.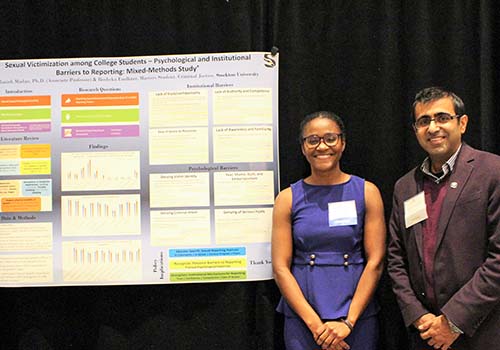 Crystal Mooring of Millville did her Ed.D. in Organizational Leadership research on "The Black Ceiling: African American Women Overcoming Leadership Barriers." Her advisor was Assistant Professor of Organizational Leadership Tracey Schneider.
Mooring interviewed five women who had broken through the ceiling about how they had overcome racial and gender biases. She found resilience, knowing their craft, and the ability to be authentic and self-regulate to be traits shared by all of the women.
"We talk about the glass ceiling," Mooring said. "But there is also a black ceiling. Race and gender can create double jeopardy."
Rosheka Faulkner worked with her advisor, Associate Professor of Criminal Justice Manish Madan, on the project "Sexual Victimization among College Students: Psychological and Institutional Barriers to Reporting: A Qualitative Study."
Using the results of a survey of more than 600 students, the study worked to identify why there is so much underreporting of sexual harassment. Barriers included concerns about trust and confidentiality, access to resources, lack of awareness about resources, as well as personal fear and embarrassment.
Faulkner said it was very interesting to see the results, which indicated students would be most likely to tell a friend or roommate about sexual harassment, and far less likely to report it to police or other authorities.
"People don't report, or use the resources," Faulkner said. "More education is needed."
Seven projects partnered with local non-profit groups to develop business or marketing plans, including Covenant House, Habitat for Humanity, Heart of Surfing, the Atlantic City Rescue Mission, Cape May MAC, Faces4Autism and the Atlantic County Library Foundation.
Susan Marx, president of the Atlantic County Library Foundation said they are a very small group with few resources and they greatly appreciated the assistance from Laura Ortiz who created a social media presence for the group.
"We wanted to know how to get the word out about the foundation," Marx said.
"They had no social media presence," Ortiz said. "We worked to get them set up on Facebook, Instagram and Twitter. But they do need volunteers to help them use their social media. People don't know there is a foundation."
Other student projects addressed a range of topics including teaching students with limited English, analyzing officer involved shootings, nursing burnout, support for Narcan use, post-partum depression screening, PTSD risk in health care professions, and sexual harassment and coping skills among college students.
A gallery of photos from the event is on flickr.
Contact:
Diane D'Amico
Director of News and Media Relations
Galloway, N.J. 08205
Diane.D'Amico@stockton.edu
609-652-4593
609-412-8069
stockton.edu/media