More than 300 Receive Degrees at Graduate Commencement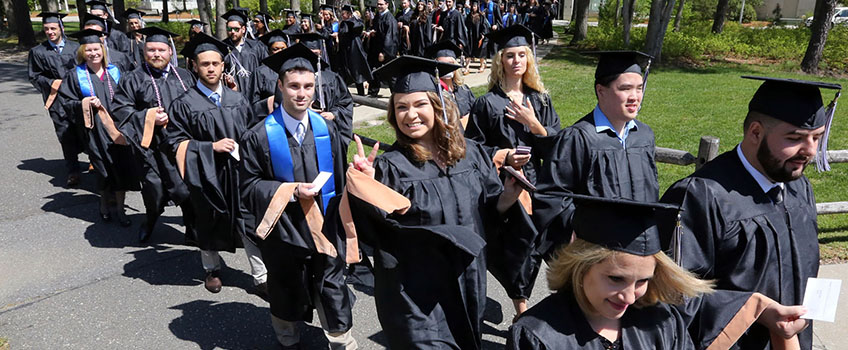 Galloway, N.J. –The sun enveloped the Stockton campus in a warm, yellow glow for the Master's and Doctoral Commencement Ceremony in the Sports Center on May 7.
"What a beautiful day for a commencement!" roared Board of Trustees Chairman Leo Schoffer during his opening remarks. "To our distinguished guests, beloved family members, and dear friends, thank you all for being with us today on this momentous occasion as we celebrate our graduates on achieving this major milestone in their lives."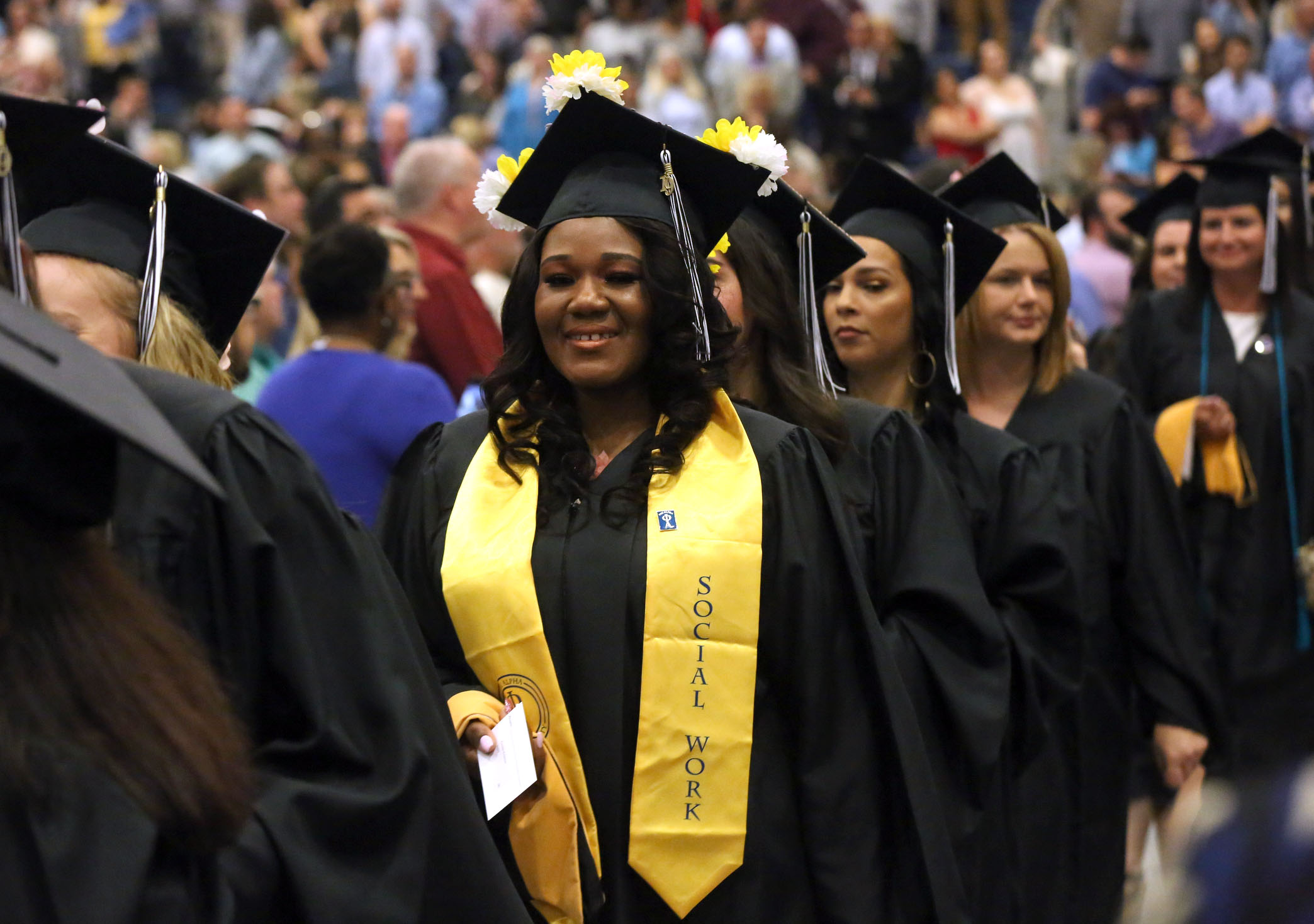 President Harvey Kesselman then talked about what it means to be a fighter, citing iconic boxer Mohammad Ali and "legal and pop-cultural icon" Ruth Bader Ginsburg as examples, and including the graduates in his definition.
"Fight for yourself, fight for your dreams, fight for your communities, and fight for those who cannot fight for themselves," he said. "These are the qualities of a leader who embodies both strength and grace, and from one Osprey to another, I know you have it in you. Congratulations, Class of 2019! Now go out there and start living your best life!"
Faculty Senate President Donnetrice Allison said obtaining a graduate degree is no easy task, but the graduates had finally reached that light at the end of the tunnel.
"You made it," she said, smiling down at the rows of caps in front of her. "You worked hard. You played hard. You made some lifelong friends. Celebrate today."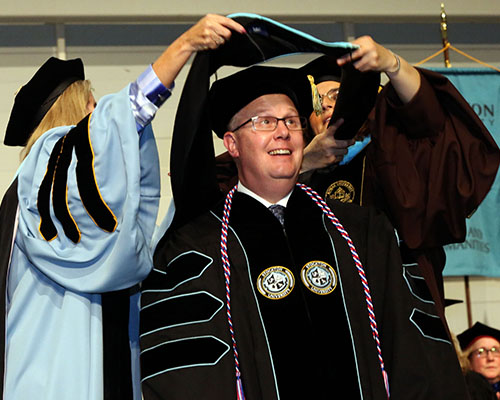 Brian McBride, the event's student speaker, also represented the inaugural cohort for the Ed.D. in Organizational Leadership program – the "Fighting First." The superintendent of schools in Palmyra expressed great pride in his fellow graduates. He referred to examples of success, like astronaut Neil Armstrong, and encouraged graduates to make their own "giant leap."
Ther were 250 Master's students and 48 Doctoral students who received diplomas. Friends and family members filled the Sports Center and expressed their pride by clapping, cheering, and even blowing a few air horns.
Many of the graduating students were involved in Stockton's dual degree programs, five-year programs in which participating students receive both a Bachelor's and Master's degree.
Jackie Brumbaugh from Monroe Township participated in the Criminal Justice dual degree program. She is currently in the hiring process for the Delaware State Police and hopes to become a state trooper. Brumbaugh said Stockton was the perfect stepping stone for her career.
"Everyone at Stockton is so nice," she said. "I learned so much. The faculty were great. One important thing they taught me was to always be humble, and I won't forget that. My whole experience was wonderful."
Other graduates are already working in their fields. Kim Rhodes, a computer literacy teacher at Charles Lewis Middle School in Gloucester Township, pursued her Master of Education at Stockton to push herself closer to her goal of becoming a vice principal.
Ten graduates in the Master of Education program were teachers in a special cohort based at Stockton's Woodbine site, who received their degrees with funding from a Department of Education Math Science Partnership grant and a private donor who helped subsidized the cost.
After the ceremony, graduates and guests shuffled out to the faculty and alumni reception in the Campus Center, complete with snacks and refreshments.
"Graduates … alumni … you have worked hard to earn your degrees," said Vermeulen. "We salute you and your families.
Reported by Kat H. Wentzell.
Contact:
Diane D'Amico
Director of News and Media Relations
Stockton University
Galloway, N.J. 08205
Diane.DAmico@stockton.edu
609-652-4593
609-412-8069
stockton.edu/media