GEAR UP Grant Will Expand College Bound Program in A.C.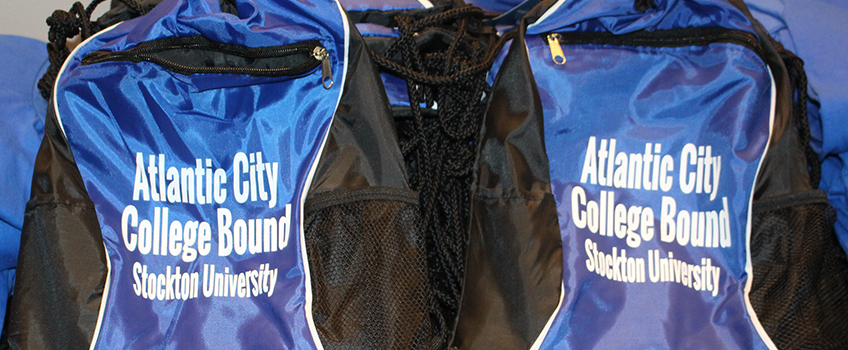 Galloway, N.J. – Stockton University has been awarded a seven-year federal grant, Gaining Early Awareness and Readiness for Undergraduate Programs (GEAR UP), which will allow the university to increase the number of students currently in Stockton's College Bound program.
The expanded Stockton University College Bound program will continue to serve students in grades 7-12 from Atlantic City and Pleasantville. Participants will attend Saturday Academy at Stockton University Atlantic City where they will receive academic, career and financial counseling, mentoring, college and career exploration, and attend college tours and educational field trips. Transportation and meals will be provided during Saturday Academy, college tours, and educational fieldtrips.
Students will also participate in a summer enrichment program and selected students will participate in a residential summer program designed to give them a real college experience by living on campus for several weeks.
Student recruitment will begin at partner schools; Sovereign Avenue, New York Avenue, Dr. Martin Luther King, Jr. Uptown School Complex, and Atlantic City High School in Atlantic City, and Pleasantville High School, and Middle School.
New students interested in participating can obtain an application from their school guidance office at each target school beginning Sept. 20, or by contacting CollegeBound@stockton.edu or calling 609-761-1206.
Graduates of the program who attend Stockton will also receive priority for Stockton's Atlantic City Educational Opportunity Fund (EOF) program, which provides academic and financial support to eligible college students.
The College Bound and GEAR UP grants are administered by the New Jersey Office of the Secretary of Higher Education (OSHE)
"Stockton University is very thankful for the opportunity from the N.J. Office of the Secretary of Higher Education to be able to expand the College Bound programming we provide students from the Atlantic City and Pleasantville School Districts through the GEAR UP grant," said Robert Heinrich, Stockton Chief Enrollment Officer.
Destiny Talley, Director of College Bound at Stockton said: "Students in our program will be equipped and empowered with the skills necessary for acceptance into post-secondary education and to successfully complete their undergraduate career. We have great experiences in store for our students."
The second year of Saturday Academy will begin on Oct. 26 at the Stockton University Atlantic City Academic Center, 3711 Atlantic Avenue.
# # #
Contact:
Diane D'Amico
Director of News and Media Relations
Stockton University
Galloway, N.J. 08205
Diane.DAmico@stockton.edu
609-652-4593
609-412-8069
stockton.edu/media