Dr. Frank Blee Receives Health Science Award
Galloway, N.J. _ Dr. Frank Blee was given the Stockton University School of Health Sciences Leadership Award at the Sept. 18 Board of Trustees meeting.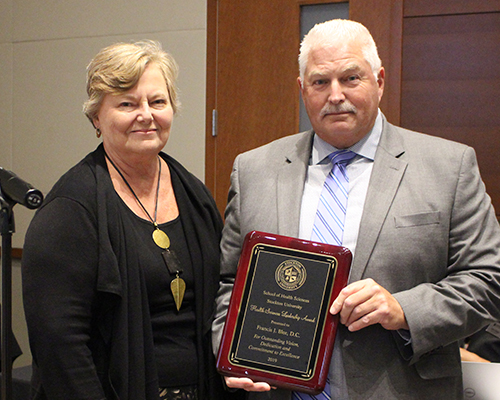 The award is given annually to an individual who has made important and enduring contributions to health care who has positively impacted students and surrounding communities.
Blee is a chiropractor and a former state Assemblyman and adjunct professor at Stockton. He is currently director of government relations for AtlantiCare Health Care System.
Health Sciences Dean Margaret "Peg" Slusser said Blee has been a longtime supporter of Stockton and its students. He taught as an adjunct for 15 years and continues to lecture in Ron Caplan's Health Policy course. Blee has mentored many public health students in their internships at AtlantiCare.
Both Slusser and President Harvey Kesselman cited Blee's support of Stockton and public health issues during his time in the Assembly. Slusser noted that he was a prime sponsor of the legislation establishing the Office of Minority and Multicultural Health.
# # #
Contact:
Diane D'Amico
Director of News and Media Relations
Stockton University
Galloway, N.J. 08205
Diane.DAmico@stockton.edu
609-652-4593
609-412-8069
stockton.edu/media