Foundation Welcomes Five New Members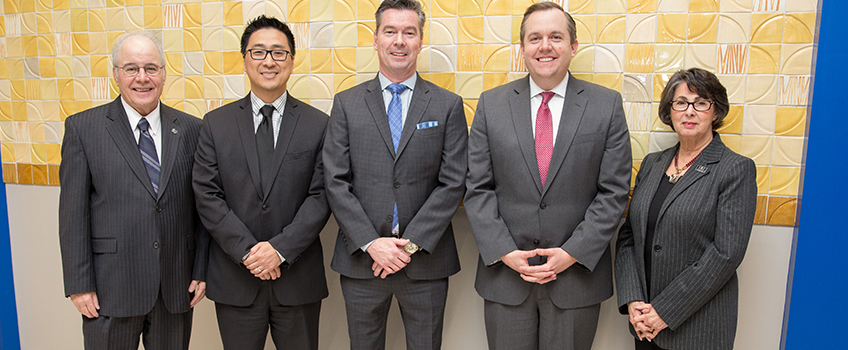 Galloway, N.J. _ The Stockton University Foundation has welcomed five new members to its board. They are Hak J. Kim of Egg Harbor Township, John Gray of Linwood, Joseph R. Jingoli, Jr., Vincent Papaccio of Ventnor and Harshavardhana "Harsha" Jayakar of California.
The Stockton Foundation was founded in 1972 to support the college and its students. Through fundraising and generous gifts, the Foundation today has assets of more than $35 million. For this academic year, 569 students have been awarded more than $800,000 in scholarships.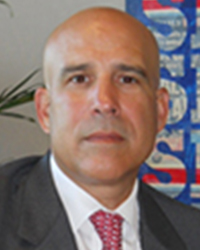 "The support of Stockton alumni and friends on the board has a significant financial impact on the lives of Stockton students," said Johanna Johnson, Foundation Board chairwoman. "Our new members have demonstrated their commitment to their communities in many ways, and we welcome them and their passion to the Stockton community."
"We are thrilled to welcome this accomplished group of leaders to the Foundation board," said Chief Development Officer and Executive Director of the Stockton Foundation Daniel Nugent. "I am confident that their skills, backgrounds and desire to serve will benefit Stockton and the Foundation for many years to come."
Hak J. Kim '96, of Egg Harbor Township is chief financial officer at AtlantiCare Health System. He received his bachelor degree in Business Administration with a concentration in accounting from Stockton in 1996. He also serves on the boards of the United Way Atlantic/Cape May/Cumberland, Cape-Atlantic Literacy Volunteers Association and AtlantiCare's Young Professionals.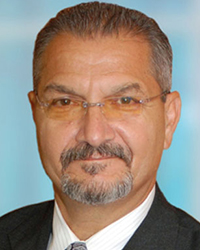 John Gray of Linwood is Business Agent for IBEW Local Union 35 and formerly was general foreman at the Atlantic City Convention Center and Boardwalk Hall. He also serves on the Joint Apprenticeship Training Committee, the Hero Campaign Golf Tournament Committee and the Stockton University Golf and Gala Committees.
Joseph R. Jingoli, Jr. is a partner and Chief Business Development Officer with Jingoli-DCO Energy, LLC. He has over 30 years of expertise in construction, project and energy management and developed Community Outreach and mentoring programs. He is chairman of The F.A.R.M. and sits on the boards of the Livengrin Foundation and the Wayside House.
Vincent Papaccio of Ventnor is executive vice president of Reliance Medical Group in Pleasantville. He is also chairman of the board of the Camden Coalition of Healthcare Providers, a member of the board of the Reliance Foundation and volunteer with the Holy Spirit High School Board.
Harshavardhana "Harsha" Jayakar '95 of Oakland, Calif. is a biotechnology entrepreneur in California. A native of Woodbridge Township, he graduated from Stockton in 1995 with a B.S. in Biology. He worked at the New York Blood Center and at Roche Molecular Systems where he helped develop new diagnostic tests for the blood screening market.
# # #
Contact:
Diane D'Amico
Director of News and Media Relations
Stockton University
Galloway, N.J. 08205
Diane.DAmico@stockton.edu
609-652-4593
609-412-8069
stockton.edu/media