Stockton Included on Forbes Best Value Colleges List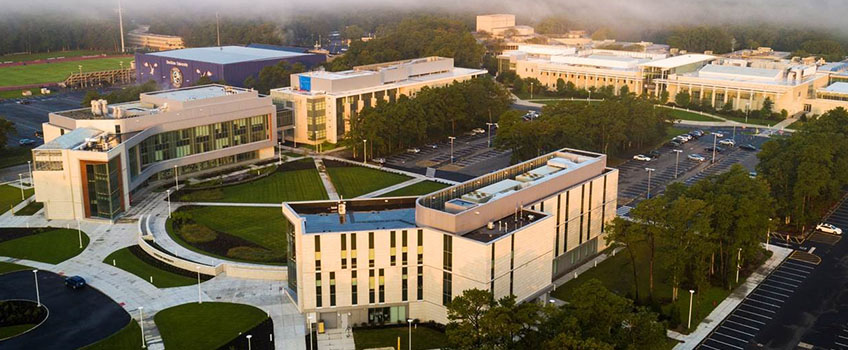 Galloway, N. J. - Stockton University is included in the Forbes Best Value Colleges 2019 listing.
The annual ranking of the 300 Best Value Colleges in the nation is developed by amassing and comparing data on 645 colleges and universities across all 50 states.
They are scored in six areas: quality; net price; net debt; alumni earnings; timely graduation; and access for low-income students. The list evaluates both public and private institutions offering four-year degrees and does not include private for-profit schools.
The list highlights schools with the highest quality and best financial outcomes. When it comes to judging quality, Forbes relied on its America's Top Colleges ranking. For financials, they used information provided by the federal postsecondary database system known as IPEDS, judging each school's net price, or sticker price for tuition, fees and room and board minus the grants, scholarships, and education tax benefits that students receive. For state schools, they use in-state tuition.
Forbes also considers average federal debt load per student, timely (within six years) graduation rate and midcareer alumni earnings (sourced from the DOE's College Scorecard and PayScale). Finally, the presence of Pell Grant students is considered a plus, as it tends to mean schools that are focused on creating opportunities for low-income students. We scored the percentage of each school's student body receiving Pell Grants.
The formula used is 20% rank on Forbes 2018 Top Colleges ranking + 20% student debt + 20% alumni earnings + 20% net price + 10% graduation rate + 10% Pell Grant recipients.
# # #
Contact:
Diane D'Amico
Director of News and Media Relations
Stockton University
Galloway, N.J. 08205
Diane.DAmico@stockton.edu
609-652-4593
609-412-8069
stockton.edu/media