Flags for Forgotten Soldiers Display at Campus Center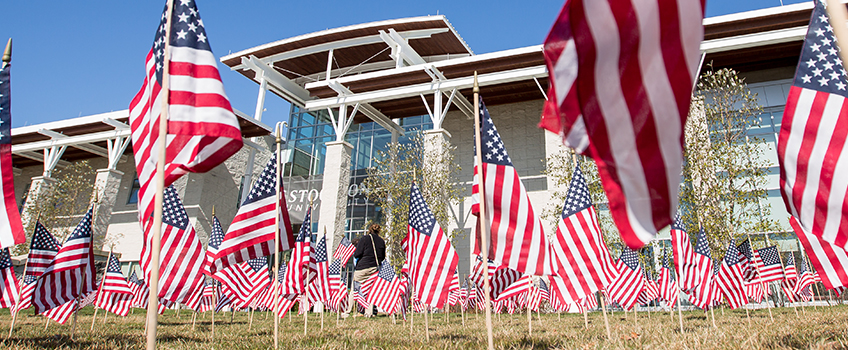 Galloway, NJ – From now until April 12 Stockton University's first Flags for Forgotten Soldiers will be on display outside of the Campus Center entrance. The display of 660 American flags represents the number of veterans who die by their own hand every month.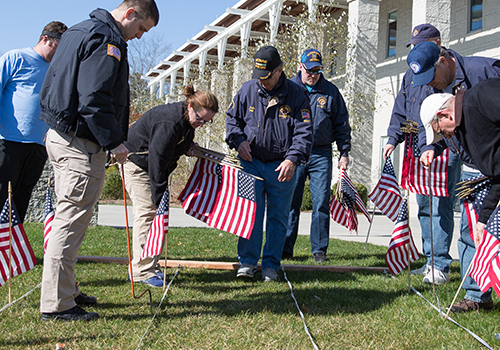 Flags for Forgotten Soldiers was started by Howard Barry, the father of SSG Joshua Berry who took his own life in 2013. Joshua Berry was injured in the first shooting at Fort Hood, TX in 2009 and struggled with anxiety and post-traumatic stress disorder (PTSD) for four years after the incident. Joshua Berry was a sergeant in the U.S. Army and lived in Cincinnati, OH. He left behind an infant daughter.
"The Knights of Columbus reached out to us and asked if we were interested in having a display here at Stockton," said Jason Babin, the director of the Office of Military and Veteran Affairs.
Members of the Knights of Columbus in various areas around the Galloway and Absecon, N.J. area have been participating in presenting this display for the past two years. John DeMarco and the rest of the local Knights helped set up by bringing the materials for the display, including all 660 flags and two banners that display the Veteran's Crisis Hotline phone number.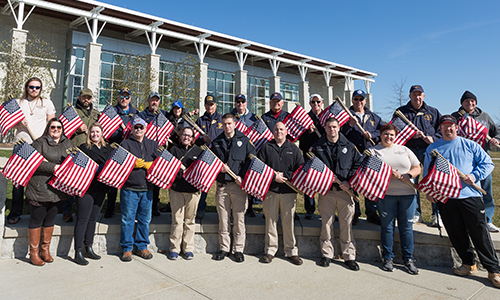 "We're here to raise awareness," said DeMarco. "If anyone has a problem, we want them to know there's help out there."
Among the volunteers setting up the display were members from the local Knights of Columbus organizations, the Stockton Police, and the Student Veteran Organization (SVO) which is a club on campus that helps Veteran students transition into college life.
Elizabeth Gilson, from Brigantine, N.J., is one of the more than 400 student veterans on Stockton's campus, and a member of the Student Veteran Organization. She was an active member in the U.S. Navy for ten and a half years and is now a junior at Stockton studying Health Science.
When talking about the message she wants to send other students on campus, she said, "Suicide is a fight we have all the time. Teenagers think they are alone with their thoughts about suicide, but we want them to see they're not the only ones."
To reach the Veteran's Crisis Line, call 1-(800)-273-8255 and press 1 or text 838255.
Babin said veterans can also reach out to the Office of Military and Veterans Affairs, the Student Veterans Organization. The office also works closely with counselors on campus.
Reported by Julia Sus
View more photos on Flickr.
# # #
Contact:
Diane D'Amico
Director of News and Media Relations
Stockton University
Galloway, N.J. 08205
Diane.DAmico@stockton.edu
609-652-4593
609-412-8069
stockton.edu/media