Farm-to-Table Symposium Plants Seeds of Learning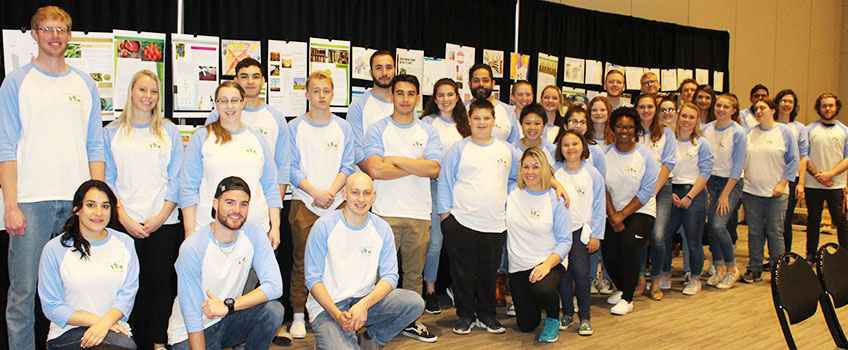 Galloway, N.J. - Students in Stockton's Farm to Table course shared what they learned this semester by converting the Campus Center Board of Trustees room into a hands-on symposium in farming on April 13.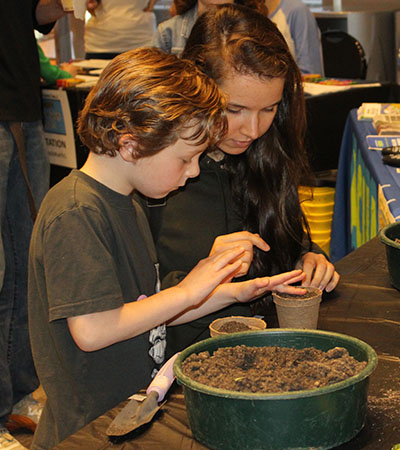 There were seeds to plant, vegetable plants from the Stockton farm to buy, and baby chicks, a lamb and a giant rabbit to admire. More than 150 people attended, tasting grains and vegetables offered by Chartwells, and bidding on donated gift baskets that helped generate $700 for the program.
The event was also educational. Students talked about what they learned from visiting different types of farms and a bakery and shared their class projects through panel discussions and posters displayed alongside drawings made by schoolchildren.
"This course has given me a better understanding of what it means to put food on the table," said student Matt Decicco.
Noel Criscione Naylor, assistant professor of Hospitality and Tourism Management Studies, taught the course and also operates a farm. She said the purpose of the event was to generate greater awareness of the farm-to-table movement through students sharing what they learned and engaging with the community.
The class also sponsored a poster contest for students in grades K-6 and received 60 entries from schools in Egg Harbor Township and Mullica Township. The children were asked to draw either their favorite animal, or a picture of where food comes from.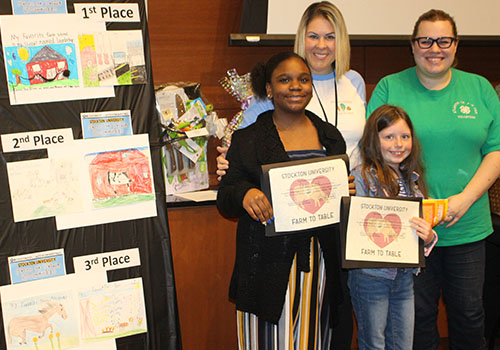 The poster contest winners were Jane Vogel and Skylir Cook, first place; Penelope Emerick and Shai Nadle, second place; and Anya Sethi and Travis Wright, third place.
Naylor said the event was a very proud moment for her as a teacher.
"The entire class came together and not only generated awareness but demonstrated their passion, love, and understanding of farm to table topics and practices way beyond my expectations," she said.
The Atlantic County Utilities Authority and Rutgers Cooperative Extension Service also participated.
Naylor said she is looking forward to next year's class. She's already set an April 18, 2020 date for an even bigger Farm-to-Table symposium.
View a gallery of photos from the event.
# # #
Contact:
Diane D'Amico
Director of News and Media Relations
Stockton University
Galloway, N.J. 08205
Diane.DAmico@stockton.edu
609-652-4593
609-412-8069
stockton.edu/media