Publisher Paul Coates Shares Civil Rights History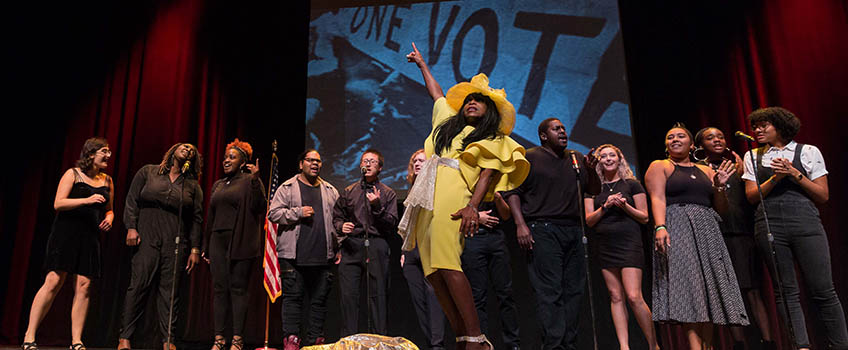 Galloway, N.J. – "It doesn't matter if you do not have a lot of money, you must have vision to make change " W. Paul Coates told students and guests at the 16th annual Fannie Lou Hamer Human and Civil Rights Symposium Oct. 8 in the Stockton University Performing Arts Center (PAC).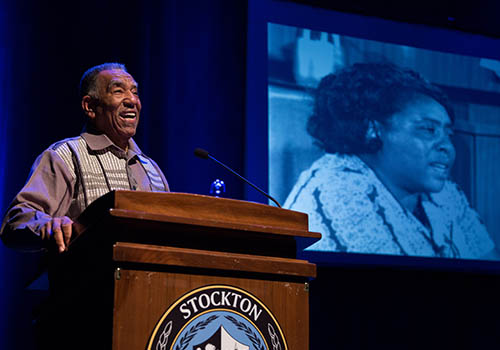 "Money with no vision will never amount to anything," Coates added, "but some money and a vision can really make things happen."
Coates, founder of Black Classic Press and a former member of the Black Panther Party, talked about activism in the 1960s and today.
"I had – we all had – a compulsion to join the Black Panther Party," he said. "We felt that this was a way that we could make change. We wanted to improve conditions in America for ourselves and for our children. We were attracted to the idea that we could change history."
Coates recalled coordinating and assisting with many Black Panther programs, such as breakfasts, medical clinics and disease testing centers. Coates also recalled creating a bookstore, printing company and publishing company in honor of the George Jackson Prison Movement, which gave employment opportunities to individuals in jail or recently released.
Coates knew he had to do more. After leaving the Party, he became founder and director of Black Classic Press (BCP), a printing company that specializes in republishing obscure and significant works by and about people of African descent. According to Coates, BCP remains the only black-owned printing company in the United States, and has printed over three million books in its time.
"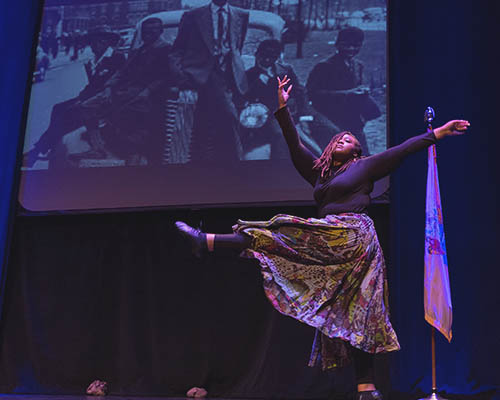 Books change minds, minds change people and people change the world," he said.
After Coates' lecture Vera King Farris Fellow Cherita Harrell led a panel discussion with Atlantic City Councilman-at-Large Moisse Delgado, Distinguished Professor Patricia Reid-Merritt and Coates. The panel touched on many topics, including how to encourage activism today, how activism has changed over the years and the relevancy of books in today's digital society.
"Society is dumbing us down," said Delgado. "Society doesn't want you creating anything or changing anything; they just want to feed you information and tell you to share it. It is important to read, to build your brain and to put thoughts into action. So, instead of grabbing your phone, why not pick up a book?"
Activism and change were primary themes of the symposium, reflecting Hamer's early work in voting rights activism. This year's event was titled "The Revolution Will Not Be Televised," which refers to a popular a slogan used during 1960s Black Power movement.
The event opened with freedom songs sung by Professor of Music Beverly Vaughn and her lively Freedom Singers.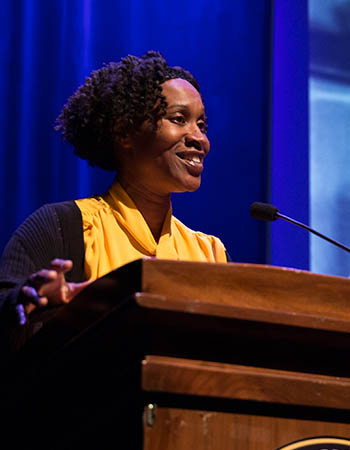 Unified Black Students Society President Jayden Cohen-Boyce recited a few of his favorite Hamer quotes.
"She said, 'I'm sick and tired of being sick and tired,'" he said, "and so are we."
Stockton President Harvey Kesselman reflected on Hamer's important legacy in Atlantic City at the 1964 Democratic National Convention and how that influenced Stockton to name the Fannie Lou Hamer event room in the Atlantic City Academic Center in her memory.
"This symposium serves as one of Stockton's signature distinctive events," Kesselman said. "It creates content that guides us through difficult, but important situations, and we all could use the spirit of Fannie Lou Hamer right now, more than ever. It is imperative that we continue our commitment to civil rights."
Africana Studies Program Coordinator and event coordinator Donnetrice Allison agreed.
"This event also serves to demonstrate the importance of art in social justice … it can be a voice," she said, referring to the Freedom Singers and the Afro-One Dance, Drama and Drum Theatre dance team.
The dance group, directed by Distinguished Professor of Africana Studies and Social Work and event coordinator Patricia Reid-Merritt, performed pieces exemplifying the historic struggles of African Americans.
Reported by Kat H. Wentzell
# # #
Contact:
Diane D'Amico
Director of News and Media Relations
Stockton University
Galloway, N.J. 08205
Diane.DAmico@stockton.edu
609-652-4593
609-412-8069
stockton.edu/media